As the country enters the final stage of an unprecedented presidential race, "Fiasco: Bush v. Gore" is an urgent exploration of a contested election— the 2000 battle for the presidency and the historic Supreme Court ruling that decided it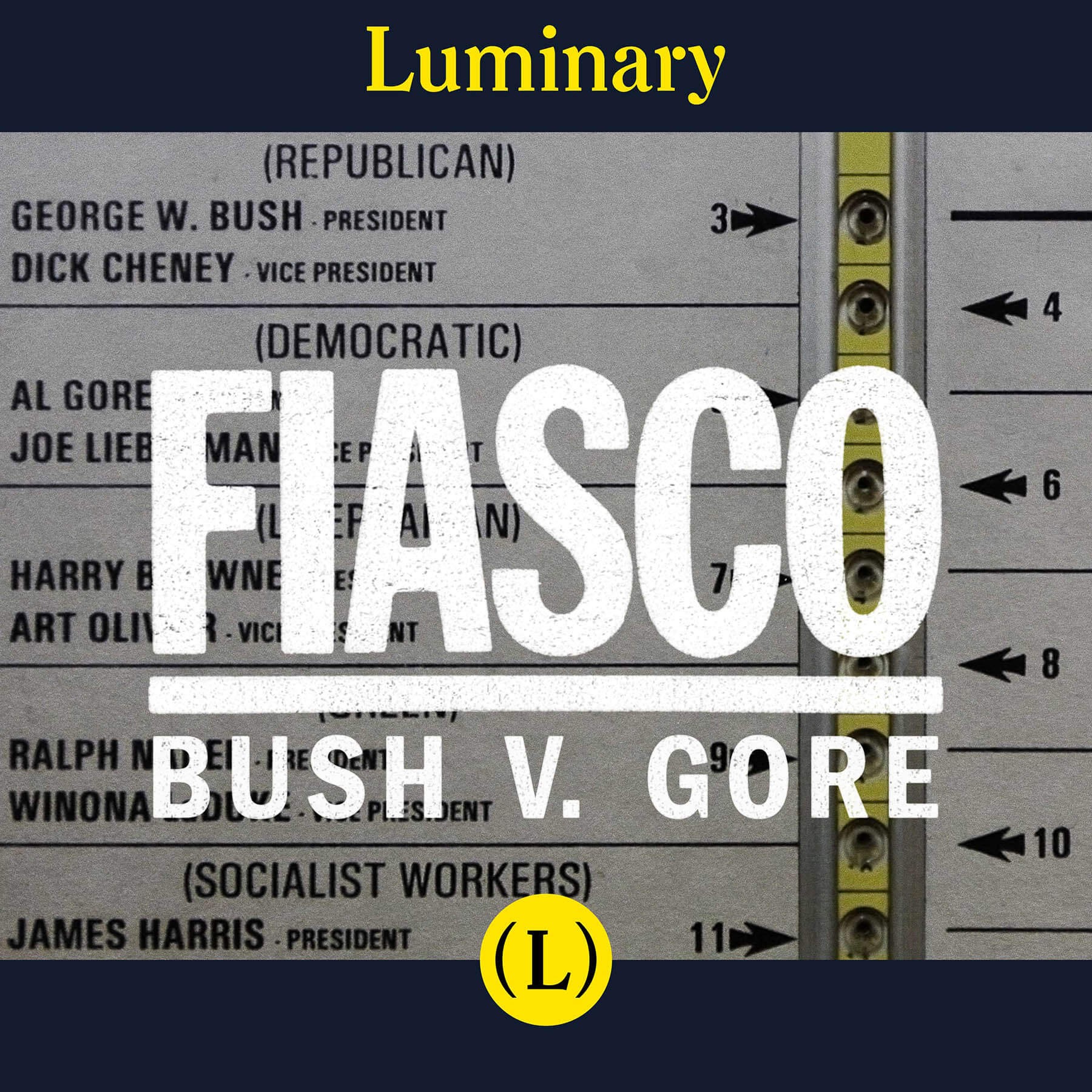 Cadence13, a leading premium podcast company that is part of Entercom's Podcast Network, and subscription podcast network Luminary today announced a partnership with Leon Neyfakh and Andrew Parsons — the co-creators of the smash hit Slow Burn — for distribution of the first season of Fiasco, the award-winning documentary podcast series about power, politics and uncertainty hosted by Neyfakh.
Fiasco Season One: Bush v. Gore—which until now has been available to listeners exclusively on Luminary—will launch on Wednesday, October 14 with Episodes 1 and 2 on Apple Podcasts, RADIO.COM, Spotify, and everywhere podcasts are available. The full run of Fiasco—including its second and third seasons—remains exclusively available on Luminary. Listen to the trailer for Fiasco Season One: Bush v. Gore.
On Fiasco, the flagship podcast from Neyfakh and Parsons' Prologue Projects, listeners are transported into the day-to-day reality of our country's most pivotal historical events, bringing to life the forgotten twists and turns of the past while shedding light on the present. Fiasco was first launched on Luminary in May 2019 and received two 2020 Webby awards, for best writing in a podcast and best podcast documentary.
On Fiasco Season One: Bush v. Gore, Neyfakh takes listeners inside the contested 2000 election between Al Gore and George W. Bush, and the extraordinary legal battle that unfolded in Florida. It's a story that has particular relevance right now, as the country braces itself for what could be a tumultuous and drawn out presidential contest.
Over the course of six episodes, Neyfakh reexamines the 2000 election itself and the bizarre 36 days that followed from all angles. Featuring scores of original interviews with firsthand participants — including the late Supreme Court Justice John Paul Stevens — Neyfakh explores the hardcore political combat it took to decide the race, and how it played out in newsrooms, voting booths, courtrooms, Florida municipal buildings, and eventually, the United States Supreme Court.
A TV series based on Fiasco is in development by award-winning New York based TV production company Left/Right, a Red Arrow Studios company, Leon Neyfakh's Prologue Projects, and Steven Fisher's Underground.
Cadence13 is also partnering with Neyfakh, Parsons, Prologue Projects and Underground on the new investigative documentary podcast series The Edge: Houston Astros, hosted by Ben Reiter, and with Prologue Projects on the new documentary podcast series Whirlwind, hosted by Tim Weiner.
"Part of me wishes the story of the 2000 election — in which vote counts were endlessly disputed, ballots were thrown out, and politics mingled uncomfortably with law — wasn't so relevant as we approach November," said Neyfakh. "But I'm afraid it will be an all-too-useful guide to all the tiny ways an election result can be undermined and politicized. I'm glad to partner with Cadence13 and Luminary to tell this important and timely story."
"'Fiasco' exemplifies what great podcast journalism can achieve, and we are proud to partner with Prologue Projects and Cadence13 to offer this outstanding piece of content for listeners across the globe three weeks out from an historic U.S. presidential election," said Simon Sutton, CEO of Luminary.
"We're thrilled to partner with Leon, Andrew, and Luminary and expand C13's lineup of powerful documentary franchises with this incisive, extraordinarily produced series," said Chris Corcoran, Chief Content Officer, Cadence13. "With less than thirty days to go before the historic 2020 presidential election, the timing could not be better."