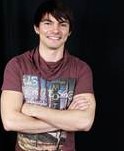 DUSTIN "SLATER" CARLSON NAMED NIGHT SHOW HOST OF BOSTON'S NEWEST HIT MUSIC STATION 103.3 AMP RADIO
Dustin "Slater" Carlson has been named Night Show Host of Boston's newest contemporary hit radio station 103.3 AMP Radio (WODS-FM), it was announced today by Dan Mason, Program Director for CBS RADIO Boston's 103.3 AMP Radio.   Slater's first day will be Wednesday, February 6, and he will host weeknights from 7PM to midnight.
Slater joins 103.3 AMP Radio from CBS RADIO's KXTE-FM "X1075" in Las Vegas where he was Afternoon Host, Assistant Program Director, and Creative Director for nearly eight years.   Before that, he spent nearly three years as Creative Services Director at WLZR-FM "Lazer 103" in Milwaukee.   Prior to that, Slater worked at KALC-FM "Alice 105.9" in Denver.   He began his career as a senior in high school at KWWW-FM "KW3" where he started as a board operator but was promoted to night host as well as Assistant Program Director and Music Director.
"'Slater' is a unique communicator, a stand-out talent, and one of the most creative people in the industry," said Mason when making the announcement.   "I know he will be a great addition to the 103.3 AMP Radio team and help us as we build America's next great CHR brand."
"I'm beyond excited for the opportunity to join the AMP team in Boston!" said Carlson.   "It's not easy leaving my Vegas family, but I am looking forward to being a part of the talented staff who will take AMP to the top in the market."
103.3 AMP Radio is owned and operated by CBS RADIO, one of the largest major-market radio operators in the United States.   A division of CBS Corporation, CBS RADIO operates 127 radio stations, the majority of which are in the nation's top 50 markets.   CBS RADIO also owns and operates WBZ-AM NewsRadio 1030, WBZ-FM 98.5 The Sports Hub, WBMX-FM MIX 104.1, and WZLX-FM 100.7 Boston's Classic Rock.
# # #