Digital and Radio Facts: Radio Facts: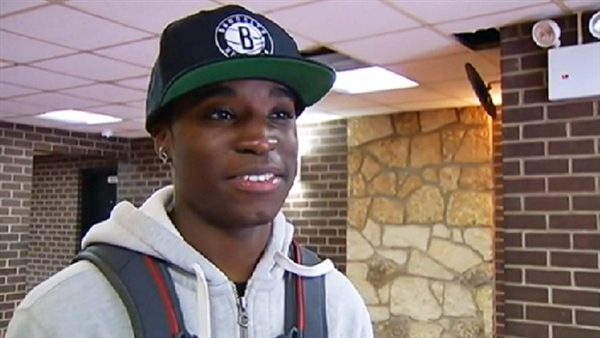 This is one of those stories that really  make you say WTF or maybe ponder the question, what year is this?
In the post-racial Obama era, (sarcasm), a 19-year-old college student from Queens says he was handcuffed and locked up in a holding cell after he purchased, YES,  I said purchased a $350 designer belt at Barneys on New York's Madison Avenue because he is "a young black man."
Trayon Christian told NBC 4 New York on Wednesday that he saved up enough money from a part-time job for weeks to buy a Salvatore Ferragamo belt at Barneys. I wouldn't personally buy a $350 belt but hey if that is what you want and you have the money, so be it.
Back to the lecture at hand.  When he went to the store to buy the  belt in April, he says the checkout clerk asked to see his identification. After the sale went through with absolutely no problems or red flags, Trayon left the store. The college student was approached by police about a block away, and asked "how a young black man such as himself could afford to purchase such an expensive belt," according to a lawsuit filed Tuesday in Manhattan Supreme Court.
Police officers apparently took  Christian to the local precinct, where he showed police his identification, as well as his debit card and the receipt for the belt, the lawsuit says.
Police  believed Christian's identification was fake, and eventually called his bank, which verified that he was indeed exactly who he said he was and the purchase was absolutely authorized.  At that point Trayon Christian, who has never been arrested and has no record, was released.
Trayon was quoted as saying, "Why me? I guess because I'm a young black man, and you know, people do a credit card scam so they probably thought that I was one of them."
"They probably think that black people don't have money like that."
Trayon actually returned the belt to Barneys after the ordeal because he says he "didn't want to have nothing to do with it." He is now suing the city and Barneys for an undisclosed amount as a result of "great physical and mental distress and humiliation."
Christian's attorney, Michael Palillo, told the Post, "His only crime was being a young black man."
Barneys said in a statement Wednesday that none of its employees was involved in any action with Christian other than the sale, and added that the store "has zero tolerance for any form of discrimination."