Popular Band 'Why Don't We,' Boxing Phenom Ryan Garcia, and Japanese Creators Hanaodengan Kick-Off New Documentary Format
"30 Days with: Why Don't We" Premieres December 9 Only On YouTube
YouTube Originals today announced "30 Days With" – a brand-new franchise of multi-episode documentaries that give viewers a behind-the-scenes, 30-day snapshot of the lives of today's most talked about public figures, athletes, artists, and YouTube creators as they journey through pivotal moments of their personal lives and careers. Each "30 Days With" docuseries will focus on a primary subject and give a personal spotlight over the course of four episodes.Â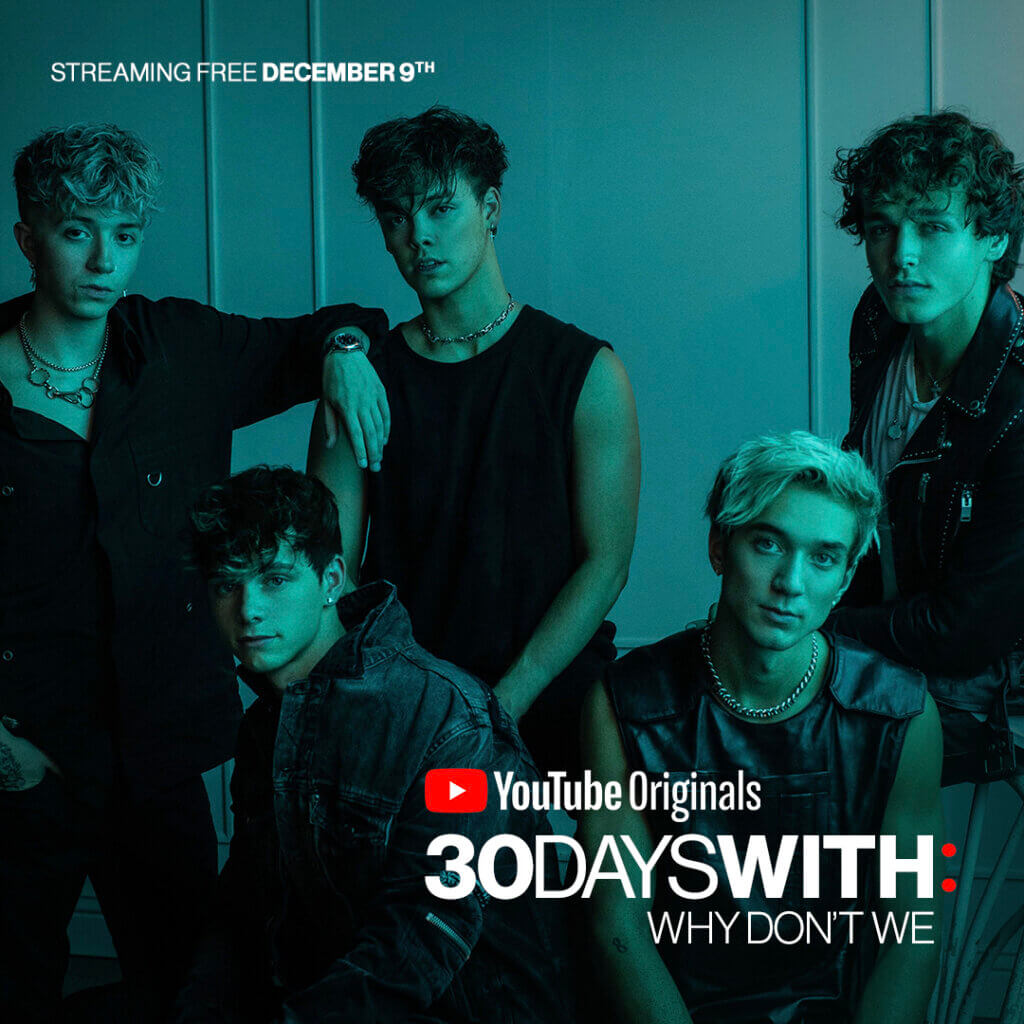 "YouTube Originals are created with YouTube's most engaged audiences in mind and "30 Days With" serves those viewers by taking them along for the ride throughout some of the biggest moments of their favorite personalities' lives and careers," said Alex Piper, Head of Unscripted for YouTube Originals, "We look forward to telling even more of these in-depth stories with today's biggest creators, athletes, artists and public figures."
"30 Days With: Why Don't We"will launch the YouTube Originals documentary franchise in the US and will take viewers inside the lives of the five members of the band,Why Don't We(Daniel Seavey, Corbyn Besson, Jonah Marais, Jack Avery, and Zach Herron). Since their debut in 2016, the Los Angeles-based band has amassed over 3 billion global career streams, 703 million YouTube views, and has sold out back-to-back North American and global headline tours."30 Days With: Why Don't We"will showcase the band as they open up about their evolution, coping with the global pandemic while making music, music videos and everything that went into the creation of their highly anticipated album,The Good Times and the Bad Ones. The 4 episode docu-series premieres December 9.
"30 Days With: Ryan Garcia" follows the 22-year-old undefeated professional boxing phenom,Ryan Garciaas he prepares for his January 2nd, 2021 fight against 32-year-old British boxer, Luke Campbell (2012 Olympic Gold Medalist in the lightweight division). Over four installments, viewers will see firsthand Garcia's training and preparation for the biggest match of his career, including how he dealt with the disappointing postponement of the highly anticipated fight due to Campbell testing positive for COVID 19. Fans can also get a sneak peek of Garcia's day-to-day life by following his personalYouTube channel, which has amassed over 20M views since launching in May. "30 Days With: Ryan Garcia" will premiere in December.
"30 Days With: HANAODENGAN"tracks the popular Japanese YouTube creators,Hanao and Dengan, as they attempt, despite the pandemic, to give back a summer rite of passage to the youth of Japan. The series creators worked closely with a high school student to plan an unforgettable surprise for her classmates and provide hope for a brighter future. The 4 episode series premieres in December.
Additional public figures, athletes, artists, and YouTube creators to be featured in "30 Days With" will be announced soon. Episodes will premiere free with ads weekly on theYouTube Originals channel.
"30 Days With: Ryan Garcia" is produced by Liquid Light Productions, is directed by Scott Brown and executive produced by Scott Brown, Mo Darwiche, and Ben Monie for Liquid Light Productions. Ryan Garcia also serves as an executive producer on the series. "30 Days With: Why Don't We" is produced by Stick Figure Entertainment, is directed by Steven Cantor, and Jamie Schutz is producing for Stick Figure. "30 Days With: HANAODENGAN" is directed by Kentaro Takyanagi and produced by Nouvelle Médias, Co., Ltd.
Susanne Daniels is Global Head of Original Content for YouTube. Alex Piper serves as Head of Unscripted for YouTube Originals, with Lauren Celinski overseeing "30 Days With: Ryan Garcia," Margaret Burris overseeing "30 Days With: Why Don't We," and Kohta Asakura overseeing "30 Days With: HANAODENGAN" for YouTube Originals.