"Stacy on the Right" will air at 9pm ET exclusively on SiriusXM Patriot channel 125 starting November 30
Today SiriusXM announced that veteran conservative commentator Stacy Washington will join the Patriot channel's weeknight lineup starting on November 30. Stacy on the Right will broadcast live from 9pm-12am ET on channel 125.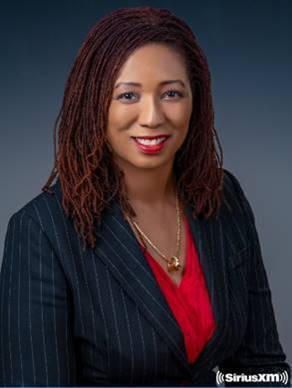 On Washington's new weeknight program, the Emmy-nominated TV personality will engage with listeners from across the nation about such hot button issues as the Senate races in Georgia, updates on the coronavirus stimulus bill and the rollout of potential vaccines, and the other political and news headlines of the day. She'll also conduct interviews with key political figures and newsmakers, offering the conservative Patriot audience an inside look at the challenges the country faces.
"When Stacy joined the Patriot family this summer with her new Sunday morning program, it didn't take long to takeoff with our audience," said Dave Gorab, SiriusXM's Vice President and General Manager of Talk Programming. "In addition to her weekly program, Stacy played a vital role in SiriusXM Patriot's campaign coverage and was a regular contributor to programs across the channel. The expansion to a daily show comes as well-deserved recognition for Stacy's contributions, and we know our audience will be excited to hear Stacy on the Right five nights a week."
A decorated Air Force veteran, Washington serves as an Advisory Board member of Vets for Trump and Co-chair of Black Voices for Trump. She is also a podcast host, documentarian, and familiar voice to the Patriot audience as a regular fill-in host on the channel. Other appearances include Fox News, Fox Business, CNN, The Blaze, and PBS, as well as writing for publications like Fox News Opinion and Townhall.com.