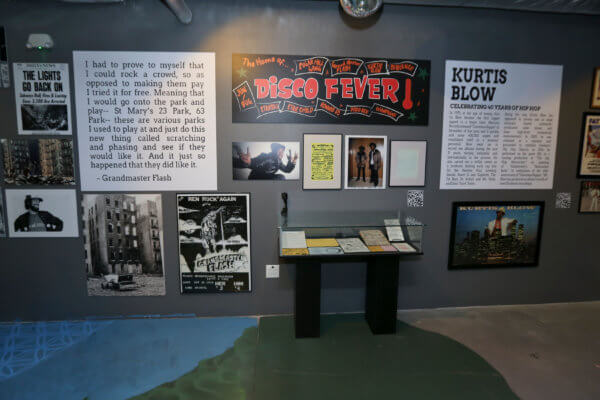 This past Monday, THE UNIVERSAL HIP HOP MUSEUM LAUNCHES "THE [R]EVOLUTION OF HIP HOP
The exhibition will feature rotating installations inspired by each decade of music offering museum goers a sneak peak of the Universal Hip-Hop Museum, which is slated to break ground in 2020 and opens in 2023. Rocky Bucano, Executive Director of The Universal Hip-Hop Museum, made the official announcement of the exhibition at Bronx Terminal Market's annual "Winter Wonderland," last month. "We are thrilled to partner with the generous team at Related Companies and Bronx Terminal Market to bring the Universal Hip-Hop Museum to life at this marquee location.

" Avi Kollenscher, Senior Vice President of Related Companies echoed these sentiments when he exclaimed, "The Universal Hip-Hop Museum's mission to celebrate and preserve the local and global history and future of Hip-Hop music not only honors The Bronx and its role in the history of music but it helps to further establish the area as a thriving community. "The launch kicked off with an exclusive VIP preview welcoming friends, family, legends, and key tastemakers. Hip hop legend Benzo, co-founder of The Source Magazine, Ed Young, and famed movie director Charlie Ahearn were only a few of the notable guests in attendance that evening while Grandwizzard Theodore spun tunes.
Upon entering, attendees were greeted by a life size floor mural showing the roots of hip-hop music, literally! Artists Menace and Resa, painted a symbolic tree with different visual representations of the culture including graffiti, a boombox, The Furious Five, The Last Poets, and the infamous 1520 Sedgwick Avenue. Attendees were then met with a replica old school 4 train subway cart masked in graffiti and gringy enough to give visitors the nostalgic feeling of a true New York train ride uptown.
Other highlights from the exhibit include classic wardrobe from the seventies donated by UHHM historian and contributor Jorge Fable Pabon, as well as imagery and testimonies from hip-hop music notables such as Afrika Bambaata and an ode to Kurtis Blow, celebrating forty years of hip-hop music. There is also a video in which Grandmaster Flash explains how he marked vinyl records with crayon in order to time the breaks correctly. But one of the exhibits major takeaways is The Elementals, the centerpiece installation named after the 5 elements of Hip-Hop – MCing, DJing, Breakdancing, Graffiti Art, and Knowledge.
The Elementals installation uses artificial intelligence technologies, artists and computer scientists to create a layered, personalized virtual experience in which museum-goers are asked key questions — "What is your favorite hip-hop music song? " or "Which from this pair of lyrics do you like the most? " — and, based on those answers, are taken through a personalized narrative of hip-hop music history.
The overall exhibition was curated by Paradise Gray, Pete Nice, SenYon Kelly, Joe Conzo and Bill Adler. Guest speakers included none other than Rocky Bucano alongside Nana Ashhurst, Chairwoman of the Universal Hip-Hop Museum, Ryan Gaspar, Director of Strategic Partnerships Microsoft and Dr. D.
Fox Harrell, Professor of Digital Media and Artificial Intelligence and director of the MIT Center for Advanced Virtuality. "As an educational center, the Universal Hip-Hop Museum has the power to connect people to broader social issues in the surrounding community," Dr. Harrell exclaimed.
"It is also a place for people to connect to Hip-Hop's heritage and legacy as an important culture of the African diaspora. Now, people internationally can have a stake in this great art. ""The [R]Evolution of Hip-Hop" officially opens on Friday, December 6 and will be free to the public!
Family and community inclusive, the exhibition will allow local residents and tourists to New York City to get a sneak preview of the future Universal Hip-Hop Museum. Tickets can be reserved HERE and press visits and interviews can be scheduled on a rolling basis (See media inquiries information below). Visit https://www.
uhhm. org/ or follow @uhhmuseum on all socials to stay up to date with the museum.
Kurtis Blow Installation
The Roots of Hip-Hop
The Elementals Centerpiece Installation
Attendees Experiencing The Elementals
The 4 Train
Subway riders on the 4 Train
Classic wardrobe from the '70s
Nana Ashhurst, Chairwoman of the Universal Hip-Hop Museum
Life size Spray paint
Attendees tagging the 4 Train subway cart
Exhibition Curator Paradise Gray
Ryan Gasper, Director of Strategic Partnerships Microsoft
Rocky Bucano, Nana Ashhurst, and Dr. D. Fox Harrell
Ed Young & Mark Kornmann
Senyon Kelly and Charlie Ahearn
Hip hop Legend Benzo & Daughter