[caption id="attachment_240718" align="aligncenter" width="400"]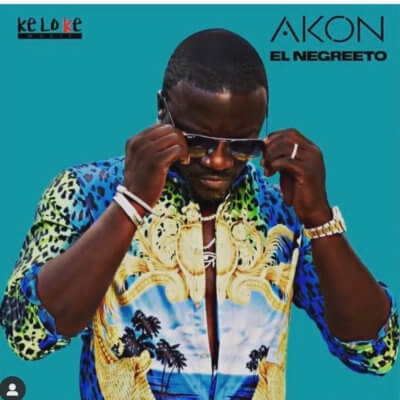 Akon "El Negreeto" Out Now[/caption] As part of his Global Music Takeover, international superstar,
Akon
, releases his highly anticipated full-length Spanish album
El Negreeto
, which is available on all digital platforms today via Akonik Label Group. This is the first of four project releases the superstar will drop this year alone! The 8-track LP includes
Akon'
s May release "
Get Money
" with
Anuel AA
, and "
Como No
" ft.
Becky G.
El Negreeto
also includes stunning collaborations with artists from a number of Latin American countries including Brazilian artist,
Anitta
, Puerto Rican artist
Farruko
, Dominican artist
Fuego
and of course the popular Cuban artist
Pitbull
.
Akon
played a pivotal role in the curation of this album, not only did he take his time writing, recording, and producing
El Negreeto
entirely in Spanish but he also teamed up with key Latin producer and Latin Grammy Award-winning artist
Maffio
, to ensure the album embodied and truly represented Latin culture. Additional songwriters on
El Negreeto
include
Camilo
,
Erika Ender
,
Mau & Ricky
,
Jon Leone
, and
Iamchino
. See the tracklist here: 1.Te Quiero Amar (feat. Pitbull) 2. Bailame Lento 3. Como No (feat. Becky G) 4. Boom Boom (feat. Anitta) 5. Dile 6. Innocente 7. Solo Tu (feat. Farruko) 8. Baila Conmigo
El Negreeto
kicks things off with a little bit of reggaetón, Bachata and even some merengue. Akon explores new sounds and lets creativity take over. We will see him deep dive into genre bending music as he readies the release of more projects including his afrobeats album,
Akonda
due out October 25 and a classic Akon album The Konnect out November 22. This global music takeover is Akon's stamp on the world and his message is loud and clear, we are all connected through a universal language – music. With over 35 million albums sold worldwide and 5 Grammy Nominations,
Akon
is a key player in the global music industry. Recognizing not only mainstream genres but culture shifting sounds,
Akon
is ready to share music with the world. He states
"this project is not just about the music, it is passion. I have always been influenced by various genres of music, Latin, Reggae, Afropop and even Hindi. So it was very important to create a project that truly represented the culture and I did that by teaming up with artists and producers from all over Latin America. El Negreeto is only the beginning. Be on the lookout for my other project releases this year because this really is a global music takeover."
Calibash Las Vegas will be taking place at the T-Mobile Arena on Jan. 26, 2019. The line-up for next year's event has been confirmed The concert will have a retro feel since it will be celebrating the 80's. Next year's performances include Enrique Iglesias, Bad Bunny, Wisin y Yandel, Anuel AA, Becky G, Larry Over, Farruko, Osmani Garcia and Arthur Hanlon. Calibash has seen so much success in California, that it was decided to host the same event in Las Vegas as well. Las Vegas also has seen the success in the last 3 years, that that the event is coming back next year. The event will be an integral part of the Morphis Weekend Latino. Morphis Latino is a celebration of Latin American culture in the United States. The weekend will start on The National Banda Day, Jan. 25. On that day, many different banda groups will perform. The bands that are set to perform that day are Banda El Recodo, La Arrolladora Banda El Limón, Gerardo Ortiz, Banda Los Recoditos, La Adictiva, Christian Nodal, Los ángeles Azules, Raymix and Gabby Tamez. Tickets are now on sale at axs.com. Calibash takes place on Jan. 26, 2018 at 8:00 pm PT.