In its long standing tradition of supporting national Urban radio programming, Superadio Networks will distribute a nationally syndicated program in honor of the 36th Annual Stellar Awards will distribute a nationally syndicated program. The 2- hour salute to this year's Awards winners and nominees will be hosted by Awards co-host and multi-Dove, Stellar, and Grammy Award winning Gospel musician and songwriter Tye Tribbett and will be available for airing August 16-29, 2021.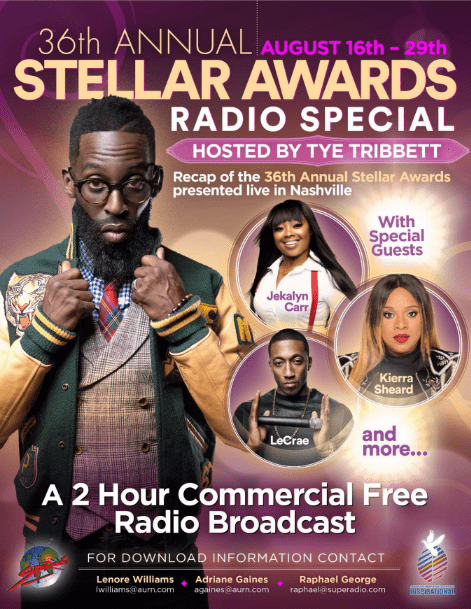 Joining Tye are special guests Jekalyn Carr,, who also served as co-host of this year's televised broadcast, along with LeCrae, Kierra Sheard-Kelly and other Gospel music luminaries. According to Don Jackson, Chairman & CEO, Central City Productions, Inc., "Tye's energy, enthusiasm and excitement is off the charts in everything he does, especially in co-hosting the 36th Annual Awards special with Jekalyn Carr. As an industry 'vet' from years of performing and hosting, Tye and first-time host, Jekalyn made this year's Awards one of our best shows ever! I know Tye's radio special will be another huge success to match the superb job he did co-hosting the Stellars."
Jackson's enthusiasm for this year's broadcast is matched by Tye Tribbett who said "hosting this year's
Awards was an amazing opportunity to showcase the unique styles of Gospel Music! This Post Show
promises to relive some of the most shoe stomping moments! TUNE IN!" The 2 hour radio special is free to radio stations with no commercials and is available on a non-market exclusive basis. To download the special contact [email protected] or [email protected].
Along with Tye Tribbett's nationally syndicated, The Come Up With Tye Tribbett, Superadio Networks along with production and broadcast partner AURN Inspirational Network produces 24/7 Inspirational programming including; Grammy Award-winning Hezekiah Walker host of the Hezekiah Walker Radio Show and the #1 Urban Gospel Countdown Show in the US, The Hezekiah Walker Gospel Countdown, The Marvin Sapp Radio Show, The Bobby Jones Radio Show and Stellar Award-winner Liz Black, host of Inspirations with Liz Black.