Radio Facts: Radio Facts: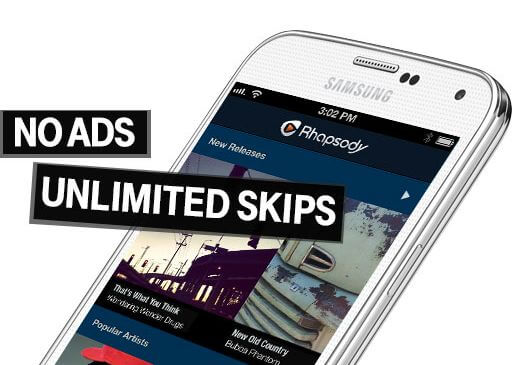 Rhapsody International, the parent company of popular music services Rhapsody and Napster, tonight announced a breakthrough new Internet radio service, Rhapsody unRadio.
Rhapsody unRadio reimagines what Internet radio can be, by removing the limitations that interrupt music fans' listening experience and delivering on a simple promise: great music that doesn't stop.
Rhapsody unRadio's groundbreaking features include:
Radio without limits: unRadio gives customers one place where they can listen to any kind of radio, and enjoy their music without interruptions or limitations. Listeners can skip an unlimited number of songs. And, there are no annoying ads.
Save the songs you love: When people hear a song they love on unRadio, they can mark it as a favorite and automatically save it for later listening. People can stream these songs on-demand or download them to enjoy anywhere – even without a connection.
Create your own Radio Station s (or listen to ours): Customers can listen to hundreds of professionally-programmed Radio Station s, or create their own Radio Station s based on the songs or artists they love.
Live streaming radio from your hometown or around the world: unRadio offers live streaming radio from thousands of terrestrial Radio Station s in the U.S., including KCRW in Los Angeles, KEXP in Seattle, and Chicago's WXRT, among others, and from thousands of Radio Station s around the world.
More music: unRadio features a more diverse range of artists and songs than any other Internet radio service. unRadio is powered by the same ever-expanding global catalog of more than 32 million songs available through Rhapsody.
ID songs anywhere, with TrackMatch: Rhapsody unRadio includes a new feature, TrackMatch, that customers can use to identify songs they hear while out at a bar, ballgame, party or even on TV, and create Radio Station s around these songs or save them as favorites for later listening.
"Today marks another important milestone in Rhapsody's 13-year history of pioneering new ways for music fans to find, discover and experience music," said Paul Springer, Senior Vice President of the Americas and Chief Product Officer of Rhapsody International. "We set out to create the world's best Internet radio service, and with unRadio, we've succeeded. Finally, music lovers can get what they've been asking for from Internet radio: music inspiration without music interruption."
Rhapsody unRadio is available starting tonight via Rhapsody.com. The service is $4.99 per month, and free to existing Rhapsody subscribers. Rhapsody unRadio was developed in collaboration with T-Mobile US, Inc., which is partnering with Rhapsody to launch unRadio. Through a special arrangement, T-Mobile will make Rhapsody unRadio available at no additional charge to Simple Choice customers on its newest unlimited 4G LTE data service, and a discounted price of just $4 per month for any other T-Mobile customer. Rhapsody unRadio will be available through T-Mobile starting June 23.
Rhapsody unRadio will be available initially for iOS and Android and on the Web. For more information about unRadio, please visit Rhapsody.com.