Radio Facts: Radio Facts: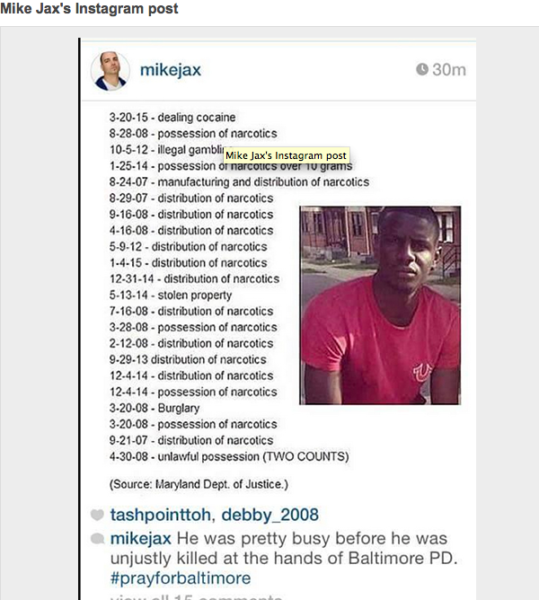 When are public figures going to learn that your personal social media page isn't so personal and you will be held accountable for what you post when your posts affect the general masses  regarding sensitive subjects? (click to enlarge images)
That was really more of a rhetorical question but whether you agree with it or not, apparently some people still haven't learned that you have to watch what you post because the world is watching you.
Pittsburgh  DJ, Mike Jax, has been suspended after he posted what appeared to be some insensitive comments on Instagram about Freddie Gray.  Since Freddie Gray died in police custody, the city of Baltimore has been in an uproar with protests, uprisings, and riots
Citizens of other  cities have joined in the movement to stand up for justice against police brutality as it has been a hot button issue with black men being gunned down, killed, and mistreated by the police. As many have pointed out, it seems to be a pattern of highlighting the criminal record and/or actions of these men after they have been killed.
Just as many others have done, WAMO 100 DJ Mike Jax weighed in on the hot topic when he posted a photo of Gray on his Instagram, with a list 22 charges Gray faced prior to his death. In the caption, Jax wrote, "He was pretty busy before he was unjustly killed at the hands of Baltimore PD. #prayforbaltimore"
That aforementioned post and caption set off a firestorm of its own as many WAMO listeners were highly offended by the popular DJ's remarks.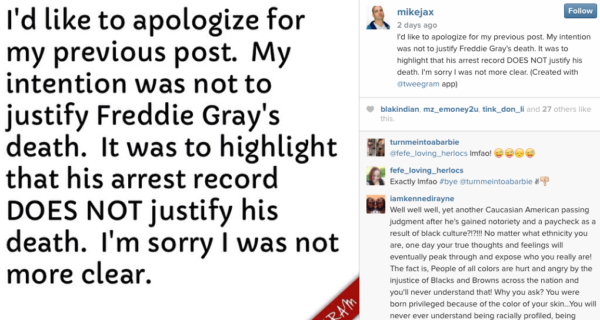 Jamal Woodson, WAMO's general manager, said listeners made their discontent known by flooding the station with complaints. The following statement was released from the radio station.
"WAMO 100 does not share the views or condone the comments expressed on a WAMO 100 employee's personal social media page. As a representative of WAMO 100, we expect a code of conduct that should transcend the airwaves," Woodson wrote in part on the station's Facebook page. "We thank our listeners for your concerned calls and emails."
There isn't any news as to when or if Jax will be allowed to return to his dj duties.  Jax has already taken to his Instagram account to apologize for his original post.  Even with this latest post, many WAMO listeners are still not buying it.