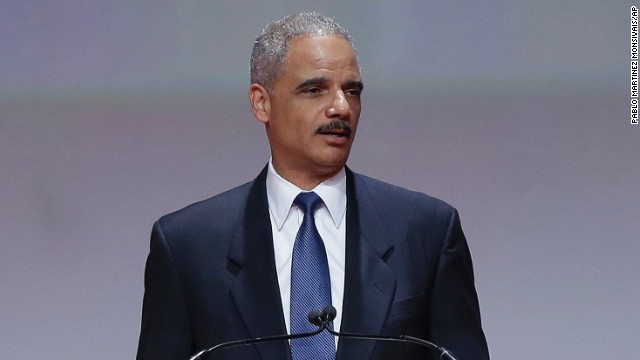 Attorney General Eric Holder announced yesterday that the Department of Justice announced that it is changing the way thousands of drug offenders are prosecuted. The government will no longer pursue strict "mandatory minimums" for "low-level, nonviolent drug offenders who have no ties to large-scale organizations, gangs or cartels," Holder said Monday. "By reserving the most severe penalties for serious, high-level or violent drug traffickers, we can better promote public safety, deterrence and rehabilitation, while making our expenditures smarter and more productive." See Holder's Speech below or watch the video.
https://youtu.be/mzu5AY2XpzM
Attorney General Eric Holder Delivers Remarks at the Annual Meeting of the American Bar Association's House of Delegates
San Francisco ~ Monday, August 12, 2013
Thank you, Bob Carlson, for those kind words – and for your exemplary service as Chair of the American Bar Association's House of Delegates. It's a pleasure to be with you this morning. And it's a privilege to join so many friends, colleagues, and leaders – including U.S. Attorney for the Northern District of California Melinda Haag – here in San Francisco for the ABA's 2013 Annual Meeting.
I'd like to thank your Delegates for all that they've done to bring us together this week – and for their dedication to serving as faithful stewards of the greatest legal system the world has ever known. From its earliest days, our Republic has been bound together by this system, and by the values that define it. These values – equality, opportunity, and justice under law – were first codified in the United States Constitution. And they were renewed and reclaimed – nearly a century later – by this organization's earliest members.
With the founding of the ABA in 1878, America's leading legal minds came together – for the first time – to revolutionize their profession. In the decades that followed, they created new standards for training and professional conduct. And they established the law as a clear and focused vocation at the heart of our country's identity.
Throughout history, Americans of all backgrounds and walks of life have turned to our legal system to settle disputes, but also to hold accountable those who have done wrong – and even to answer fundamental questions about who we are and who we aspire to be. On issues of slavery and segregation; voting and violence; equal rights and equal justice – generations of principled lawyers have engaged directly in the work of building a more perfect Union. Today, under the leadership of my good friend, President Laurel Bellows, this organization is fighting against budget cuts that undermine the ability of our courts to administer justice. You're standing with me – and with my colleagues across the Obama Administration – in calling for Congressional action on common-sense measures to prevent and reduce gun violence. And you're advancing our global fight against the heinous crime of human trafficking.
In so many ways, today's ABA is reminding us that, although our laws must be continually updated, our shared dedication to the cause of justice – and the ideals set forth by our Constitution – must remain constant. It is this sense of dedication that brings me to San Francisco today – to enlist your partnership in forging a more just society. To ask for your leadership in reclaiming, once more, the values we hold dear. And to draw upon the ABA's legacy of achievement in calling on every member of our profession to question that which is accepted truth; to challenge that which is unjust; to break free of a tired status quo; and to take bold steps to reform and strengthen America's criminal justice system – in concrete and fundamental ways.
It's time – in fact, it's well past time – to address persistent needs and unwarranted disparities by considering a fundamentally new approach. As a prosecutor; a judge; an attorney in private practice; and now, as our nation's Attorney General, I've seen the criminal justice system firsthand, from nearly every angle. While I have the utmost faith in – and dedication to – America's legal system, we must face the reality that, as it stands, our system is in too many respects broken. The course we are on is far from sustainable. And it is our time – and our duty – to identify those areas we can improve in order to better advance the cause of justice for all Americans.
Even as most crime rates decline, we need to examine new law enforcement strategies – and better allocate resources – to keep pace with today's continuing threats as violence spikes in some of our greatest cities. As studies show that six in ten American children are exposed to violence at some point in their lives – and nearly one in four college women experience some form of sexual assault by their senior year – we need fresh solutions for assisting victims and empowering survivors. As the so-called "war on drugs" enters its fifth decade, we need to ask whether it, and the approaches that comprise it, have been truly effective – and build on the Administration's efforts, led by the Office of National Drug Control Policy, to usher in a new approach. And with an outsized, unnecessarily large prison population, we need to ensure that incarceration is used to punish, deter, and rehabilitate – not merely to warehouse and forget.
Today, a vicious cycle of poverty, criminality, and incarceration traps too many Americans and weakens too many communities. And many aspects of our criminal justice system may actually exacerbate these problems, rather than alleviate them.
It's clear – as we come together today – that too many Americans go to too many prisons for far too long, and for no truly good law enforcement reason. It's clear, at a basic level, that 20th-century criminal justice solutions are not adequate to overcome our 21st-century challenges. And it is well past time to implement common sense changes that will foster safer communities from coast to coast.
These are issues the President and I have been talking about for as long as I've known him – issues he's felt strongly about ever since his days as a community organizer on the South Side of Chicago. He's worked hard over the years to protect our communities, to keep violent criminals off our streets, and to make sure those who break the law are held accountable. And he's (click "Next" above or below to see the rest of the story)< !also made it part of his mission to reduce the disparities in our criminal justice system. In Illinois, he passed legislation that addressed racial profiling and trained police departments on how they could avoid racial bias. And in 2010, this Administration successfully advocated for the reduction of the unjust 100-to-1 sentencing disparity between crack and powder cocaine.
That's the balance the President and I have tried to strike – because it's important to safeguard our communities and stay true to our values. And we've made progress. But as you heard the President say a few weeks ago when he spoke about the Trayvon Martin case, he also believes – as I do – that our work is far from finished.
That's why, over the next several months, the President will continue to reach out to Members of Congress from both parties – as well as governors, mayors, and other leaders – to build on the great work being done across the country to reduce violent crime and reform our criminal justice system. We need to keep taking steps to make sure people feel safe and secure in their homes and communities. And part of that means doing something about the lives (Click "Next" to see the next page) being harmed, not helped, by a criminal justice system that doesn't serve the American people as well as it should.
At the beginning of this year, I launched a targeted Justice Department review of the federal system – to identify obstacles, inefficiencies, and inequities, and to address ineffective policies. Today, I am pleased to announce the results of this review – which include a series of significant actions that the Department has undertaken to better protect the American people from crime; to increase support for those who become victims; and to ensure public safety by improving our criminal justice system as a whole. We have studied state systems and been impressed by the policy shifts some have made. I hope other state systems will follow our lead and implement changes as well. The changes I announce today underscore this Administration's strong commitment to common sense criminal justice reform. And our efforts must begin with law enforcement.
Particularly in these challenging times – when budgets are tight, federal sequestration has imposed untenable and irresponsible cuts, and leaders across government are being asked to do more with less – coordination between America's federal, state, local, and tribal law enforcement agencies has never been more important. It's imperative that we maximize our resources by focusing on protecting national security; combating violent crime; fighting against financial fraud; and safeguarding the most vulnerable members of our society.
This means that federal prosecutors cannot – and should not – bring every case or charge every defendant who stands accused of violating federal law. Some issues are best handled at the state or local level. And that's why I have today directed the United States Attorney community to develop specific, locally-tailored guidelines – consistent with our national priorities – for determining when federal charges should be filed, and when they should not.
I've also issued guidance to ensure that every case we bring serves a substantial federal interest an