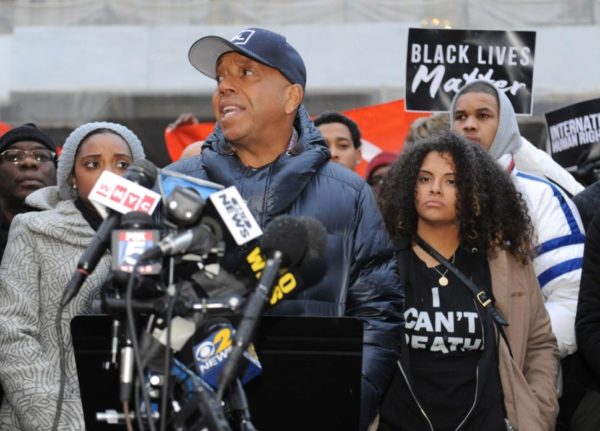 Russell Simmons' All Def Digital (ADD) moves into social justice programming by launching ADD's first ever Town Hall. The event will be held on Thursday, June 23, 2016 beginning at 7:30 pm at the Montalban Theater in Los Angeles, CA. This is the first of a recurring series of conversations and town halls on social justice issues affecting urban communities, marginalized segments of society, and youth in disproportionate ways.
This Town Hall will focus principally on criminal justice reform and policing. The live event will be moderated by professor, author and political commentator Melissa Harris-Perry, whose popular weekly commentary show ran on MSNBC for 4 years. Harris-Perry will lead a discussion with a distinguished group of nationally recognized speakers and panelists including Ben Crump, President of the National Bar Association and lawyer for Trayvon Martin; Jon Rapping, Professor, MacArthur "Genius," former public defender, and founder and president of Gideon's Promise; Donna Lieberman, Executive Director of the New York Civil Liberties Union; Gregory Thomas, President of National Organization of Black Law Enforcement Executives; Dr.
Melina Abdullah, Black Lives Matter, Ty Dolla $ign and others. nick cannon will also serve as audience moderator for the evening. "There are few topics more pressing in American society, in particular for minorities and youth, than policing and criminal justice reform," said Russell Simmons, co-founder of All Def Digital and longstanding social activist.
"We want to meaningfully explore this complex issue — from a variety of view points — with some of the most recognized experts in the field today leading the discussion. Our hope is to bring a topic to the forefront that seemingly only gets raised against the backdrop of violence, in a forum where we can inform, educate and understand different perspectives – but hopefully lead to some unified coalition around actionable change. We believe we have assembled an extraordinary panel and know Melissa Harris-Perry and nick cannon will do a brilliant job as we launch our Town Hall series.
"ADD's Town Hall will be an invite-only event, including prominent members of the community, elected officials, celebrities, professionals, activists, and students. To express interest in attending, please submit your name and organization to alldeftownhall. com.
The event will be available for viewing on Facebook Live. Additionally, components will be released online via ADD's distribution network across social video platforms like Facebook and YouTube. "We're proud to be expanding our live and digital programming efforts with a small but important step into social justice," said Sanjay Sharma, CEO of All Def Digital.
"As our audience has continued to grow, spanning Millennial and Gen Z across race and ethnicity, so too has our role in urban youth culture. We will leverage our digital platform to help nationally recognized experts get in front of younger audiences to discuss issues that they care about, and are often disproportionately affected by. "All Def Digital (ADD) is the leading media company for urban-centric youth culture.
ADD produces and distributes original content through its own media properties, social channels, traditional and premium television, theatrical motion pictures, live events, and brand partnerships through its newly established in-house creative agency and studio, ADHD. ADD is the fastest growing media brand in urban youth programming, touching over 100 million fans monthly across YouTube, Facebook and its other distribution channels. Jeru Tillman serves as executive producer of the All Def Town Hall.