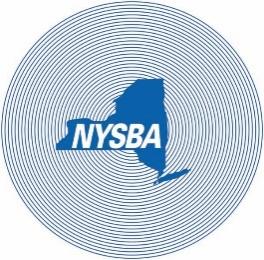 The Board of Directors of the New York State Broadcasters Association is honored to announce our selections for the Hall of Fame Class of 2022.

Dana Tyler: Award Winning News Anchor WCBS-TV New York City (Hall of Fame Class of 2022)
Jim Kerr and Shelli Sonstein: Legendary Morning Hosts WAXQ (Q-104) FM, New York City (Hall of Fame Class of 2022)
Richard McCollough: Legendary Meteorologist WDKX-FM 10-3.9, Rochester (Hall of Fame Class of 2022)
Chuck Custer: Award Winning News Director and Morning Show Host WGY Radio Albany (Hall of Fame Class of 2022)
The recipients will be honored at NYSBA's Hall of Fame Luncheon on Thursday October 20th at the legendary Rainbow Room. 30 Rockefeller Plaza 65th Floor, New York, NY. Doors open at 11:30 AM, luncheon begins promptly at 12 noon. Those wishing to attend may register at https://nysbroadcasters.org/event/hall-of-fame/
Dana Tyler: Award Winning News Anchor WCBS-TV New York City
Dana Tyler anchors CBS News New York at 6pm and contributes long-form stories and interviews to the station's multiple media platforms. Dana joined WCBS-TV in 1990 as a general assignment reporter and weekend co-anchor. She and Reggie Harris were the first African American anchor team in the nation's #1 media market.
In 2021, Dana had a pivotal role in CBS2's "Breaking the Stigma" reporting about openly discussing the taboo topic of suicide. It was a one-on-one, no-boundaries conversation with CBS2 Anchor Cindy Hsu, who bravely detailed her attempt to take her own life, and her recovery. Their candid talk about mental health issues revealed an unprecedented TV news experience which, hopefully, saved lives.
In 2017, the New York Chapter of the National Academy of Television Arts and Sciences inducted Dana into "The Gold & Silver Circle" for her 25+ years at WCBS-TV. She received a 2012 New York Emmy Award for Community Service as host of "The Tunnel to Towers Memorial Run". In 2010, she was awarded Emmys for anchoring the Breaking News Story: "Flight 1549 Lands in the Hudson River," and for reporting the Outstanding Health Program Feature: "Heather and Stacy's Story" in the CBS2 Health Special: "Race for the Cure." In 2003, Dana accepted Emmys for anchoring the Breaking News Story: "New York City Blackout," and the Outstanding Single Newscast: "CBS 2 News at 11: City Hall Shooting." She received a 1996 Emmy for anchoring the Outstanding Single Newscast: "New York City Subway Firebombing."
Dana's numerous Emmy nominations include Outstanding Hard News Single Story: "Spider-Man's Fall," and Outstanding Health Program Feature: "Amy's Story" in 2014. In 1994, Dana was nominated for Outstanding Single Hard News Story: "Mole People," and for anchoring WCBS-TV's Outstanding Coverage of an Instant Breaking News Story: "1993 World Trade Center Bombing." In 1991, she earned an Emmy nod for her live reporting for Outstanding News Special: "Heroes on Parade."
The New York Association of Black Journalists honored Dana in 2014 with the Lifetime Achievement Award. She was a 2011 honoree at the Friars Club "Salute to News Veterans." In 2007, McDonald's named her in its salute to "Black Broadcast Legends," and in 2006, she received a New York Association of Black Journalists Award for her report on Broadway's "The Color Purple." Dana has done countless stories over the decades about the arts in the tri-state area, including extensive reporting on the Broadway industry, and hosting the annual broadcast, "CBS2 at the Tonys."
Dana is involved in station-sponsored community partnerships. In 2022, she's volunteered in CBS2's Better Together events including the "Out of the Darkness" Walk for the American Foundation for Suicide Prevention, and "Project Green," by helping a neighborhood clean its trash-covered beach. She's been on Channel-2 teams for AIDS Walk New York, Juvenile Diabetes Research Foundation Walk, and Susan G. Komen Greater NYC events, including the "Sisters for the Cure" luncheon to raise awareness about high rates of breast cancer among women of color.
In 2003, Dana accepted an honorary Doctor of Letters degree from St. John's University. She received a 2001 Alumni Award for Distinguished Service from Boston University. She graduated from B.U.'s School of Management with a Bachelor of Science in Business Administration degree concentrating in marketing and broadcast journalism. During college, she was an intern at WEEI Radio, and a weekend producer at WBZ Radio.
Before joining WCBS-TV, Dana Tyler was an Emmy Award winning reporter and anchor for nine years at WBNS-TV in her hometown, Columbus, Ohio. Growing up, she watched a lot of TV news. Curious about factual storytelling, her first opportunity in the news business was as a high school intern at WCOL Radio. Decades later, what's the top 'miss' on her career wish list? Dana wishes she could have interviewed her great-grandfather, Ralph Waldo Tyler, who was the only accredited Black foreign correspondent reporting on African American service members in France during World War One.
Jim Kerr and Shelli Sonstein Legendary Morning Hosts WAXQ (Q-104) FM, New York City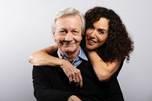 Mornings in New York City would not be the same without the top-rated team of Jim Kerr and Shelli Sonstein on iHeart's WAXQ, Q104.3. Beginning 45 years ago when Shelli first walked into Jim's studio, they have worked together to wake up the Big Apple. Jim and Shelli have been on the air longer than most marriages and longer than many of their listeners have been alive! They have excelled in the most competitive radio market in the world, having now partnered on three iconic NYC radio stations, beginning on WPLJ, then moving to country radio station WYNY in 1989. The two have called Q104.3 home for 19 years.
So how did these two powerhouses of radio end up together?
Jim Kerr has entertained and informed New York radio listeners in the morning for almost half a century. After visiting WWJ in Detroit on a 2nd grade field trip, Kerr decided he wanted to be a part of the exciting and magical world of broadcasting. His dream became reality in 1967 at age 14, when he landed his first on air position: working weekends at WYNZ in Ypsilanti, Michigan. In January 1969, at 16, Kerr took a Sunday morning position at WHMI in Howell Michigan, which led to a fulltime position for the summer as an Advertising Copywriter/Weekend Announcer. Fall of 1969 saw the teenage Kerr move into his first fulltime on-air stint hosting afternoon drive on WOIA in Ann Arbor Michigan. After brief stops at WORJ, (Orlando Florida) and WAAM, (Ann Arbor), the now 18-year-old Kerr joined the airstaff at top 40 WKNR in Detroit. January 1972 saw 19-year-old Kerr move to Chicago as morning show host on ABC owned WDAI. A year later, just 20 years old, ABC moved Kerr to its 50,000 watt AM powerhouse WLS, at the time the 2nd most listened to station in North America, and in 1974, Kerr was transferred to New York City as Morning Show Host on ABC's WPLJ, becoming the youngest person ever to host morning drive on a major NYC station. He would remain there for the next 15 years. Since 1974, Kerr has been the morning show host on six NYC stations: WPLJ, WPIX-FM, WYNY, WMXV, WQCD, and WAXQ. In January 2023, Kerr will celebrate his 21st year at WAXQ.
Kerr has hosted network music and entertainment specials for a number of media outlets including, ABC, CBS, Westwood One and Premiere. For 5 years he was the regular substitute host on the Rush Limbaugh Show. He currently hosts the iHeartRadio Icons series, heard on iHeartRadio stations nationwide.
Long active in Charitable and Civic affairs, Kerr is a 35-year member of the Board of Directors of HeartShare Human Services of New York and has been cited by the Governors of New York and New Jersey for his role in raising millions of dollars for local and national charities. He also serves on the Board of the SAG-AFTRA Foundation. Since 2012 he has been an elected Vice President of Screen Actors Guild-American Federation of Television and Radio Artists.
When Jim arrived in New York at the age of 21, his goal was to last at least a year in NYC, so for the rest of his life he could brag to his friends that he had once worked in New York. The millions of listeners and thousands of advertisers who have shared the early morning hours with him for generations are glad that things didn't go according to plan.
Not only did he last a year, but Kerr is also the longest running Morning Show Host in NYC radio history.
Shelli Sonstein began her radio career at the age of 18 on WMMR in Philadelphia (50 years ago this January). After working at two Philadelphia stations, Sonstein moved to Atlanta, as afternoon anchor and UPI award winning reporter.
Sonstein's career also included a 10-year stint as an entertainment reporter with the CBS Radio Network. In addition, she developed and managed the first morning prep service for the CBS Radio Network. For 15 years, Jay Leno's "Tonight Show" used that same prep service to help writers craft his iconic night nightly monologue. Shelli also worked as an anchor for the ABC radio network.
Shelli was called to come to NYC in August of 1977 to try out as the co-host on a morning show. She knew nothing of Jim Kerr, who was also unaware of this woman who suddenly walked into the studio to join him.
That day, a partnership was formed.
Today she co-hosts "The Jim Kerr Rock and Roll Morning Show" on America's most listened-to rock station, New York City's Q104.3, their home for 19 years, where Shelli is also news director.
Shelli has also been reviewing movies on the "Q" for 19 years. In addition, she served on the board of the Asbury Park Music and Film Festival.
During the WPLJ days, Sonstein's 7:20 a.m. dirty-joke-of-the day became the most popular segment on their #1 rated morning show. As an author she published the "Thoroughly Tasteful Dirty Joke Book" in 1984.
In addition to her co-hosting and news director roles, Shelli has hosted the Q104.3 issue-oriented weekly "Sonstein Sunday," also released as the "Sonstein Sessions" podcast, which have won multiple Gracie Awards for best public affairs show, along with several New York State Broadcasters Association honors for best Interview. They stand next to her Gracie award for best morning show co-host.
For more than a decade, Sonstein's passion has been using her radio platform to highlight the 9/11 community and especially the first responders lost to 9/11 toxins since 2001. To mark the 20-year anniversary of 9/11, she created, produced and hosted the podcast "9/11 Stories", personal testimonials from that day, living on as an historical document for future generations. "9/11 Stories" won the best podcast award from the NYSBA.
Her 9/11 advocacy and commitment to first responders led to Sonstein being sworn in by then Commissioner Daniel Nigro as an FDNY honorary Battalion Chief. She also served on the Board of Directors of Friends of Firefighters, which provides free mental health therapy to NYC firefighters and their families.
Every year, Sonstein recruits Q104.3 listeners to join her on the annual stair climb up the 103 stories of the World Trade Center, and everyone else to donate, raising money for the Tunnel to Towers Foundation. She is very proud of the dollars raised, as well as competitively placing high and improving her finish time year after year.
Although born in Philadelphia, Sonstein has been a Jersey girl most of her life. She has 3 children and 2 grandsons. When not working, you can usually find Shelli hill- hiking with her blind rescue dog, Fritz. She also enjoys working out, biking, kayaking, or gardening at the 1852 farmhouse she shares with her husband John.
Together Kerr and Sonstein have formed an unbeatable team. Their contributions and commitment to New York City continue remain unsurpassed.
Richard McCollough – Legendary Meteorologist WDKX-FM 10-3.9, Rochester
Rochester is known for its tough winter weather. You do not go outside without first listening to meteorologist Richard J. McCollough on number# 1 rated WDKX 103.9 FM, where he broadcasts the weather for the last 20 years. A Rochester legend, McCollough has also worked at WHEC-TV 10 NBC and 13 WHAM-TV ABC. He is a true broadcast veteran.
McCollough's career began to take off in the eighth grade, when selected to participate in an aerospace training program at NASA Goddard Space Flight Center in Greenbelt, Maryland, where he built an environmental space robot for a science project. The University of Maryland graduate began his career at Maryland Public Television, where he served as production assistant learning everything about television stagecraft. He worked on the nationally syndicated PBS program A.M. Weather. Always busy holding multiple jobs, McCollough also worked as a video tape news editor for WJZ-TV Channel 13 ABC in Baltimore. But he began to focus on meteorology, working on the syndicated aviation weather program for PBS affiliates, first in production and then eventually as one of the directors.
McCollough moved on to the Financial News Network in Los Angeles as a studio supervisor for 5 years. There he developed his "on camera" skills working after hours putting together weather forecasts & presentations at the "green screen." He did this for 2 years. He also produced a number of science reports including a two-part series on the Voyager space mission. At the same time, he studied broadcast journalism at UCLA during this period.
Guided by his NY agent Alfred Geller and mentor Tom Kuelbs, McCollough's next stop was WLWT-TV, Channel 5 in Cincinnati as the morning and noontime weatherman and science reporter. This was McCollough's first full-time job as a meteorologist. During this period, he studied meteorology at Miami University of Ohio.
But Rochester beckoned. WHEC-TV, Channel 10 needed a meteorologist, and McCollough was ready. The station offered him a job as chief meteorologist and he stayed for nine years. McCollough, a warm communicator, known for his "forecast accuracy and detail," was also the first African American weatherman in Rochester history. He also produced a public-affairs series, "Rochester in Focus," and became the face of the station for its many community-oriented promotions.
While at Channel 10, he was hired by Andrew Langston to be Chief Meteorologist at WDKX 1039 FM in 1999. Eventually he left channel WHEC-TV Channel 10 to join Channel WHAM-TV Channel 13 as a weekend meteorologist.
McCollough also traveled south for two years to become the first African American meteorologist in Spartanburg, South Carolina at WSPA-TV Channel 7 CBS. There he helped the station's historic transition from an analog to a high-definition digital broadcast.
Rochester always called. Even while in South Carolina he continued to deliver the daily weather forecasts for WDKX 1039 FM back in Rochester. You can hear his forecasts today on this station.
McCullough has continued to show his production expertise. Working with the National Technical Institute for the Deaf at RIT, he developed the American Abilities Television Network which created local television programs to educate people about hearing loss. He has been honored with over 45 national & international production awards. His civil rights documentary "Lulu and the Girls of Americus, Georgia 1963," won five major awards including Accolade, Telly and Aegis honors. Recent award-winning efforts include programs on three Rochester civil rights legends — Constance Mitchell (Monroe County's first woman and African American legislator), David Anderson (illuminated the contributions of Frederick Douglass) and Walter Cooper (president of the Rochester NAACP, founder of the local chapter of the Urban League, a state Regent, and a leader in education issues). He produced historical programming such as "Poplar Hill on His Lordship's Kindness" about Prince George's County, Maryland. And a 10-part documentary series of notable African Americans in Maryland. Of course, he continued to forecast the weather and his program has earned American Meteorological Society Seal of Approval
McCullough has always given back. Starting in 2009, he worked with Art Peace and ran a summer program teaching young people about entrepreneurship for several years. In 2011, McCollough began a five-year stint as a teacher in Rochester. He was president of the Rochester Association of Black Journalists and led the organization to being recognized as the best chapter in the United States. A true renaissance man, collector of antiques, coins, political memorabilia and 18th Century Tall ship models, in April 2020, he moved from the city to Weatherfield Farm in Conesus, NY. On top of everything, he is a farmer, raising organic blackberries, raspberries and herbs to make a variety of herbal teas, juices and flavored vodka.
Chuck Custer – Award Winning News Director and Morning Show Host WGY Radio Albany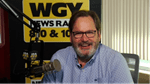 Listeners in Albany's Capital Region have tuned in Chuck Custer for more than 36 years. Now retired, the Western Massachusetts native was a legendary broadcaster on News Radio 810 & 103.1 WGY. He was the co-host of the top-rated morning show with Kelly Lynch beginning in 2011. Prior to that, he served as morning News Anchor and the on-air partner for 25 years with NYSBA Hall of Famer Don Weeks. Custer also previously served as News Director and Program Director for News Radio 810 & 103.1. He also is a former president of the New York State Associated Press Broadcasters Association. Prior to coming to Albany Custer worked in radio at stations in Providence, Charleston (WV), and Utica.
Custer's leadership in the newsroom is unsurpassed. As News Director, the WGY News Department was honored with more than 35 awards for excellence in journalism including four national Edward R. Murrow Awards from the Radio and Television News Directors Association.
At Custer's retirement, John Cooper, Senior Vice President of Programming for iHeart Media in Albany stated, "For over 36 years, Chuck Custer has been synonymous with WGY. From his time as the leader of the award-winning WGY News Department, his outstanding work with 'Don Weeks in the Mornings,' his current co-host position with Kelly Lynch, and most importantly all the time he's contributed to the people of the Capital District. Chuck has been the consummate professional. He's a great broadcaster who will long be remembered."
"Chuck's commitment to the WGY brand and its audience is one-of-a-kind," said Jeff Wolf, News and Program Director for iHeartMedia Albany. "We should all be so fortunate to leave behind such a rich and enduring legacy."
Throughout his 36-year career, Custer was committed to giving back to the Albany area. He devoted his time and energy to numerous charitable endeavors including the "WGY Radiothon for the Children's Hospital at Albany Med." and "WGY Christmas Wish-Presented by Curtis Lumber." As a result of those efforts, WGY received the National Association of Broadcaster's coveted Crystal Award for commitment to public service. Custer and Lynch also received the Respectful Commitment Award from the Warren-Washington-Albany ARC for, " Continued dedication and commitment to raising the awareness of the disability community."
On working at WGY, Custer said, "It was a lifelong dream to work at WGY, a powerful, influential station with a great history and heritage," said Custer. "I've been very fortunate to have such a great run here. I've worked with many tremendous and talented people, made many friends, and I have had an opportunity to take on many different challenges. For 36-plus-years, I've loved what I was doing and loved coming to work. Not many people can say that."