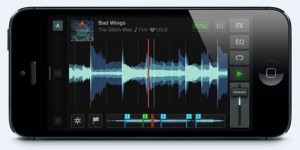 Native Instruments Releases TRAKTOR DJ App Exclusively for iPhone and iPod Touch
BERLIN/NEW YORK (May 2, 2013) – Native Instruments today released the innovative TRAKTOR DJ for iPhone App, available now on the App Store for iPhone and iPod touch. Following the release of the unique, hands-on DJ app for iPad, TRAKTOR DJ for iPhone delivers the same intuitive workflow and advanced feature set as the iPad version, with an optimized interface to fit the screen real estate of iPhone and iPod touch.
The TRAKTOR DJ for iPhone App is aimed at DJs of all levels, from novices to touring professionals. Users of TRAKTOR PRO, Native Instruments' flagship DJ software for Mac and PC, also can complement their setups with bi-directional content synchronization with TRAKTOR DJ for iPhone.
The release of TRAKTOR DJ for iPhone is the realization of one of Native Instruments' long-term visions – to use touch-controlled waveform displays to create a more direct way to interact with music. The success of the iPad version demonstrates that this new paradigm has been eagerly adopted by the DJ and wider iOS community.
TRAKTOR DJ for iPhone is available for $4.99 from the App Store on iPhone and iPod touch or at www.AppStore.com/TRAKTORDJ
TRAKTOR DJ for iPhone follows its iPad counterpart in putting the waveform at the center of user interaction. A user interface optimized for the iPhone's screen size delivers the same dedicated 3-band EQ and filter sections and 8 proven TRAKTOR effects as the iPad version. Users can view both decks simultaneously or use the convenient touch slider to quickly adjust the size of each waveform in relation to the other. This allows users to set loops, perform scratches, mark cue points for live re-editing, and scrub, browse or navigate through tracks with the same precision and ease available to iPad users – all in the most portable version of the industry-leading professional DJ software to date.
           Also on board are TRAKTOR DJ's advanced performance features. Freeze Mode lets users slice up a waveform into playable parts for on-the-fly remixing and entirely new musical performances. Users can also create beat grids in real time, intuitively mapping out a song's groove without having to stop the music. TRAKTOR's refined automatic tempo detection, sync engine, and precise downbeat analysis make beat mixing completely straightforward and free users to creatively interact with their music via the touch interface. A powerful recommendation engine uses advanced tempo, key, and timbre detection algorithms to recommend compatible tracks with the same tempo and harmonic structure in real time. This allows users of all levels to create smooth and ear-pleasing mixes. Users have access not only to their TRAKTOR collection, but also the music available on their iPhone or iPod touch.
And thanks to TRAKTOR DJ's Notification Center, users learn the app at their own pace, unobtrusively receiving tips, tricks, and techniques from within the app.
           TRAKTOR DJ bi-directionally syncs track settings and properties with TRAKTOR PRO. This gives DJs an ideal workflow for planning a set when on the move. Users can also transfer their stored work in TRAKTOR PRO directly to TRAKTOR DJ – all beat grids, cue points, loops and BPM counts seamlessly transfer between iPhone and TRAKTOR PRO and back via a free Dropbox account.
Additionally, because of the powerful Core Audio engine built into iOS, TRAKTOR DJ for iPhone also offers ultra-low latency playback, manipulation and recording while also supporting professional class compliant hardware audio interfaces, such as the TRAKTOR AUDIO 6 and 10, something currently not possible on any other mobile platform. DJs can connect these and other devices to their iPad using the Camera Connection Kit™ for optimum audio quality and pre-listen and cue functionality, or via a splitter cable with dedicated cue and master controls. All of this allows TRAKTOR DJ users to easily record their mixes live on their iPad, or pump their music out to the house in the highest quality possible.