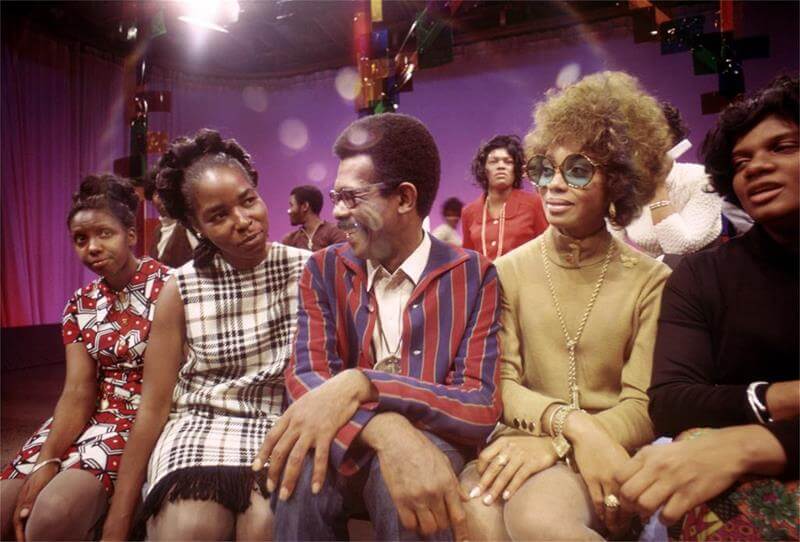 The award winning film – Mr. SOUL! – directed by Melissa Haizlip continues to wow audiences across the nation in virtual cinemas this week and will expand through Labor Day Weekend. This monumental film is a tribute and an important look back at America's first "Black Tonight Show" that aired directly from New York on public broadcasting from 1968-1973 at the height of the Black Power Movement and the Civil Rights Movement. Aptly titled SOUL!, this groundbreaking show was produced and hosted by Ellis Haizlip aka Mr. SOUL!  He was hip, smart, innovative, political and gay. In his personal fight for social equality, he ensured the revolution would  be televised. And that Revolution was his TV show SOUL! – an incredibly unique weekly television show that aired on public television from 1968 – 1973 celebrating Black American culture, art, life, love and community, which he shared with households across the nation in their living rooms every week. 
The film's distributors Shoes In The Bed Productions and Open Your Eyes & Think MF are proud to announce the continuing virtual cinema release in over 60+ cinemas through next week!  Featuring rare live performances and interviews from the legendary  Al Green, heavyweight champion Muhammad Ali, Sidney Poitier, Cicely Tyson, James Baldwin, Nikki Giovanni, The Last Poets, Gladys Knight, Stevie Wonder, Earth, Wind & Fire, Ashford & Simpson, Harold Melvin and the Bluenotes, Billy Preston, Black Ivory, The Delfonics, Bill Withers, Sonia Sanchez, Wilson Pickett, Odetta, Merry Clayton, Mandrill, Kool & the Gang, Toni Morrison, Kathleen Cleaver, Betty Shabazz, Stokely Carmichael, Mrs. Georgia Jackson, George Faison, Patti LaBelle, Roberta Flack, Rahsaan Roland Kirk, and many more,  SOUL!  was the first national show to provide expanded images of African Americans on television, shifting the gaze from inner-city poverty and violence to the vibrancy of the Black Arts Movement. With participants' recollections and a bevy of great rarely seen archival clips, Mr. SOUL!  captures that critical moment in our nation's cultural rise, and whose impact continues to resonate across generations and cultures. 

Mr. SOUL!  world premiered at TRIBECA FILM FESTIVAL where audiences embraced it with standing ovations and sold out screenings. Mr. SOUL!  went on to win a number of awards on the festival circuit playing over 30 film festivals, including HOT DOCS, AFI Docs, BFI London, Woodstock Film Fest, Pan African Film Festival, Urbanworld, Los Angeles Film Festival and more. The film has won over 17 awards including the International Documentary Association (IDA) Best Music Documentary; the Finalist Award for the Inaugural Library of Congress Lavine/Ken Burns Prize For Film; AFI Docs Audience Award; Woodstock Best Documentary; and many more. 
Mr. SOUL! is directed, written and produced by Melissa Haizlip, featuring music composed and performed by Grammy® winning musician/composer Robert Glasper, with the voice of Ellis Haizlip by Grammy® / Emmy® winner Blair Underwood – one of the film's Executive Producers. The virtual cinema release run is presented together by Shoes In The Bed Productions and Open Your Eyes & Think MF.
More events will be announced this week through the film's website, Instagram, Twitter and Facebook pages at @mrsoulthemovie and the hashtags #mrsoulthemovie, #ellishaizlip and #virtualrelease

As of this date, Mr. SOUL! will open in virtual cinemas in the following 60+ partnering theater/drive-ins and cities (with more to come):