Martha James-Hassan, Ed.D., assistant professor in Morgan State University's School of Education and Urban Studies (SEUS), has been a strong and growing force for positive change in urban education for more than 25 years. This past March, she received some well-earned recognition when The Daily Record announced her selection as one of its Maryland's Top 100 Women. The annual honor recognizes outstanding achievements demonstrated by women's professional accomplishments, community leadership and mentoring.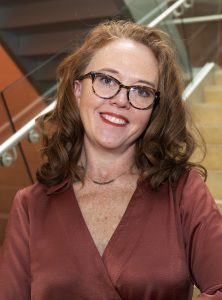 Dr. James-Hassan has a stellar track record in each of the categories evaluated. An innovative educator and leader with a passion for social justice, she works passionately to establish policies and implement practices that increase educational equity. The River Falls, Wisconsin, native earned a bachelor's degree in kinesiology and exercise science from the University of Wisconsin–Madison and began her career as a physical education teacher. Working in a "highly stressed and highly under-resourced" urban school in the 1990s, she said, she "realized the health disparities and academic disparities and how social-emotional learning and academics could be improved by physical activity…. My pursuit of physical education was my initial dive into social justice," she added. "It was looking at who has access to physical activity (and) who doesn't, the challenging relationship we have in this country with labor and what that means about people who have leisure time and can engage in physical activity."
Today, as a faculty member of SEUS, she strives to improve urban education through rigorous interdisciplinary teacher education. Off campus, she serves in numerous other high-level leadership positions supporting education, among them president of the Maryland Association of Boards of Education; Policy Committee chair for the Council of Urban Boards of Education; board member of the Council of Great City Schools; and Policy Committee chair for the Baltimore City Board of School Commissioners.
As a researcher, Dr. James-Hassan is now focused on teacher professional development, cultural fluency and interdisciplinary education, and she has published and presented extensively on increasing educational equity. She has also benefited many with her mentorship throughout her career, including students in pre-kindergarten (PK) through grade 12; in-service and pre-service teachers in PK–12; and higher education faculty.
Dr. James-Hassan knows a number of the other Maryland's Top 100 Women for 2020, and has worked with three: Marsha Reeves, executive director of KIPP Baltimore; Heang K. Tan, deputy commissioner of the Division of Aging and CARE Services for the Baltimore City Health Department; and Marylou Yam, Ph.D., president of Notre Dame of Maryland University. Recognitions like the Top 100 Women are important, she said, "because they, for some people, are a motivation. What I would love to come out of this is that some young woman who is sitting in my classroom at Morgan says, 'Oh! Here's a goal I can look to achieve that isn't about making $200,000 a year or isn't about acquiring stuff but is about having an impact on the community and being recognized for that.' So I think that it helps in my ability to role model possibilities and professional opportunities for young women."
This marks the second recognition of a Morgan female faculty member in recent years. In 2016, Dr. Lorece V. Edwards was selected as one of Maryland's Top 100 Women.
A 25th anniversary gala and awards celebration for Maryland's Top 100 Women is scheduled for July 27 at the Renaissance Baltimore Harborplace Hotel, pending the ability to host a gathering in light of the COVID-19 pandemic.
Congratulations to Dr. Martha James-Hassan!