Radio Facts: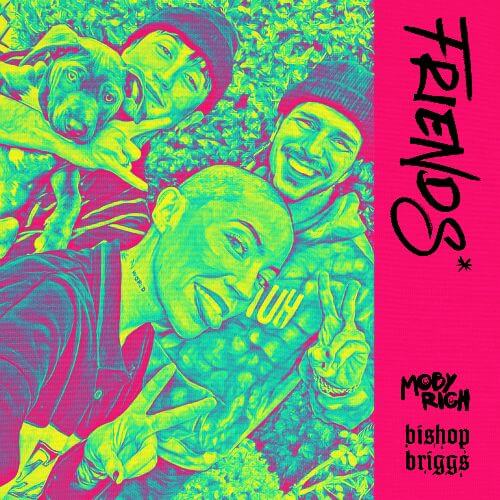 MOBY RICH TEAMS UP WITH BISHOP BRIGGS ON NEW SINGLE "friends*"
Today, alt-pop duo Moby Rich enlists multiplatinum songstress Bishop Briggs for their new single, "friends*"—listen HERE!
 
This time around, the band recruits Briggs for a dynamic duet perfect for anybody yearning to make an escape from the friendzone. Their voices go back and forth between bass-heavy production, distorted guitars and emotionally charged screams. It culminates on an infectious chorus, "I hate that I want to be more than friends. Sometimes, losing friends is alright."
 
Of the collaboration, Moby Rich says, "When we wrote 'friends*' with Bishop, it was our first time meeting her. Sometimes sessions have a way of just giving you a song, and the second we started writing, the words and melodies just started to flow. It's pretty wild when we get to work with people that we've heard on the radio so many times. It's also nice when they are super chill and wholly authentic. For us, 'friends*' is a song about having feelings for someone that you've only seen as a friend and realizing that you have to eventually tell them how you feel if you want things to move forward or change. Also, the song is about the anxiety and fear of what the response may be to tell that person that you want to be 'more than friends, knowing very well that it may mess up what you once had."
 
Bishop Briggs chimes in, saying, "'friends*' describes the frustrating yet beautiful cycle of disappointment, hope, bliss, chaos, addiction and love. Wanting something you can't have can be very alluring and can consume your every thought. I had been singing 'I hate that I want to be more than friends' when I was briefly reminded of a guy friend of mine who I previously felt that way for. I was reminded of all the moments I looked far too deeply into and the memories I replayed in my mind in the hopes of us being something more."
 
She continues, "I am a big fan of Moby Rich, and I reached out to them directly to see if they would have any interest in writing! Thankfully, they were up for it, and before I knew it I was in a cozy room with them sharing this idea I had. We quickly began recording a layout of the track on our phones and decided to record it officially at a later date. Soon enough, we were all playing this rough voice memo from our phones on repeat whenever we could. Sometimes you know if a song has potential if you can hear it acoustically, and it still moves you. It felt like something special from the moment we began writing, and I hope you feel the same."
 
"friends*" follows Moby Rich's latest release "Get High"—listen to the song HERE and watch the video HERE! The Los Angeles-based duo recently announced they will join Weathers on their "Our Little Secret" North American tour later this year—see the full list of upcoming dates below. Moby Rich has amassed over 30 million-plus streams to date and received praise from Billboard, Funny Or Die, Noisey, Alt Press, Ones To Watch and more.
 
Stay tuned as Moby Rich gears up for a massive 2020!
UPCOMING TOUR DATES
August 5                      Brooklyn, NY                          Rough Trade NYC
August 7                      Columbus, OH                       Rumba Cafe
August 9                      Chicago, IL                            The Legacy Theater
August 11                    Minneapolis, MN                    7th Street Entry
August 12                    St. Louis, MO                         Blueberry Hill
August 14                    Lincoln, NE                            The Bourbon Theatre
August 15                    Denver, CO                            Lost Lake Lounge
August 16                    Salt Lake City, UT                  Kilby Court
August 19                    Portland, OR                          McMenamins Crystal Ballroom
August 21                    Sacramento, CA                     Holy Diver
August 22                    San Francisco, CA                 DNA Lounge – Small Room
August 29                    Los Angeles, CA                    The Roxy Theatre