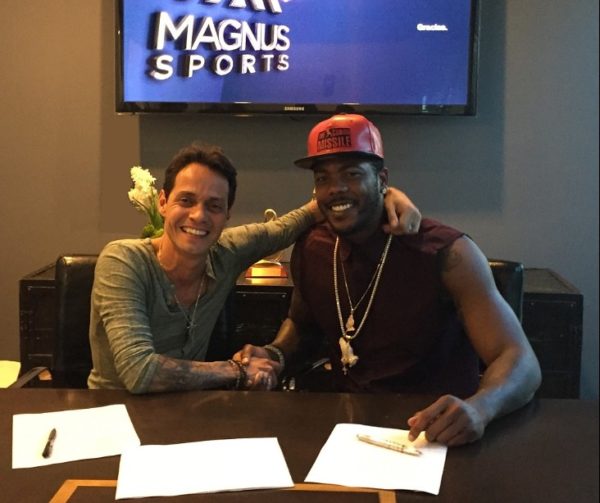 (Editor's Note: Here WE go again) MAGNUS
Media announced the inception of
MAGNUS
Sports, a fully integrated division
dedicated
to the worldwide representation of major athletes.
MAGNUS
Sports has completed its first initiative by forming a joint venture with premier boutique baseball agency Praver Shapiro Sports Management and the signing of Cuban-born, 4-time Major League All-Star pitcher
Aroldis Chapman
.
Founded earlier this year by international music icon Marc Anthony,
MAGNUS
Media has been
building
a roster of top-tier entertainers, artists and influencers and brings to the venture its expertise in entertainment, branding, marketing,
social
media, and content development. Praver Shapiro is widely recognized as a leading Sports Management Agency specialized in representing Hispanic baseball talent, and providing a comprehensive array of
services
designed to address the unique needs of the professional athlete both on and off the field. The venture will be jointly overseen by
MAGNUS
Media CEO Michel Vega and Praver Shapiro's Barry Praver and Scott Shapiro.
Marc Anthony
said, "Baseball, like music, is an ingrained cultural passion for many Latinos throughout the world, and there's no shortage of amazing stars of Hispanic origin. Despite that, until now there hasn't been an
enterprise
specifically designed to meet their needs. With
MAGNUS
Sports, we are changing the existing dynamics and
building
a new kind of Management Company that understands the culture and knows how to build big media brands.
"Beyond the cultural connection,
social
media is also bringing fans closer to their heroes than ever before. That means that athletes, like other entertainers, need management that can help them with both managing their career and
building
their brand".
"We are honored to have the opportunity to begin this venture with a prominent talent like Aroldis."
Chapman added, "I couldn't be happier to have the
MAGNUS
Sports team supporting me as I enter the next important phase of my career. We are going to continue to work hard both on and off the field to push boundaries and achieve new levels of success."
Other operating units of
MAGNUS
include an artist management company, music publishing, digital content creation, film & television, a music label and an entertainment-centric marketing practice focused on leveraging the power of top Latino content creators in the U.S. and worldwide.