NYC-based Lizzie & The Makers have teamed up with Glide Magazine to premiere their new blues rock stomp "Lover By Proxy" which is released today. The moody track is the second single from their sophomore studio album Dear Onda Wahl out this fall which was produced by renowned producers Reeves Gabrels (David Bowie, Tin Machine) and Mario J. McNulty (David Bowie, Prince). Lizzie & The Makers have announced a handful of NYC area gigs as a warm up to their full US tour to be announced soon (dates below).
"'Lover By Proxy' is perhaps my favorite one on the album. The creation of this one was the most organic," says frontwoman Lizzie Edwards on making the track's dark magic with a blues snarl.  "The title was born out of frustration with recent romantic partners. I felt like I was a placeholder or 'fixer', helping them realize their worth and potential. Once they achieved this confidence, they moved on to someone else.  While other songs on this record are introspective, idealistic, and melancholic in tone when it comes to love, 'Lover By Proxy' is pure fire mixed with reluctant acceptance and punctuated by an overarching and generous 'fuck you'."

Like many of their songs, the origin of "Lover By Proxy" lies with guitarist and songwriting partner Greg McMullen, a "prolific morning meditator" who often sends her guitar ideas for riffs and grooves in the wee hours. The riff that would eventually become "Lover By Proxy" immediately spoke to her and she already had "the perfect lyrics to match" in her lyrical chapbook. "The melody poured out of me in minutes," she tells Glide. "Our rhythm section (Brett Bass and Steve Williams) added the perfect stomp and punch backdrop almost instantly. And our keys genius Rob Clores added the perfect strange and warped sounds to take this baby to outer space where it belongs and where we currently reside as songwriters."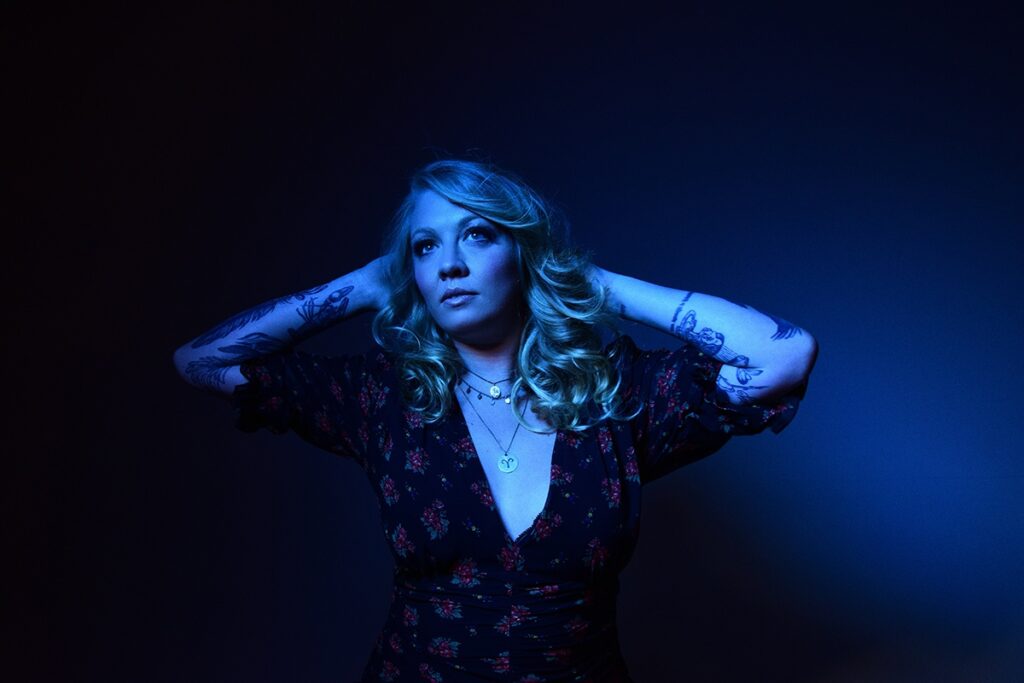 With the help of acclaimed producers Reeves Gabrels and Mario J. McNulty, Lizzie & The Makers will release their formidable new sophomore studio album Dear Onda Wahl this Fall with "Lover By Proxy" being preceded by the spellbinding "Mermaid", the first track to come off the collection.  For "Magic River," the melody was written after Lizzie went on a David Coverdale binge.  "Post-Whitesnake listening party, I wrote the melody and found these lyrics fit perfectly," she laughs.  The story is about struggle and fighting to stay above water despite challenges we face in life." 

The grimy blues rock track "Bottle" "is about being a woman in the rock/blues genre and in music and the word in general," she says.  Edwards penned the love-hate letter, "Les Idiots," to certain characters posing in her hometown NYC's East Village and Lower East Side.  "Waiting For The Teeth" has a haunting quality to it as Edwards was fresh from an abusive relationship and bursting to write about it to find some catharsis and healing.  Possibly the sentimental companion to "Lover By Proxy," "Tell Her" is a more hopeful heartbroken song.  The trippy atmospheric "Mojo Hand" was inspired by McMullen's deceased ex-girlfriend who gifted him the powerful good luck charm and producer Reeves Gabrels contributed theremin, adding to the otherworldly vibe of the track.  Funky title track "Dear Onda Wahl" was written during a slow work day behind the bar while Edwards gazed at a mounted deer head and asked it for love advice: "Deer on the wall, what's the point of it all?" McMullen often invented creative titles for their work-in-progress songs and christened it "Dear Onda Wahl."  
Recorded at Mission Sound Recording in Williamsburg, Brooklyn, LP Dear Onda Wahl threads rootsy, shoegazey, psychedelic layers throughout its core. "Though influenced by traditional music genres, we were also heavily influenced by David Lynch and Twin Peaks in writing this album. So there is always a little bit of old and familiar mixed with alien, fantasy and the unexpected in our music," remarks Edwards.  Lizzie & The Makers' debut album, Fire from the Heart of Man was released in 2015, followed by the EP Meanwhile… three years later. A 2017 concert collection Live at Rockwood Music Hall conveyed The Makers' famously visceral stage show.
 
Lizzie & The Makers is singer/songwriter Lizzie Edwards, guitarist Greg McMullen, bassist Brett Bass (Gregg Allman, Bernie Worrell), drummer Steve Williams (Sadé, Digable Planets) and keyboard player Rob Clores (Black Crowes, Jesse Malin). "Lover By Proxy" is now out on all DSPs.  Dear Onda Wahl will be released Fall 2021.
UPCOMING NY SHOWS & PERFORMANCES
(All shows Lizzie & The Makers unless noted)
6/25:   NYC All-Star Collective "Murderers' Row Presents Mike Forntatale's '66 Show" performing songs from 1966 The Cutting Room NYC, NY at 7:30pm*
6/26:   "Loser's Lounge Pays Tribute to Tom Petty"Industry City Bandshell Sunset Park, Brooklyn, NY (two shows)*
7/3:   Grease Trap at Hometown BBQ Red Hook, Brooklyn, NY 6pm *
7/8:   Windamere Mattituck, NY 6pm #
7/9:   Grease Trap at PORT Greenport, NY 6pm *
7/24:   Hometown BBQ Red Hook, Brooklyn, NY 6pm 
7/25:   Ram's Head Inn Shelter Island Heights, NY 6pm #
7/27:   Bowery Electric NYC, NY 8pm 
7/31:   San Pedro Inn Red Hook, Brooklyn, NY 8pm
8/7:   Windamere Mattituck, NY 6pm #
8/19:"Songs from the Musical HAIR" The Cutting Room NYC, NY at 7pm*
8/29:   Ram's Head Inn Shelter Island Heights, NY 6pm #

* denotes Lizzie Edwards solo
# denotes Lizzie Edwards and Greg McMullen