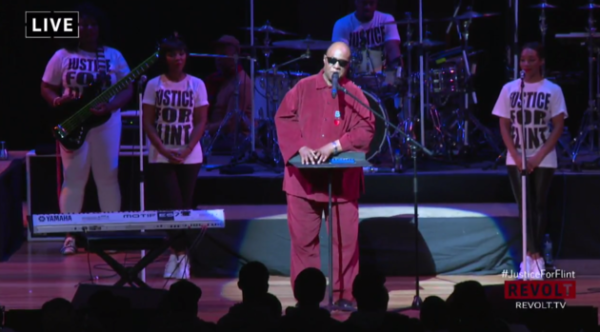 CREED director, Ryan Coogler spent his Oscar Sunday doing something amazing alongside his fellow director colleague, Ava DuVernay. Neither of the highly sought out directors walked the Red Carpet at the Oscars. Instead, they were holding a free benefit concert titled #JUSTICEFORFLINT in Flint, Michigan, to raise awareness of the city's water crisis. The event streamed live on Revolt TV.
The timing couldn't be more right. As Chris Rock stood on stage at the Oscars addressing Hollywood's lack of diversity in only a way he can, Coogler and DuVernay had boots to the ground in Flint, MI. The Blackout for Human Rights and Coogler decided on the date because it's the last weekend of Black History Month. Janelle Monae and Jesse Williams were on hand as comedian Hannibal Buress hosted the event. Stevie Wonder was a surprise performer while others came through and rocked the crowd prior to his arrival.
Stevie  joined Monáe in a chant of Flint Lives Matters and Clean Water Matters during the show.
The event was powerful as native born Michigan artists like  Royce Da 5'9″, Denaun Porter and Dej Loaf took the stage, as did Flint native Jon Connor and the Saginaw-born Wonder.
"With the #JUSTICEFORFLINT benefit event we will give a voice to the members of the community who were the victims of the choices of people in power who are paid to protect them, as well as provide them with a night of entertainment, unity, and emotional healing," Coogler previously told BuzzFeed. "Through the live stream we will also give a chance for people around the world to participate, and to donate funds to programs for Flint's youth."
Ava Duvernay's tweet pretty much summed up the event.
No paid promotion. All word of mouth. $122k raised tonight for Flint recovery. Thank you to all 3022 activists who donated. #JusticeForFlint

— Ava DuVernay (@AVAETC) February 29, 2016
I did get to watch most the event and it was one for the record books. You can check out pieces of of it below as the stream is still active.