Natina Reed (born October 28, 1979 – October 27, 2012) died a day before her 33rd birthday.
She was an American actress, rapper, singer, teen idol, and songwriter in the R&B trio Blaque. On most of Blaque's songs, Reed is featured as a rapper, except on "Mind of a King" where she sings the song entirely on her own. She is also known as Blaque's rapper and similar to her cousin Left Eye who also died in a car accident
Sources state she was hit by a car while crossing the street. Ironically, she was almost the same age as Left Eye who was also killed in a car accident. She had a 10-year-old son by rapper Kurupt.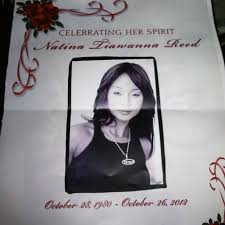 Natina Reed: Interesting Things You Want to Know About the Late Singer
Death
Singer-Songwriter, Rapper and Actress, Natina Riawana Reed was just short of her 32nd birthday when she died on October 26, 2012 after being struck by a car outside of Lilburn, Georgia. In her 11,686 days she lived the life of many people, not just one.
Like many in entertainment, her ride was less than smooth; paved with peaks and valleys. Reed is not the first victim of fame's exhilarating ride; the one that ends all too quickly and like an addict, it's discarded recipient must continue chasing it.
So, let's look at some of the things we should always remember about this shooting star that faded too quickly and reflect on the legacy of Natina Reed. We'll start at the beginning.
Birth and Family
The Queens, New York native was born on October 28, 1980, but when she was four years old the family moved to Atlanta, Georgia, where she was raised. Her father, Paul Reed was a reverend and Natina played drums at his church and performed for the congregation's drama ministry.
Her mother's name was Tamara Goodridge and Natina had two sisters: Genni and Niesha, and one brother, Michael Whalen. When her parents divorced, Natina got two step-parents: Mark Goodridge and Luci Reed, as well as seven step-siblings who reside in London.
Career
Natina took to show business early. She had modeled for Bloomingdales and Macy's advertising campaigns by the time she was 8 years old and was featured in a hot dog commercial. She also wrote. She wrote poems and songs, doing beatboxes when she wrote her songs. She sold a commercial jingle to Sprite and won a songwriting competition at the age of 13. Around this age, she wanted to be Miss America.
In her early teens, Natina Reed placed her feet on the path to a musical career. She went to Cedar Grove High School, where she was discovered by TLC's Lisa Lopes who hired her to write for TLC. Her high school tenure was also beneficial because that's where Natina met Shamari Fears, another artist.
Blaque
They recruited Brandi Williams when Natina created the rap trio, Blaque, which stands for Believe, Life, Achieving, Quest, Unity and Everything. Natina was the writer and rapper of the group. When Natina was 19 Lisa Lopes' Left-Eye Productions signed Blaque. Lopes also mentored and managed the group.
The sound Reed was going for was universality. Not just urban and R&B. Critics described Blaque's sound as more pop than TLC with elements of R&B and rap. They first popped up as cameos in music videos. By 1999 they were the opening act for NSYNC in Concert and TLC's FanMail Tour.
They released 2 albums, starting with their 1999 LP, Blaque, which dropped on June 1st by Trackmasters imprint label. It was recorded with producer Dallas Austin in a Miami, Florida studio and other portions of the LP were recorded at Lenny Kravitz home.
During the sessions, they collaborated with Missy Elliot and Queen Latifah. It went to #53 on the Billboard 200, led by the track Natina (who co-wrote half of the album's 14 tracks), wrote alone – "I Do". That song was written by Reed when she was 14 after seeing Alanis Morrisette on MTV.
Natina Reed's music was published through BMI. She received rave reviews for her "brash hip-hop rhymes". Blaque's videos were praised as futuristic and Natina boasted, "We're straight out of the year 2080." Blaque sold over 1.5 million copies and was certified platinum. The single "808" was certified Gold and sold over 500,00 copies worldwide.
Blaque's second album, Blaque Out was released in 2002, but only in Japan. In 2007 it was made temporarily available on digital download in the United States, Natina feeling Blaque Out was their best album.
She's the credited songwriter on the project, but at the time she was pregnant with rapper, Kurupt's child, and some credit the limited release to the label's uncertainty of the future of the group.    Natina Reed and Kurupt had been engaged for a while, but scheduling conflicts had prevented a marriage ceremony.  After Natina gave birth to their son, Tren Brown in 2002, the couple separated. 
Film Debut
Natina Reed acted. In her film debut, she played Jenelope in Bring it On (2000). Fears and Williams also appeared with her as friends to the lead character, played by Gabrielle Union, but because the girls had little or no acting experience they often looked directly into the camera during filming. However, the group contributed two songs to the movie's soundtrack, and the song "Bring it All to Me" featured 50 Cent. In 2001.
Boyfriend Kurupt, Father of her son
Natina was seen in her boyfriend, Kurupt's music video for his single, "It's Over" from his third album, Space Boogie: Smoke Oddessey. Blaque was featured on "Head to the Sky" from Lisa Lopes's debut solo album, Supernova, and also in that same year Natina appeared as herself in the TV show drama, V.I.P. In 2002, Blaque made a cameo appearance in Jermaine Dupri's video for his single, "Welcome to Atlanta" and Natina's song, "Rock Climber" was featured in the compilation album, Dragonfly Presents a Better Life Through Chemistry.
In 2003 Blaque went over to Electra and was scheduled to release their third album, Torch, but it was never released. Five of the tracks from Torch featured Missy Elliot, but Natina was not happy with the direction the LP took. Blaque retained the rights to the LP and had made the decision collectively not to release it.
At the time, Natina said, "If it's not necessary to give them a record that we don't even too much care for, why give it to them?" Regardless, Vibe magazine managed to obtain a copy of Torch and reviewed it as "passable, if highly derivative."
The year wasn't all bad. Blaque appeared in the dance movie, Honey where they contributed the single, "I'm Good" to the soundtrack and in the United Kingdom, "I'm Good" was Blaque's highest-charting single, peaking at #17 on the UK Singles Chart and number 95 on the Hot R&B / Hip-Hop Songs Chart.
Blaque Disbands
In 2004 Blaque disbanded. Fears and Williams pursued solo careers and it was reported that Natina Reed had left (being temporarily replaced by singer, Erica Pullins) Blaque to join the Christian Ministry. The fact is she rebuked recording any more secular music and focused on gospel. On February 27, 2007, the compilation album, Blaque by Popular Demand was released and in 2008 Natina was seen in the TV movie, Til 6 in the Morning by Platinum Souls playing herself.
That same year Bossip magazine reported that Natina Reed had been arrested for prostitution, disorderly conduct, and cocaine possession. Her management denied the charges. Then in the Summer of 2011, Reed was arrested for reckless driving, driving under the influence (DUI), and driving without a license (it had been revoked from a previous DUI charge). She spent 2 days in jail.
Blaque attempted a reunion, but it failed, as did a project they worked on called Private Show. That album was abandoned due to the conflicting priorities of its members. Natina was in the process of trying to revamp her career. She'd hired an acting agent and was working on scripts, a book and a solo album. In the Fall of 2012, Blaque had reunited and was working on a reality TV show and an album.
That surge disappeared when Natina Reed was struck by the Honda Accord on the Lawrenceville Highway near Lilburn, Georgia. The driver and passenger attempted CPR, but she died at the Gwinnett Medical Center.
It was never determined conclusively why she was on the road in the first place, but it is known that she was living in the StudioPlus Atlanta Peachtree Corners extended stay hotel in Norcross, Georgia.
One year after the death of Natina Reed, the family suffered another tragic loss when her sister Niesha Stevens died of unknown causes.
Natina's son Tren had been living with his father, Kurupt, four years prior to Natina Reed's death and continued to live with his father.