Radio Facts: Radio Facts: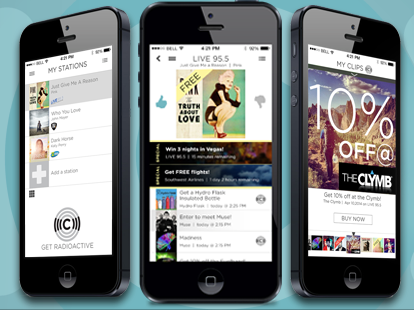 Starting today, Portland radio listeners can download and use Clip Radio. It is the first and only mobile app that lets a listener see and interact with what they hear on the radio instantly by "clipping" to get the desired content.
Clip Radio gives listeners the ability to easily browse radio programming from nearly every station in the Portland area. The app can automatically detect a station's broadcast, allowing the listener to simultaneously see what's playing and "clip" desired content to save and interact with on their own time. Clip Radio is the only app that lets listeners look at the last hour of almost any Portland radio broadcast, allowing them to access information about a song they heard a few minutes ago, find additional information about a local business they heard advertised or enter a contest promoted by the local radio personalities.
"Radio will never be the same. Listeners can now get what they want directly from local radio and interact with it immediately," said Sara Sisenwein, vice president of marketing for Clip Interactive, the company behind Clip Radio. "By making the music, contests, local business information – and just about anything you hear on the radio interactive, we believe we are carving out radio's place in the digital world."
Portland is the first city where Clip Radio has fully integrated nearly every radio station broadcast, and the company plans to introduce the app to several other markets over the coming months. The app is free and available for download at the App Store (iOS) or Google Play (Android). Clip Radio will work on iPhone devices running iOS 6.0 or later and Android devices running Android 3.0 (Honeycomb) or later.
"When simply listening to radio on its own, listeners often must stop what they are doing to enter contests or struggle to remember the name of a new song," said Sisenwein. "Clip Radio lets listeners do all that and more right from the app."