Radio Facts: Radio Facts: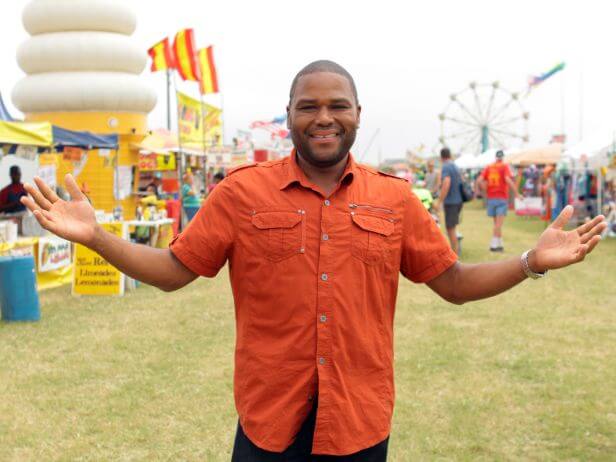 Anthony Anderson is on a mission to discover the most flavorful food festivals in the country on the new primetime series, Food Fest Nation, premiering Monday, July 21st at 9pm ET/PT on Food Network. Tasting everything from classic interpretations of regional fare to surprising twists of favorite foods, Anthony uncovers what is truly at the heart of America – one delicious food festival at a time.
"Viewers got a taste of Anthony Anderson's true passion for food during his appearances as a judge on Iron Chef America and Chopped," said Bob Tuschman, General Manager and Senior Vice President, Food Network. "Anthony's love of food, quick humor, and engaging way with people make him the perfect guide through the quirky and wonderful world of food festivals."
Over the course of eight half-hour episodes, Anthony visits the most unique food fairs in the nation, sampling local specialties and meeting the characters devoted to the regional cuisine. Along the way, Anthony visits the Isle of Eight Flags Shrimp Festival in Fernandina Beach, Fla. and highlights delicious classics such as shrimp tacos, shrimp boil and shrimp jambalaya, as well as innovative shrimp ice cream. In one episode, he attends the Magnolia Blossom Festival & World Championship Steak Cook-Off in Magnolia, Ark., where over 4,000 different kinds of mouthwatering ribeye steaks compete to be the best of the best and for a $10,000 prize. Anthony also visits the Long Grove Strawberry Festival, where over 20,000 attendees flock to Long Grove, Ill. for three "berry" special days of enjoying all things strawberry, including Strawberry Ricotta Ravioli and Strawberry Balsamic Chicken. In another episode, he stops by Ribfest Chicago for a world-class rib-eating showdown that draws top competitive eaters from around the globe. Throughout the season, Anthony also gets a taste of the South Carolina Poultry Festival in Batesberg, S.C., the Jambalaya Festival in Gonzalez, La., the Blue Ridge BBQ Festival in Tyron, N.C., as well as the Rockwood Ice Cream Festival in Wilmington, Del.