Radio Facts: Radio Facts: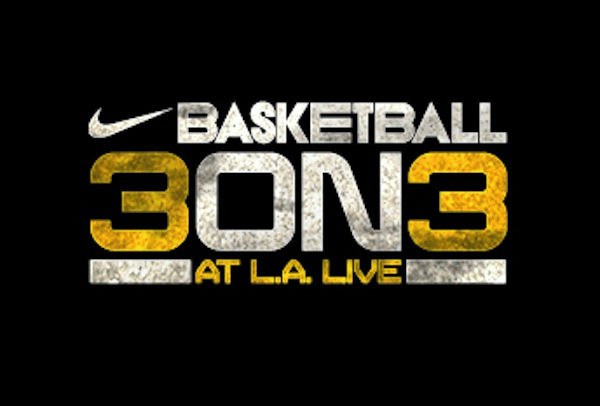 The 8th annual Nike Basketball 3ON3 Tournament presented by 24 Hour Fitness at L.A. LIVE wrapped up competition today after completing more than 4,500 games, featuring 1,500 teams with over 5,000 players, drawing more than 25,000 visitors over the three day event. Players and fans packed the streets lining L.A. LIVE, STAPLES Center, Chick Hearn Court, Figueroa St. and into the surrounding streets in Downtown Los Angeles with over 100 courts set up for competition, once again creating the largest 3-on-3 basketball tournament in California. The tournament featured Special Olympic, wheelchair, Youth, Teen, Adult and Elite divisions as fierce competition highlighted the fan-favorite summer event at L.A. LIVE.
The entertainment-packed weekend kicked off on Friday evening in L.A. LIVE's Microsoft Square with the 2nd Annual ESPNLA 710AM All-Star Celebrity Basketball Game benefiting the Stuart Scott Memorial Cancer Research Fund at The V Foundation. ESPN heavyweights, Marcellus Wiley, Michelle Beadle, John Ireland, Ben Lyons and others faced the Hollywood All-Star team led by O'Shea Jackson, Clark Gregg, Breckin Meyer, Lamorne Morris and other celebrities that drew out 700 fans that cheered on their favorite on-air ESPN talent and celebrities.
Saturday's competition was highlighted by the popular Nike Slam Dunk Contest, drawing out the largest crowds of the day as internationally known slam dunkers Gary Smith, Jordan Southerland and Kenny Dobbs showed off their high flying skills. Dobbs won the Nike Slam Dunk Contest by winning the highest score from celebrity judges, LA Lakers' Tarik Black, ESPN's Ben Lyons and Real 92.3's DJ Damage.
"As the annual Nike Basketball 3ON3 Tournament continues to grow, we are able to expand our footprint into the Downtown community and give the best street ball experience possible for our participants and fans, continuing to set apart this event as the best 3-on-3 tournament in the state," said Ryan Golden, Tournament Director. "Thanks to our hardworking staff, volunteers, sponsors and competitors, we were once again able to create an exciting and unforgettable experience."
Sunday's competition was highlighted by the Nike Elite Finals for the men's and women's elite brackets. The Women's Nike Elite Division finals was won by team LATASHA from Los Angeles, players included April Robles, Candice Allen, Jasmine Dixon and Latasha O'Keith. The Men's Nike Elite Division was won by team CROSSOVER ELITE from Inland Empire, players included Lance Ray, Vili Morton, David Sebesma and Bobby Burries. Each player from the winning teams in the elite divisions won a $500 American Express gift card and a $250 Nike gift card.
Closing out the 8th annual tournament, the 2016 Nike Basketball 3ON3 Tournament presented by 24 Hour Fitness once again drew out an impressive number of teams and fans for the event, which has tripled in size from the inaugural year and has become a Southern California tradition that now attracts the best teams from California and around the country.
Official sponsors of the Nike Basketball 3ON3 Tournament presented by 24 Hour Fitness include 7th year title sponsor Nike, presenting partner 24 Hour Fitness, POWERADE, Toyota, Big 5 Sporting Goods, Atom Tickets, Bodybuilding.com, KT Tape, FreshAndWipe, KRAVE Jerky, Golden Road Brewing, Maruchan, Lactaid, Wingstop, and Santa Monica Orthopaedic Group.
Plans for the 9th annual Nike Basketball 3ON3 Tournament at L.A. LIVE are under way and will be announced in the coming months.