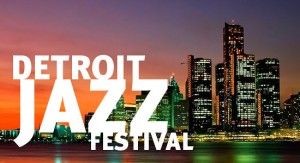 The 34th annual Detroit Jazz Festival "Imported from Detroit," the world's largest entirely free jazz festival, is proud to announce the headlining performers for its Labor Day weekend festival (Aug. 30 through Sept. 2).
Spread over four days and four stages, headliners include: 2013 Artist in Residence Danilo Pérez, David Murray Big Band with macy gray, Ahmad Jamal, Charles Lloyd and Friends featuring Bill Frisell, Joshua Redman Quartet with string orchestra, John Scofield Überjam, McCoy Tyner Trio with special guest Savion Glover, Yellowjackets, Gregory Porter, and Robert Glasper, among others. Hundreds of Detroit regional artists are performing within national groups this year as well as headlining their own sets.
"We strive to make the Detroit Jazz Festival's Labor Day weekend concerts more exceptional every year, and continue to show people from around the world what our great city has to offer," says Gretchen Valade, chair of the Detroit Jazz Festival Foundation board of directors. "Everything we do at the Detroit Jazz Festival is meant to enrich the lives of music lovers everywhere.
We want to make it possible for them to see their favorite jazz artists all in one place, and most importantly, offering these performances for free. It's not just about amazing music; it's about making it available for anyone that wants to listen.""This year's lineup was again carefully selected. We want to represent real jazz in all its forms.
This year, we're focusing on all dimensions and the different generations of jazz music. The creative artists we're bringing together are pushing boundaries to create new, unique approaches that explore the true nature of jazz music," said Chris Collins, artistic director of the Detroit Jazz Festival.
"Making an impact in the jazz world, but also creating meaningful experiences for the audience, is what the Detroit Jazz Festival is all about."grammy ® Award-winner and Mack Avenue Records pianist/composer/educator Danilo Pérez, one of the most influential and dynamic musicians of our time, will serve as this year's Artist in Residence, performing material from his upcoming album, Panama 500, as well as the Panama Suite, with other works for large ensemble.
The Panamanian pianist also will join Detroit native Geri Allen in an acoustic duo piano performance. Also performing as a piano duo are husband and wife, Bill Charlap and Renee Rosnes. Several Detroit luminaries are also returning to their beloved hometown for special performances.
Aside from her duo performance with Pérez, Geri Allen will serve as the musical director of this year's Detroit Homecoming Band which will include vocalist Sheila Jordan, saxophonists JD Allen and David McMurray, trombonist George Bohanon, bassist Robert Hurst, and drummer Karriem Riggins.
Gary Smulyan, Howard Johnson, and Frank Basile also will pay tribute to Detroit's own late Pepper Adams. Trumpeter Marcus Belgrave will return for his second consecutive year with a program titled "Trumpet Call." Saxophonist James Carter is presenting a tribute to Don Byas, and JD Allen also will return to perform at this year's festival with his trio.
This year's lineup features an array of piano masters and sax legends, including NEA Jazz Master Ahmad Jamal, who will perform with his quartet. The pianist recently received a grammy ® nomination in the Best Jazz Instrumental Album category last year for his Blue Moon album. NEA Jazz Master McCoy Tyner also will perform with his long-standing trio with special guest Savion Glover.
Another cross-medium combination this year is clarinetist Eddie Daniels, pianist Roger Kellaway, and cellist James Holland, who will be joined by painter Doug Coffin. Coffin will create new works based on the music by Kellaway and Daniels. Aaron Diehl, a 2011 Cole Porter Fellow in Jazz from the American Pianists Association, will perform in support of The Bespoke Man's Narrative, his recent debut on Mack Avenue Records.
A rare U.S. festival appearance by the acclaimed Saxophone Summit, which includes Joe Lovano, David Liebman, and Ravi Coltrane, is scheduled. Saxophonist Charles Lloyd has assembled an exclusive project billed as Charles Lloyd and Friends featuring Bill Frisell performing in selected markets only in 2013. Frisell is also scheduled separately with his working band recasting the music of John Lennon.
NEA Jazz Master Lee Konitz will perform with his quartet including 2007 Cole Porter Fellow in Jazz from the American Pianists Association, Dan Tepfer. The prolific Paris-based saxophonist David Murray will bring his big band, which features vocalist macy gray, in support of their recently released album, Be My Monster Love.
The 2013 Detroit Jazz Festival Orchestra, an all-star Detroit big band under the musical direction of Chris Collins, will perform newly commissioned arrangements from arrangers including Bob Mintzer, Bill Cunliffe, David Berger, and Chuck Israels based on Dave Brubeck compositions and featuring guest soloists from throughout this year's festival.
The DJFO returns to the stage on Monday to honor the works of Duke Ellington under the direction of Ellington Scholar, Berger. (FOR MORE INFO ABOUT THE JAZZ FESTIVAL CLICK NEXT) The festival will present an exclusive Dave Brubeck Tribute Series, which will be comprised of four separate performances, starting with the Brubeck Brothers Quartet on Saturday.
The Detroit Jazz Festival Orchestra Brubeck Commission Project with newly commissioned arrangements of Dave Brubeck compositions will be presented on Sunday, as well as The Real Ambassadors – a recasting of Dave and Iola Brubeck's dramatic masterpiece with conductor Bill Meyer.
The series will conclude on Monday with TO HOPE, A Celebration: Dave Brubeck's Historic Mass, a stunning masterpiece which will feature a 65 voice choir, string orchestra, and the Brubeck Brothers Quartet with saxophonist Rick Margitza. Saxophonist Joshua Redman and vocalist Sheila Jordan are also slated to perform this year in respective orchestral programs.
The Joshua Redman Quartet with Aaron Goldberg, Reuben Rogers & Gregory Hutchinson will be joined by an orchestra and will be performing selections from the new album Walking Shadows. Jordan's performance also will feature the Alan Broadbent Trio and a Detroit-based 18-piece string orchestra.
The Yellowjackets, who have been together almost as long as the Detroit Jazz Festival – 34 years and counting – are performing in support of A Rise In The Road, their new release on Mack Avenue Records. This serves as their debut project with new bassist Felix Pastorius.
Guitarist John Scofield is set to perform with his Ãœberjam group, bringing jam-oriented funk to this year's lineup. Also on the schedule is the the Robert Glasper Experiment, the GRAMMY ® Award-winning group which transcends genre, drawing from jazz, hip-hop, R&and rock. Two impressive new talents are also set to perform.
Exciting young vocalist Cécile McLorin Salvant will perform in support of her recently released Mack Avenue debut record, WomanChild, which has received much critical acclaim already. New York luminary David Berger has written customized arrangements of McLorin Salvant's music to be performed by his own New York Big Band; this will serve as the young vocalists premier in a highly customized large ensemble setting.
Also performing is vocalist Gregory Porter, who recently earned a GRAMMY ® nomination for Best Traditional R&Performance, and is set to release Liquid Spirit, on Sept. 17 via Blue Note Records. The Detroit Jazz Festival is the largest entirely free jazz festival in the world, with attendees and artists alike gathering from all over the globe (with 25 percent of the audience coming from outside of Michigan).
In addition to providing incredible opportunities to see jazz legends, the festival has an important economic impact, bringing in tens of millions of dollars and contributing greatly to the city of Detroit. The festival also was voted the number three jazz festival in North America in a reader's poll by JazzTimes, the world's leading jazz publication.
Now in its 34th year, the Detroit Jazz Festival takes place over Labor Day weekend (August 31 – September 2), in Hart Plaza, downtown Detroit. Attendees can see world-renowned artists on four stages: JP Morgan Chase Main Stage, Carhartt Amphitheatre Stage, Mack Avenue Records Waterfront Stage, and Absopure Pyramid Stage.
This year's major corporate sponsors include the Chrysler brand, JP Morgan Chase, Opportunity Detroit, Carhartt, DTE Energy Foundation, and Mack Avenue Records. Fans are encouraged to become Rhythm Section members by making donations of any size online to support keeping the festival free to the public.