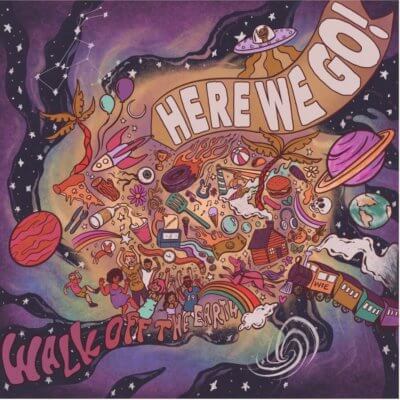 Walk Off the Earth
– the critically-acclaimed multi-platinum Canadian pop band known for their innovative covers and catchy originals – has the #1 selling pop album in America as their latest full-length release
HERE WE GO!
bows at #1 on Nielsen's Pop Album Chart, #3 on Canada's Top Albums Chart, and debuts in the Top 5 on Billboard's Album Sales Chart. The album, which is the band's fifth studio effort, marks their first major release in over 4 years and since the unexpected loss of band member Mike "Beard Guy" Taylor late last year.CLICK
HERE
to listen to the album available now on all digital streaming platforms via Golden Carrot Records/The Orchard.
HERE WE GO!
features the band's current hit single "I'll Be There," which debuts today on Mediabase's Hot AC radio chart and has become a streaming sensation worldwide. Hailed as a "catchy, uplifting, engaging track" (Forbes) and "Exceptional… 'I'll Be There' is the group's spiritual return to life" (Entertainment Weekly), the single hit #1 on Apple Music's Breaking Pop playlist and is currently in the Top 10 of their massive A-List Pop playlist, as well as making its way up the Hot AC and Top 40 radio charts in the U.S. and Canada.Fresh off their televised NBA Game 4 national anthem performance and headline appearances at Red Rocks Amphitheater and Wembley Arena earlier this summer, Walk Off the Earth launched HERE WE GO! in May with the heartfelt original single "Mike's Song" that helped raise thousands for MusiCounts-Canada's music education charity associated with the Juno Awards-in honor of former bandmate Mike Taylor. The band continues to tour extensively and will play a slew of dates in their native Canada this fall and will return to Australia in January 2020 for a series of spectacular performances, including a show at the iconic Sydney Opera House.CLICK
HERE
to stream Walk Off the Earth's new album HERE WE GO!
WALK OFF THE EARTH UPCOMING TOUR DATES
November 7 – Windsor, Canada – The Colosseum At Caesars WindsorNovember 8 – Kitchener, Canada – Centre In The Square SOLD OUTJanuary 21 – Brisbane, Australia – Brisbane Convention & Exhibition CentreJanuary 22 – Sydney, Australia – Sydney Opera HouseJanuary 25 – Adelaide, Australia – AEC TheatreJanuary 26 – Melbourne, Australia – Plenary TheatreJanuary 27 – Perth, Australia – Riverside Theatre
HERE WE GO! Track Listing
1. "I'll Be There"2. "Home Alone"3. "Addicted"4. "HERE WE GO! (Overtime)"5. "Under A Tree"6. "Mike's Song"7. "Lost In You"8. "Co-Star"9. "I Do It All For You"10. "Dreamers" feat. (DVBBS and Marshall)