Digital and Radio Facts: Radio Facts: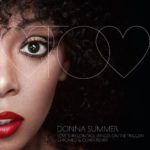 Verve Records has announced the release of LOVE TO LOVE YOU DONNA, a remix record celebrating the life and voice of five-time Grammy Award winning singer and songwriter Donna Summer. A dozen highly sought after DJs and remixers have contributed a diverse and creative spin to some of the most beloved tracks in dance and pop music history.
The first single is "Love Is In Control (Finger On The Trigger)," remixed by Chromeo & Oliver. It will be followed by legendary producer Giorgio Moroder's entirely re-imagined version of "Love to Love You Baby," the classic song he recorded with Donna, released in November of 1975.
Love to Love You Donna was produced by Dahlia-Ambach Caplin, the architect of the five-volume Verve Remixed series, and Randall Poster, the legendary producer and music supervisor.
Posthumously, Donna Summer will be awarded The Legends of Dance award at the Promo Only Summer Sessions, Tuesday, August 13th, in Atlantic City, NJ.