Radio Facts: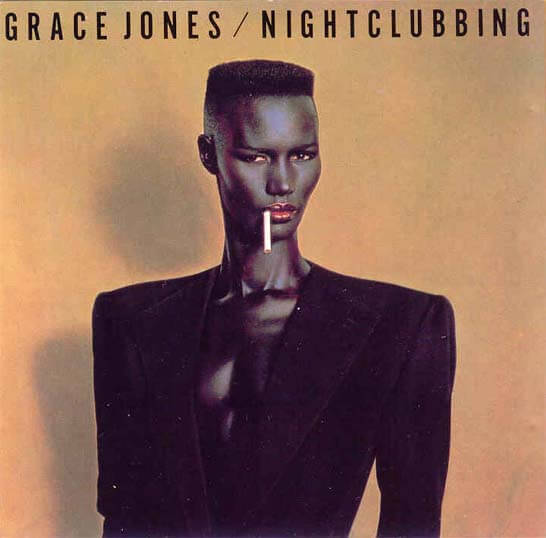 Album released on April 28 internationally (April 29 in US) is re-mastered for first time and available in variety of formats
Nightclubbing, Grace Jones' fifth studio album, was released in May 1981 and with its nine tracks including club and chart smash "Pull Up To The Bumper", it was an immediate hit, with positive reviews on both sides of the Atlantic. Grace's seminal album is to be re-released by USM and Island (internationally) on April 28, in a wide variety of formats.
The album is re-mastered for the very first time available on 1 CD, 2 CD Deluxe Edition, 2 LP 180g Deluxe Edition, Blu Ray audio and Digital formats. The 1CD will feature the original album, the 2CD will be original album, plus 12" mixes, B-sides, and two unreleased tracks. One of which is a cover of an early Gary Numan and Tubeway Army track "Me! I Disconnect From You."
The double LP will come in a beautiful gatefold package with the first featuring the original album and a second with a selection of key 12" mixes. The 1 and 2CD editions will also be available in digital form.
The iconic sleeve for Nightclubbing became one of popular music's most striking and was painted from a photograph taken by Jean Paul Goude. Pop had been used to men looking like women for a decade, but was less used to seeing women dressing like men.
The body of work that grace jones made her own at Island Records in the early 80s is among the most startling in popular music. Beginning with Warm Leatherette and concluding with Living My Life, the three albums Jones recorded between 1980 and 1982 at Compass Point Studios in Nassau in the Bahamas and produced by Alex Sadkin and Chris Blackwell became benchmarks. Nestling in the middle of these records, the very best of the very best, is Nightclubbing, the album on which her musical legacy rests.
Nightclubbing remains the high water mark of Grace Jones' time at Compass Point, the album on which her musical legacy rests, a sophisticated mêlée of sound, astute A&R'ing, a perfect example of artist and musicians working in complete accord. And here it is again. It is simply one of the irresistible highlights of the early 80s.