Radio Facts: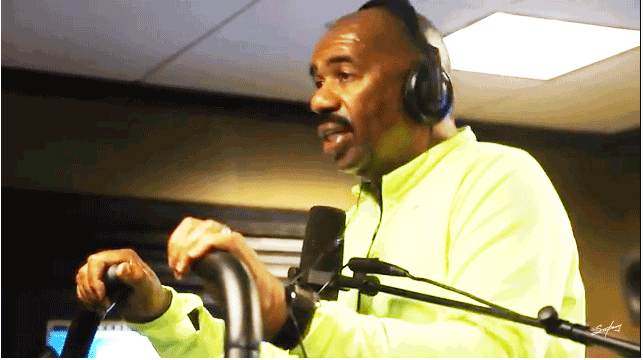 This is WAY over the top. I may be missing something because I don't listen to the Steve Harvey Morning Show. With all
due respect
to the true radio
vets
on the
Steve Harvey Morning
show, Carla and Shirley Strawberry, and to Steve's legacy as a media mogul, in my entire 30 years of radio, I have never
seen
a true "radio pro" do a show on a treadmill let alone make a
tribute
to a recently departed radio icon at the same time while riding it. Steve would fire me because I would be the one person to tell him this sh is unacceptable. We need to hear directly from and see Shirley on camera Steve, she is the one who worked with him right?  What gives? Is it me or is this disrespectful to our craft and to Doug? Can you imagine a preacher doing a funeral while eating chicken and waffles?
Am I making too much of it? Can you
IMAGINE
if a true radio Radio DJ like the late Frankie Crocker did a show on a treadmill in urban? he may have done it on a horse or while skating but he would have made it spectacular. Anything less would have never happened. Perhaps I am expecting too much but being a radio pro is a SKILL and a CRAFT there is no compromise, you work within those parameters. Perhaps a
comedian
would do a tribute on a radio show while riding a treadmill but a true Radio DJ…. would not. Considering that my urban radio brethren will not respond to this I'm asking fans of radio if I'm wrong.  I will open my mind and imagine the possibilities. Perhaps Steve has started a new trend. Here are my suggestions for other unorthodox ways to do a show on the air and to make a tribute to an icon. Your thoughts? (RIP Doug)