Some people talk about making things happen and then there are the people who make it happen. The power of manifestation is real for those who embrace it and actually put the work in behind the belief. When the world is introduced to new music artist AnnaleaX, they will witness the true personification of purpose, persistence, and preparation in a diligent effort to manifest the life she always envisioned for herself.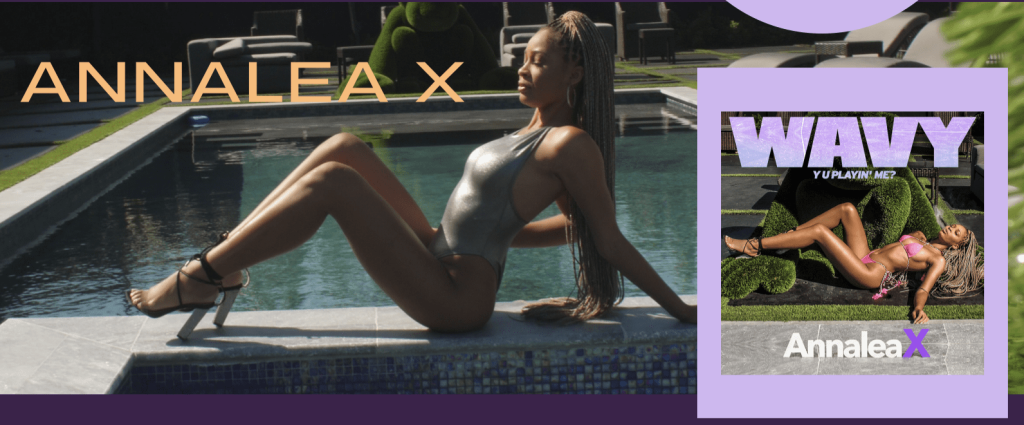 AnnaleaX is no stranger to the stage as she has slayed runways and pagents as successful award-winning model. Hailing from Jamaica, this young Caribbean Queen is now taking her multifaceted talents to into a world where vocal and instrumental sounds combine in such a way to produce beauty of form, harmony, and expression of emotion. In simpler terms, she is ready to break into the world of music. Taking her own approach to the game, AnnaLeaX is blending R&B, Pop, Reggae, Dancehall, Rap, and Urban AC. While the industry would say that she needs to pick a lane, she is poised with confident humility based on the fact that she puts the work in to achieve all of her goals. With a dream and drive to become an international entertainer and icon while bringing peace, happiness, and serenity to her audience through her music, LeaX is your quintessential world changer.
October 1st will be the first time the world gets to hear her upcoming single Wavy – Y U Playin' Me but everyone should tuned for. her first full project entitled, "ALTER EGO," which is slated to drop January 2022. Signed by SoBe Entertainment International, AnnaLeaX is working with some music industry heavy hitting producers and writers. Her talents will be matched with Vinny Venditto, Grammy award producer for Eminem, Pitbull, Meek Mill, Rick Ross, 2 Chainz, Nicky Minaj, and Jay-Z, is producing and engineering projects on her album. Industry giant Scott Storch, an eight times Grammy award producer (Beyoncé, Fifty Cent, Fat Joe, Chris Brown, Maria Carey, Sean Paul, Ludacris, Whitney Houston, and the list goes on), has produced six tracks for the album. Finally, one of the top writers and executive producers in the world today, Grammy-winning writer, producer, and artist Poo Bear is also on the project (Justin Bieber, Ed Sheeran, Jah Cure, 112, and Usher are among Poo's artist's writing and producing credits).
Whether the world gets know AnnaLeaX or Kadejah Anderson, which is her name given at birth, we will be witnessing someone who is redefining industry norms and giving new meaning to the term "ALTER EGO." While modeling and music would be enough for most, AnnaLeaX is also currently in college with plans to attain her degree. With formal education, unmatched drive, unwavering passion, and limitless talent, AnnaLeaX is truly one to watch. As her fans anxiously await the debut of her music, experience just a touch of her brilliance as she took the time to answer a few questions for us.
1. The title of your forthcoming project is called, "Alter Ego." Is this because you feel that Kadejah and AnnaleaX are two different people?
Answer:
The title of the album is not based on my name(s) or personality. The title addresses the option that most people have to find peace and solace elsewhere. In the presence of others, one can't always express how one feels or share with the world one's weaknesses. At times, we tend to hide the other side of who we really are. 
Behind closed doors, music has always been a safe place for me to release my tensions and ease my mind. I know the power of music and how it can help one to heal.
I titled the album "Alter Ego" because we all have to tap into a mode or vibe to unwind and relax. Sometimes you have to find that "inner you." I want the versatility of this album to resonate with different people. There should be something recorded on this album for each listener. The message is, "find a serene part of yourself and tap into your alter ego."
2. You have literally accomplished several of your childhood dreams. What does it take to manifest the life you desire?
Answer:
It takes a lot of dedication and planning. For me, success is all about hard work while meeting and maximizing my opportunities.
We all have dreams and goals, but the difference between a person who wins and a person who loses is that person's ability to learn from his or her mistakes.
I've manifested my goals because I don't pray to win. I pray to have the discipline, courage, and intestinal fortitude to keep going while staying humble and consistent.
Life is all about timing! If you stay the course and remain positive your reward will come.

3. Your project will be a mix of R&B, Pop, Reggae, Dancehall, Rap, and Urban AC. Are you concerned at all about mixing and blending the different genres?
Answer:
That concern has been mentioned to me before. However, I'm new to the industry and I'm still trying to establish my sound, and decide which genres and markets are best for me. Personally, I really enjoy being able to grow and extend myself with each song and each genre. The different songs and genres all put me in a great mood. I am very critical of my music, so I am optimistic that the songs and genres I selected will be liked and accepted by music fans worldwide.
4. You've won and participated in several pageants as a model. What have you learned from that world that could potentially help you in the music industry?
Answer:
Apart from the obvious lessons learned about etiquette, communication skills, and stage presence, I acquired experience on how to compete and strive to be successful. I have also realized that you must have fun while competing. If you're not having fun it's probably not where you should be spending your time and competing.
5. I read that you were actually nervous to sing at one point. Do you still get nervous and if so, what do you do to conquer your fear?
Answer:

I love to sing. It is the one constant and tranquil experience I've had throughout my entire life. I'm not nervous to sing today. I was very shy about sharing this part of me before, but now I am ready to share my voice with the world. I conquer my fears with daily prayer.
6. The first single is slated to drop on October 1st. What kind of vibe can we expect from the song?
Answer:
This song has an energizing, fun-filled, and contagious energy. It's very catchy and easy to sing, and fun to dance to. I expect people will play it over and over again at home, at parties, in their cars, and in clubs. For my first single, I wanted an up-tempo fun record that also had meaningful lyrics about real-life scenarios.
7. What is the biggest misconception you think people have about Jamaica?
Answer:
Traveling internationally to represent Jamaica a lot of people have the misconception that all Jamaicans are Rastafarian. Some believe Jamaica is a third-world country and that ganja is one of our principal farm products. Some others believe the country is unsafe.
8. You have chosen to model, sing, and become an international entertainer. While most people just go for it and forget about school, why do you choose the route to stay in college as you pursue your dreams?
Answer:
Graduating from college is an accomplishment my grandparents would love to see, and I want to give them that satisfaction. I started the process so I have to finish it. There are times I feel like it hinders me because I have to dedicate the time that I could have spent working on my music career. However, I believe that formal education is good to have and can offer me many other opportunities in the future.
9. What have you learned from the heavy hitter producers you are working with on this project?
Answer:
The music industry is not an easy business. The need to constantly create can become very overwhelming. You have to dedicate the time and effort to create competitive tracks. I believe the best way to create hit records is to work with and be in the company of others who have achieved major successes internationally. My producers radiate good vibes and great energy and motivate me to succeed and do better. The super producers and writers I am working with put me in that special place and space.
10. If you could pick 3 – 5 songs from your favorite artists that best represent who you are, what songs would you choose?
Answer:
Alina Baraz – To me, Feels Right, Drift
Doja Cat – Niggas Aint Shit, You Right, Kiss Me More
Adele – Chasing Pavements, Sky Fall, Turning Tables
Beyonce – Halo, Single Ladies, Pretty Hurts
11. What will AnnaleaX's story be five years from now if you could have it your way?
Answer:
In the next 5 years I would like my story to be:
Succeeded as an international entertainer who emanated from Jamaica and who achieved number 1 records on the music charts in several countries
Graced the cover of multiple internationally recognized magazines
Established a support group that assists in personal development and trauma recovery through creative arts like writing, singing, painting, and group communication activities
Expanded my cosmetics company worldwide
Traveled the world as a public figure