Meagan's uterine cancer scare came about during a routine visit to the gynecologist who discovered an abnormality in her uterus. Testing determined the tissue could potentially become cancerous so it was removed. This scare has led Meagan to be more conscious about her gynecologic health, including monitoring for concerning symptoms and speaking with a doctor as soon as they arise.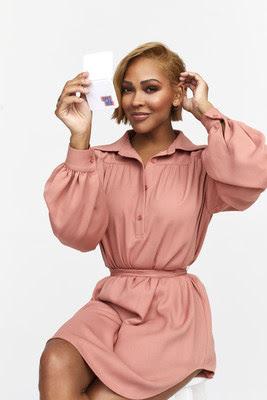 "Gynecologic health is an important conversation to have at any age, but it's not often discussed, especially in the Black community," said Meagan. "I'm not afraid to have open and honest conversations with my friends, family and doctor about gynecologic health and I want to encourage everyone, particularly the Black community, to do the same so more people can identify potential signs of endometrial cancer early. As women, it's important that we support each other, speak up about gynecologic symptoms and advocate for our health when visiting our doctor. "
The symptoms of endometrial cancer, and other gynecologic cancers, can be easily overlooked or mistaken for other conditions. Some common signs of endometrial cancer may include abnormal bleeding, spotting or brownish discharge after menopause, as well as irregular or heavy bleeding before menopause, and pelvic pain or pressure. Additionally, many women with endometrial cancer have reported that their symptoms were dismissed, and they felt unable to discuss their experiences due to stigma against talking about gynecologic health.
Identifying symptoms and seeking help is particularly important for the Black community, where there are significant disparities in health care. Only 53% of Black women with endometrial cancer receive an early diagnosis which may be due to a number of intersectional factors, including a lack of dialogue with friends, family and their doctors about gynecologic health.
As part of the campaign, Meagan is participating in the Spot Her virtual walk, which encourages people to take literal steps towards increasing awareness about endometrial cancer. For every mile logged (up to 20 miles per participant) through the Charity Footprints website, or for each use of #SpotHerforEC on social media, Eisai will donate $1 (up to $20,000) between FORCE and SHARE, which provide support for people living with endometrial cancer. The Spot Her virtual walk will take place from March 30, 2022 – June 22, 2022 and Charity Footprints is offering free registration to the first 1,000 participants. To participate in the virtual walk, visit www.CharityFootprints.com/SpotHerForEC to register and join the conversation online by using #SpotHerforEC on Facebook, Instagram, or Twitter.
"As a gynecologic oncologist, I know all too well the impact endometrial cancer has on those diagnosed with this disease, as well as their loved ones," said Ginger J. Gardner, M.D., Chair of the Foundation for Women's Cancer, and Vice Chair of the Department of Surgery at Memorial Sloan Kettering Cancer Center in New York. "Uterine cancer incidence rates are on the rise among all women in the United States, and especially among communities of color. It is important for people to openly discuss their gynecologic health concerns with their doctors so that diseases like endometrial cancer can be spotted early, when they may be more treatable, particularly so for members of the Black community, who are more likely to be diagnosed with aggressive cell types."
"Now in its second year, the Spot Her campaign exemplifies Eisai's human health care mission to put patients first and address the unmet needs of those who are underserved. Partnering with SHARE, FORCE and Black Health Matters empowers our efforts to better understand the unmet needs in these communities and help address them," said Teresa Cronin, Vice President of Corporate Communications and Patient Advocacy at Eisai Inc. "By raising our voices in unison with organizations that share our commitment to educating about endometrial cancer and helping to address intersectional factors contributing to disparities in care, we aim to make a meaningful difference for those who need it most."
To learn more about the Spot Her campaign and find helpful resources about endometrial cancer, please visit SpotHerforEC.com.
Dr. Gardner provides consulting services for Eisai Inc.