Radio Facts: Radio Facts: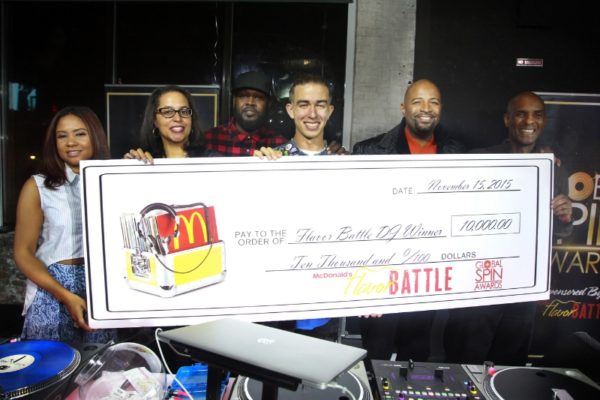 Last night, music industry elite came out to celebrate DJ Rhetorik, as he took home the $10,000 cash prize from the 2015 McDonald's®
Flavor Battle
DJ Competition. The New York native put forth his best skills to beat out DJ Soundwave of
Los Angeles
and DJ Lani Love of Chicago at
Orbit Nightclub
during Global Spin Awards weekend in
New York City
.
Legendary DJ and producer, Clark Kent, served as this year's
Flavor Battle
finale host while celebrity judges DJ Skribble, DJ Shiftee, DJ Jazzy Joyce and the 2014
Flavor Battle
champion, DJ R-Tistic evaluated each of the finalists' mixing styles, performance appeal and technique to determine who would be worthy of the grand title. Radio host and entertainment personality, Angela Yee, served as the
social
media correspondent providing live updates on each of the performance sets.
"Winning this year's McDonald's
Flavor Battle
competition is a huge accomplishment for me," said DJ Rhetorik. "Honestly, all of the DJs were great, and I'm extremely humbled to even be considered for the opportunity."
In its sixth year, the competition brought out some of the biggest up-and-coming DJs in the industry with 12 DJs hand-picked by McDonald's and Complex Media vying for the chance to win the grand prize. Over the course of
three
weeks,
three
DJs – one from the West Coast, East Coast and Midwest regions – won over the stylistic preferences of online voters and fans of the art form with creative mixes that helped them advance through
three
rounds of voting on flavorbattle.com. Spinning on the 1s and 2s, the final
three
competed, putting forth their best craveable flavor, and were extremely active on
social
media encouraging their networks to participate in the voting process using the hashtag #365FlavorBattle.
"The excitement surrounding the 2015 McDonald's
Flavor Battle
competition was solid and engaging," said William Rhodes, McDonald's U.S. marketing director. "Cognizant of hip-hop resonating deeply among our Millennial audience, McDonald's celebrates this art form and recognizes the importance of such a program. We are proud to offer the
Flavor Battle
as a platform for rising DJs to showcase their skills on a national stage."