Radio Facts: Radio Facts: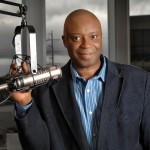 If you are a music lover, I'm sure you can relate when I tell you that Soni D loved music. That love was the inspiration behind his program Gospel Reflections a 2 hour syndicated program which can be heard in over 10 cities, and loved by over 2 million listeners across the nation. Soni was a great dj and producer of well known radio shows including Tom Joyner 's On The Move weekend show along with many others. Soni was also a Gospel music historian who knew Gospel music and it's artists from it's earliest inception.
Jojo Walker has been chosen to continue the legacy that Soni D left as Producer and Host Of Gospel Reflections.
WPUL 1590 AM Daytona Beach FLA- Sundays 10 am-12 Noon
WVKX 103.7 FM Macon GA.- Sundays 12 Noon-2 pm
WGRM 93.9 FM Greenwood MS- Saturdays and Sundays 10:00 am -12 Noon
KPZK 101.7 FM Little Rock AR-Sun 8 am-12 Noon
WEHA 88.7 FM Atlantic City NJ-Saturdays and Sundays 8 am-10 am
KMOJ 88.9 FM Minneapolis MN-Saturdays 8 am-10 am
WVSD 91.3 FM Itta Bena, MS-Sundays Noon-2 pm
KVLO 102.5 FM Little Rock AR-Sundays 8 am-10 am
WSEL 96.7 FM Tupelo MS-Monday-Friday Various Times
WURC 88.1 FM Holly Springs MS- Sundays 10 pm-Midnite
WQOX 88.5 Memphis TN- Sundays 4 am-6 am
WWW,LIVE365.com/Radio Station s/bla: Sun 7:30 am-9:30 a, Mon 3 pm-5 pm,Weds 9:00 pm-11 pm and Sat 1:30pm -3:30 pm