A Conversation with Aundrae Russell of KJLH On Making Gospel Work at Mainstream Radio – Interview Conducted by Lin. Woods for Radio Facts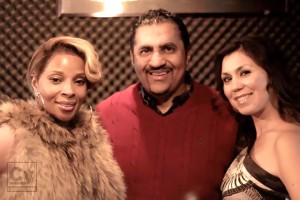 (Mary J Blige, KJLH PD Aundre Russell, Midday Host Nautica  DeLaCruz)Aundrae Russell, Program Director of Stevie Wonder owned Los Angeles community minded Urban AC radio station, Radio Free 102.3 FM KJLH and host of its top rated Spread The Word Sunday Gospel show, has been working his ratings winning formula for blending Gospel into day-parts with at a mainstream station for over a decade in the Gospel starved second largest market in the nation.

KJLH's award winning Sunday programming, airing from 12am to 12 am, has one of the station's biggest listening audiences.
It features the Gospel Experience (church broadcasts featuring prominent mega church pastors Bishop Charles Blake-West Angeles COGIC, Bishop Hunter-First AME and Bishop Noel Jones-City of Refuge) and Gospel music shows Spread The Word with Aundrae Russell and the Gospel Mix Show with El Vee.
I recently spoke with the forever busy Mr. Russell about the station's commitment to the community and Gospel. Here's what went down. How long have you been the program director at KJLH?AR: I've been the PD here just under ten years. But I've been here at the station, on-air for over twenty years. I'm from Meridian, MS. I left WALT in Meridian, MS where I was PD.
I moved here and started out as a part-time Radio DJ and moved up to full-time Radio DJ and then to PD.
I remember you being an on-air personality before you became the program director.
AR: Yeah, I used to see you at Roscoe's Chicken and Waffles! No, just kidding!
Ha, ha! How long has KJLH been an Urban AC formatted radio station?
AR: Since Stevie Wonder's owned the station"¦ for 32 years" and maybe before that. The station has been around for over 40 years.
KJLH is a rarity. It's a community minded Urban AC station that's not a part of a conglomerate.
AR: People say Urban AC, but Stevie came up with a moniker"¦and a format called Radio Free, which means we play a lot of music that most Urban ACs won't touch and won't play. We spice in some Hip-Hop, some Gospel and some Jazz"¦Radio Free is a mix between Urban AC and AC.
Explain that a little more.
AR: Most radio stations pigeon hole themselves and get into a corner and say, "We've got to go after this segment of the audience." But we just throw that out the window and say, "No, we don't.

We can get the young ones and we can get the older ones."   So, we play a little of everything" on a weekday we play everything from Norman Brown to Marvin Sapp, to Tupac, to 50 cent, to Janet Jackson, to Kem, to Mary J. Blige.

What is your process for adding a Gospel song during the week?
AR: We play the top songs that do well on Sunday's Spread the Word during the week "I just take it even to another level with artists like Mary Mary" Marvin Sapp, Kirk Franklin, Donnie McClurkin and Yolanda Adams" a lot of the songs we played during the week were not your traditional Monday through Friday inspirational songs, but we'd play them anyway because they were working, they were great.

Can you go a little deeper on that?
AR: We felt that somebody might need that song during the week, during their drive home or during their lunch break at work"¦if they loved it on Sunday, they'd love it on Wednesday"
Those are the passion songs, songs that would make people say, "Ooh and ah, man I needed to hear that!" And the calls we would get! They'd even call to say, "Thank you for playing that during the week." We would play those songs during the week and they'd be some of our week's top testing songs"¦ and we weren't afraid to play them.
KJLH won a Stellar Award this year for Gospel Radio Station of the Year, Major Market. How did that feel? And what did Stevie Wonder think about it?
AR: You talk about a source of inspiration and pride"¦And Stevie was so excited! He wanted to come, but he was at the White House with President Barack Obama. He was performing at the White House"
When we won I called and told him "He was like, "Oh my goodness. I'm so happy." He started asking me questions, like "How does it look and how much does it weigh?" He wanted me to describe it to him. And when he got back to LA" He came in, sat down and was just holding it. Now he wants his own Stellar Award.
He even wants to do a Gospel album and dedicate it to his mom who passed away a few years ago. He's going to call it The Gospel According to Lula.

Your website says that KJLH is a community station that links the diverse populations of Greater Los Angeles" .and your demographic is 25 to 54. How diverse is your audience?
AR: We say it's an undefined Arbitron younger audience of 23 to 49″¦But of course we know we have our older audience. We have Latino listeners and even "others."
We have a diverse audience of all races and all ages.
Tell me about KJLH's community involvement.
AR: You hear this in every market, "˜We're your community station." Well, I can honestly say, we really are. And that's because we're owned by Stevie and he wouldn't have it any other way.
We're at Voter Registration Drives, health fairs, all kinds of concerts…we try to be at everything"¦We cover a lot of events that other stations don't care about anymore"¦from the Trayvon Martin situations"¦to Voter Registration Drives, we're right there. And we're one of the few music stations that still have news on the radio.
You have real live news people?
AR: Yes. And I'm developing "a young news crew" We do news reports throughout the day" we have them out at events covering everything from news to sports" we're at Laker games and Dodger games" if the new Black Panthers have a press conference" I want some of our people there" we want to tell what's going on without the slant because you know you just can't go with everything in the mainstream news.
It definitely doesn't have our audience at heart when they're delivering the news.
What are some of the many Gospel station events you're doing?
AR: We just finished the big Knotts Berry Farm Gospel event" we're involved with the LA Sparks basketball team's Gospel Night at the Staples Center with Mali Music and the Kurt Carr Singers. We'll be at the festival in Pomona, CA on June 2nd with artists Martha Munizzi and GB 5, Kim Burrell, Vanessa Bell Armstrong, Trin-i-tee 5:7 and Kelly Price.
And we're a part of the Long Beach, CA Gospel Festival July 8th.

I hear that you play indie artist, right?
AR: We like to find the hidden gems and play the people that aren't the big artists that everybody knows, not the household names. If it's a great song, it's going to go on.
Some of them are local here in LA; some are just smaller groups, independents"¦ And Sunday is when we test them. And I don't necessarily mean I'm going to test them on Sunday. If we play it and it catches on, on Sunday, then it can go on Monday.
Are you personally more partial to Gospel?
AR: Yes, I'm 14 years in. Here's how it started. KGFJ went off the air here in LA. I was working part time here and at KGJF. When KGFJ went away, there was no Gospel in LA.
Stevie Wonder and I had a conversation one day and he said, "Wow, it's a shame there's no Gospel here in LA. We should do something about that." He said, "You want to host the show if we start a show?" I said, "Sure." And we started it that Sunday. It started with just two hours"¦And now we have 24 hours, from Midnight to Midnight on Sundays.
We call it 24 hours of praise. My show went from 2 hours to 7 hours" it just took off and became huge for us right away" our ratings just went right through the roof.
Why do you think Gospel has continued to grow?
AR: I think that a lot of that has to do with what people are going through every day. They need that kind of music. When the recession and 9-11 hit" if I'm not mistaken, "We Fall Down" by Donnie McClurkin came out around that time" and those are the types of songs people need"¦ because of what's going on in their everyday life and we play them during the week.
Most are the slower, praise and worship type and they work because they "cut through." Those songs are the ones that will have somebody sitting at their desk crying" even though they may have the radio on in their cubicle at work. I think that Gospel continues to grow because you have so much Gospel music out there" years ago, it appeared to be only five Gospel artists out there" now it's a ton of them.
That's because those are the only ones the conglomerates let us hear. But you and I know that the rest of the music was out there anyway.
AR: Exactly" it seems like the Hip-Hop and others kind of got stagnate for a minute. So much of that music just doesn't grow at the rate that Gospel music grows, in my opinion.
What is your favorite Gospel memory?
AR: What really just knocks me out is that this is our 13th year doing our Gospel Fest" at Knott's Berry Farm" and having all the major artists participate" you name them, we've had them" and to look out and see 30,000 people praising the Lord in an amusement park, it just blows my mind.
And I get so many (memories) being on the air every Sunday on Spread The Word. Playing songs and getting people calling and crying and saying, "You know that song was ministering to me. I was thinking about taking my life until you played that song." Or stories how the music made them put the crack pipe down and it kept them from doing something to somebody else.
The testimonies" are mind blowing. Just recently, a lady called me" crying saying she was going to take her life" And then I got a minister on the line to talk to her. When people call" and say that a certain song helped them, that's why we also offer these songs during the week. With it not being a full time Gospel station in Los Angeles, we try to fill that void by giving them some inspiration during the week.
Finally, what else would you like people to know about KJLH's commitment to Gospel??
AR: We have a lot of people here who believe in it and love the Lord" and we're committed to the church community here in Los Angeles. I try to have a relationship with every pastor here in Los Angeles"
And I love Gospel music. And we here at the station love it. And we're committed to watching that it grow with the other formats, we call it Radio Free!