iHeartRadio and Treefort Media Huddle Up to Release New Original Podcast Series "DRAFTED" Narrated by Keegan-Michael Key in Association With Klutch Sports Group
Emmy-winning actor tells the story of America's top NFL prospects as they prepare for Draft Day and for their lives to be forever changed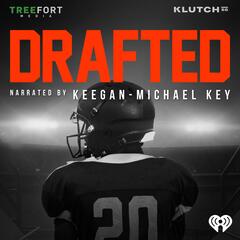 iHeartRadio, the No. 1 commercial podcast publisher globally, and Treefort Media today announced "DRAFTED," a new docuseries podcast in association with Klutch Sports Group and narrated by Emmy-winning actor Keegan-Michael Key that follows top college football players as they prepare to enter the NFL Draft. The first two episodes will launch Monday, September 21, with two new episodes releasing each week. Listen to the official "DRAFTED" trailer now on iHeartRadio and everywhere podcasts are heard.
Through exclusive audio footage, "DRAFTED" will tell captivating, entertaining and emotionally moving stories of eight draft picks from Klutch Sports Group including three of the top 15 picks Chase Young, Jeff Okudah, Mekhi Becton and more as they prepare to have their lives changed forever. The podcast will take listeners behind-the-scenes with these NFL prospects as they live their lifelong dreams of playing football at the highest level of competition, giving a glimpse into their lives before, during and after NFL Draft Day.
"I'm excited to be part of this series because it gives mega fans like myself intimate access and insight into the world of these incredible athletes," said Key. "It's really special to be able to hear everything they're going through, and experience their nerves, excitement and tension leading up to one of the biggest events of their lives. I look forward to every moment."
"Dreams become a reality on Draft day," said Rich Paul, Founder of Klutch Sports Group and Head of UTA Sports. "We couldn't be more excited that listeners and fans will be able to come along on this journey with our players every step of the way through their Draft week."
"We are thrilled to have iHeartRadio as a partner for our new show 'DRAFTED.' It is a privilege to bring 'DRAFTED' to football fans everywhere and share these uniquely raw and compelling first-person accounts as the athletes approach a pivotal milestone in their lives," said Kelly Garner, Founder and Executive Producer of Treefort Media. "We are incredibly proud of this podcast and look forward to sharing these 12 episodes with iHeart's massive audience."
"iHeart couldn't be more excited to partner with the talented storytellers at Treefort Media on 'DRAFTED' which will provide football fans an exclusive, intimate and highly entertaining look into these young players' lives as they take a massive step forward in their professional careers," said Sean Titone, Lead Executive Producer of Sports for the iHeartPodcast Network.
The series is distributed by the iHeartPodcast Network which is home to more than 750 original podcasts with over 225 million downloads each month. iHeartRadio Original Podcasts span every category from business, sports, spirituality and technology to entertainment, family, comedy and true crime – and everything in between – making iHeartRadio the largest publisher of podcast content in the world. The platform is also home to the most successful podcast of all time, "Stuff You Should Know," and creator of hits like "The Ron Burgundy Podcast" and the "Atlanta Monster" series as well as fosters over a hundred shows from its on-air talent like the popular "Bobbycast" and "The Breakfast Club" radio show podcasts. These shows are distributed on all major podcast platforms including the iHeartRadio app.
About Treefort Media