iHeartMedia's ALT 104.5 Philly, Philadelphia's Alternative Rock, announced today the return of the ALT 104.5 Philly Summer Block Party, taking place on Sunday, June 5, at Xfinity Live! at 5 p.m. The performance lineup includes Vance Joy, The Maine, Wilderado, Jack Kays and DJ Reed Streets.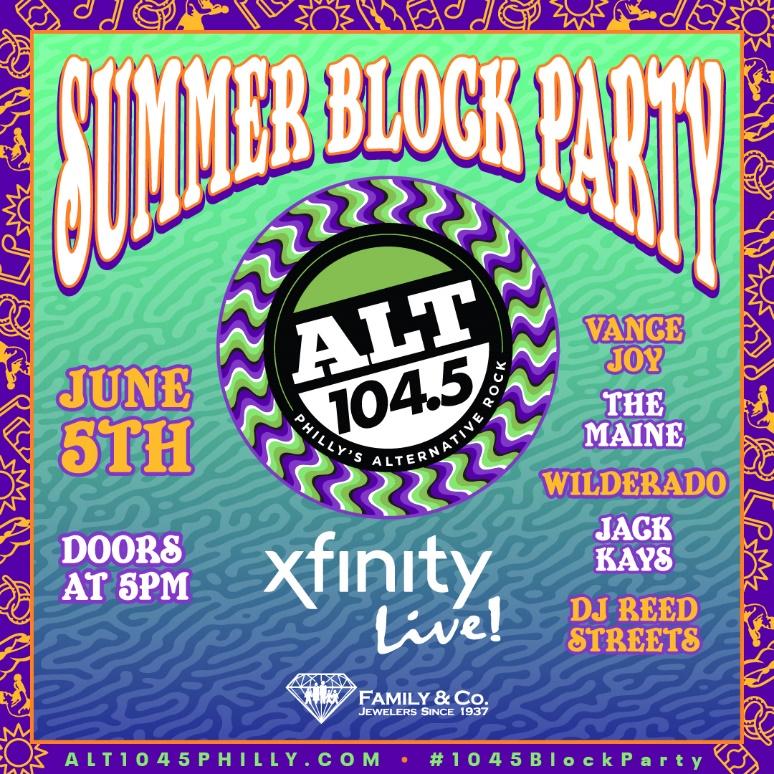 ALT 104.5 Philly Summer Block Party is free for all-ages but requires a ticket in order to attend. Listener's first chance to acquire free tickets is to download them via ALT1045Philly.com on Monday, May 9th at 1 p.m. while supplies last.
There will be plenty of opportunities to win tickets as well, including Monday, May 2, through Friday, May 6, by listening to "The Woody Show" at 7:30 a.m. and 8:30 a.m. In addition, listeners can tune in to Mike Jones at 5:30 and 6:30 p.m. as well as Amber Miller at 8:30 and 9:30 p.m. for an opportunity to win tickets.

"After being sidelined by the pandemic, we're over the moon to finally get back to this beloved Philly summer tradition of throwing a FREE concert event for our listeners with their favorite artists," said Amber Miller, Program Director and On-Air Personality for iHeartMedia Philadelphia's ALT 104.5.
Proud partners for the 2022 ALT 104.5 Summer Block Party include Family & Co Jewelers, Marlton, NJ with more to be announced. The ALT 104.5 Summer Block Party will also feature sponsor booth activations offering special giveaways throughout the venue.
For more information and schedule updates, visit ALT1045Philly.com, facebook.com/Alt1045Philly/ twitter.com/alt1045philly instagram.com/Alt1045Philly/ #1045blockparty.
iHeartMedia is a leading media outlet in the Philadelphia market with multiple platforms, including its broadcast stations; live events; data; and its digital businesses and platforms, including mobile, social and its own iHeartRadio, iHeartMedia's free all-in-one digital music, podcasting and live streaming radio service – with 3 billion app downloads and more than 150 million registered users.