98.1 KVET, Austin's All-Time Country Favorites, announced today that on-air personalities Wayne D and Tay Hamilton will join Bama Brown with the launch of "Wayne D, Tay & Bama," effective May 31. "Wayne D, Tay & Bama" will broadcast weekday mornings from 6 a.m. to 10 a.m.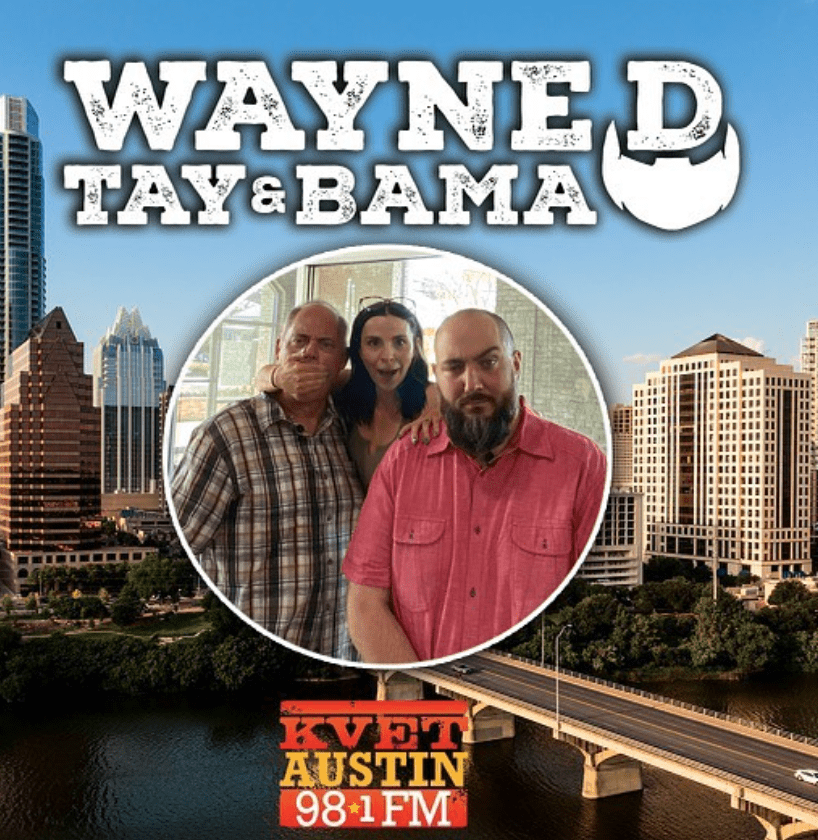 Each weekday morning, on-air personalities Wayne D, Tay, and Bama will connect with Austin listeners and discuss the latest local and pop culture headlines, share personal stories and perspectives from artists within the community and lead the legendary 98.1 KVET.
"Wayne D is an absolute pro on-air quarterback on all levels. Tay is the smart, instantly likeable, voice of reason, and Bama is absolute authentic Austin FOMO. You never know what's going to come out of his mouth." said Gator Harrison, Program Director for 98.1 KVET. "Austin is going to love these guys as much as I do."
"In my 35 years in the Austin market, I don't believe I've ever been as excited to have new radio show partners as I am with Wayne D and Tay," said Bama. "They are fun, funny, interesting, full of energy, and just great people, and I'm a huge fan of them both. They are the future of KVET and iHeart, and I am just so thrilled to be along for the ride."
"98.1 KVET is such a legendary brand in country radio, so when Gator brought up the opportunity to launch a new show, there was no way we could pass it up. What makes it even better is we get to spend our mornings with Bama, who is KVET and has been for a long time," said Wayne D.
Tay Hamilton adds, "To be a part of such a legendary radio station is an absolute honor, and finding out that Bama and Gator wanted us, we were just elated. I can't wait to be the fiery female that tries to keep Wayne D and Bama in line, and this is going be fun,"
Wayne D and Tay will join Bama and 98.1 KVET virtually from Nashville, where they will continue to host PM Drive on The BIG 98.
iHeartMedia is the leading media outlet in the Nashville market with multiple platforms, including its broadcast stations; live events; data; and its digital businesses and platforms, including mobile, social, and its own iHeartRadio, iHeartMedia's free all-in-one digital music, podcasting, and live streaming radio service – with 3 billion app downloads and more than 160 million registered users.