+ Featuring 25 DJs across the globe including Wyclef Jean, DJ Spin King, Quick Silva, Walshy Fire, and DJ Kelly G
TUNE IN HERE
Sunday 5/24 12pm ET – Monday 5/25 12pm ET
RadioFacts: 300 Entertainment is excited to announce Club Stay the F*%$ Home 24 Hour Edition, presented by 300 Creates. 300 Entertainment is teaming up with 25 DJs across the globe to provide a live DJ session lasting 24 hours from 12 pm ET on Sunday May 24th – 12 pm ET on Monday May 25th. Notable acts include Wyclef Jean, Dj Spin King, Quick Silva, Walshy Fire, DJ Pup Dawg, and DJ Kelly G. Each DJ slot is one hour and created to reflect timezones all over the world including America, Japan, London, Spain, France, Puerto Rico, Nigeria, Ghana, and more.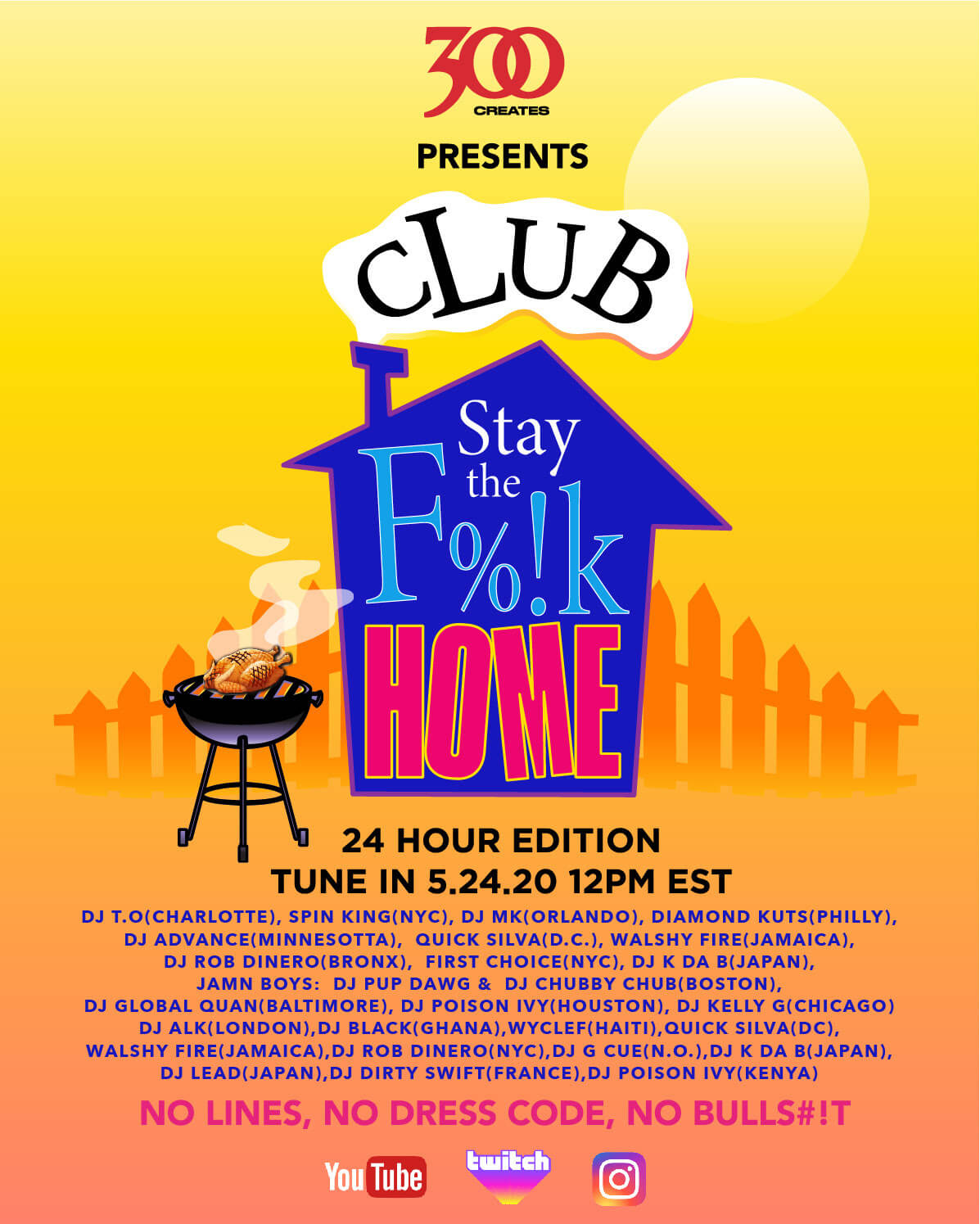 300 Creates is 300 Entertainment's recently launched creative arm – supporting a community of creativity, now through quarantine and in the future. Initiatives under 300 Create include Club Stay the F*%$ Home, 300 Unplugged, and a weekly creative design contest series. 300 Entertainment's mission statement describes the company as an independent platform of risk-takers who empower, fuel, and fund the creative community. In particular during this uncertain time, 300 Entertainment wants to provide opportunities to creatives.
Club Stay the F*%$ Home was started by 300 Entertainment as a virtual platform to partner with DJs and give them a space to perform while venues are closed. Club Stay the F*%$ Home goes live on 300 Entertainment's Instagram page on Fridays at 8:15pm. Past performers include DJ Diamond Kuts and DJ Sidereal. The motto is no lines, no dress code, no bulls#!t. Watch on 300's Instagram here. 
300's Unplugged live series was created to spotlight artists through performances and to bring people together through the power of music. 300 Unplugged is hosted by Kevin Liles, the CEO and Co-Founder, and goes live every Tuesday and Thursday evening on YouTube. Performances from this season include Phony Ppl, Cobi, Nova Miller, Meg Mac, Drax Project, Bailey Bryan, The Hunna, and Noah Cunane, and more. Watch the series here.
The 300 Creates design contest is a series of challenges for creatives to be rewarded for their artwork. The first challenge launched was in celebration of Young Thug's 5th anniversary of his Barter 6 mixtape and called for creatives to recreate the album art for a prize of $5,000. The second contest, inspired by Famous Dex, Rich The Kid + Tyga's single "What I Like," challenges fans to upload a "what's in your bag video" to receive a Louis Vuitton duffle bag or $2,000 in cash. Famous Dex will pick his favorite video. In addition to a cash prize, winners of the 300 Create design contests have their artwork hand-selected by each artist and featured on the artist's socials and 300's socials. For more information visit 300ent.com
Kevin Liles, CEO and Co-Founder of 300 Entertainment, has been inspiring creativity for the whole company and across the community of the music industry. This week, he participated in #TheLightUp, a special live segment with Ari Melber of MSNBC's The Beat to discuss hip-hop, lyrics, and staying creative during quarantine. Catch the episode on 300's YouTube here.
300 Entertainment recognizes the importance of creativity and keeping hope alive, especially during a time when the artistic community is suffering financial losses. 300 Creates was initiated not only to engage but also to reward creative types at a time when it is desperately needed.