Radio Facts: Radio Facts: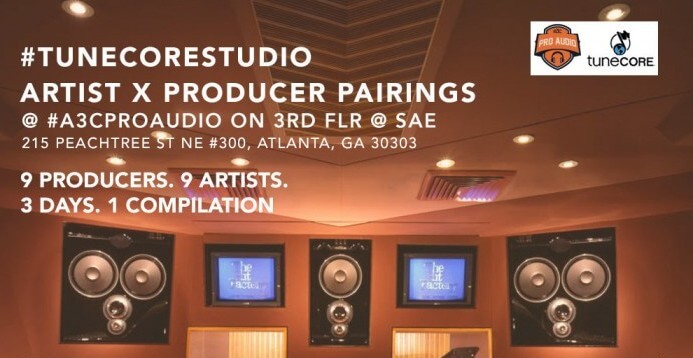 Celebrating the independent spirit of hip-hop and nurturing the careers of a new generation of talented artists, TuneCore announced the launch of #TuneCoreStudio at #A3CProAudio. This unique program will bring together nine producer/artist pairings, who during their personal three-hour session, will compose and record an entirely new song. A3C attendees are invited to witness hip-hop history in the making through a live stream of the in-studio action.
Hip-hop is TuneCore's leading genre, both by revenue and quantity of downloads and streams. This year, nearly 50 percent of the artists performing at A3C, the preeminent hip-hop festival in the U.S., have distributed music through TuneCore. Building on this close relationship with the hip-hop community, TuneCore has become the Official Music Distribution & Publishing Administration Sponsor for A3C.
Material recorded at the #TuneCoreStudio sessions will be released on an exclusive compilation album following the event, an initiative aligning with TuneCore's pledge to help artists achieve their goals, without giving up their independence and while retaining the full rights to their music.
The #TuneCoreStudio at #A3CProAudio will be held October 9th through 11th from noon until 10PM each day at SAE, 215 Peachtree St. NE in Atlanta, GA. A3C attendees are welcome to view the sessions as they are streamed to a screen on the second floor.
The schedule of artists and producer pairings is:
10/9/2014
12-3PM: The Fr3shmen with TuneCore Artist ChellaH
3-6PM: WLPWR with TuneCore Artist Chris Rivers
6-10PM: V12 the Hitman with TuneCore Artist Torch
10/10/2014
12-3PM: Kato of SMKA with artist FortBowie
3-6PM: Major Seven with TuneCore Artist Dyme-A-Duzin
6-10PM: M16 Beats with TuneCore Artist SigNif
10/11/2014
12-3PM: TheFam with TuneCore Artist Quake Matthews
3-6PM: Black Metaphor with TuneCore Artist Masspike Miles
6-10PM: DJ Burn One with TuneCore Artist Stranger Day
TuneCore Studio at #A3CProAudio is just one of the initiatives TuneCore will be undertaking in support of A3C and the hip-hop community before, during and after the festival. At the festival, Chris Mooney, TuneCore Senior Director of Artist Promotions, will moderate the panel, "Fueling the Independent Spirit: Blueprint for Going Global" on October 10th at 3:30PM. Additionally, Chris will be available for discussions with artists, Pro-Audio staff, SAE engineers and other attendees throughout the festival. Following the festival, TuneCore will continue to support A3C with co-marketing and communication efforts.