Look to the Rainbow: Live in Europe – Al Jarreau (Warner Bros. – 1977)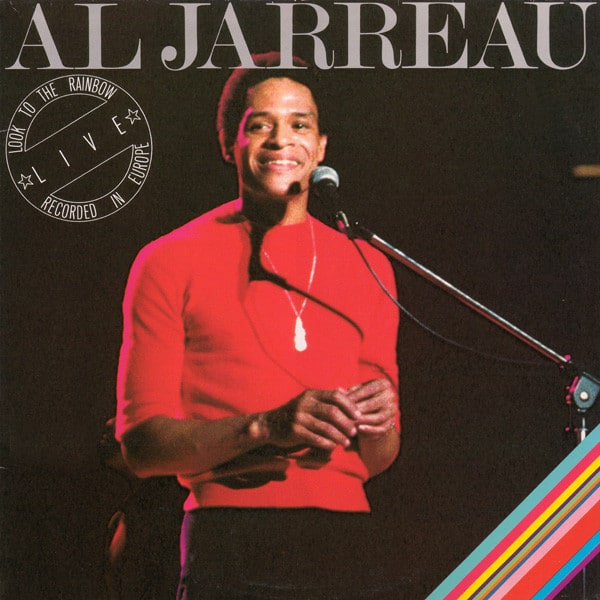 The first time most folks heard Al Jarreau, they had no idea who – let alone what – he was.
The occasion: the last song on Side 2 of Quincy Jones' Body Heat (A&M – 1974), the now-classic Quiet Storm nugget "If I Ever Lose This Heaven" which was a duet between songwriter Leon Ware and Minnie Riperton.
Backstroking in a simmering stew of aquatic bass, African hand drums, enigmatic Fender Rhodes and Wah guitar, Al introduced himself as a human cabasa…the fox in the brush…the medium of the séance…the hippest of hosts announcing the arrival of Hubert Laws' flute followed by the sensual sweet nothings of Ware (co-writer with Pam Sawyer) and Riperton, ever-ready to lobby 'the sexy' backatcha in triplicate.
However, it was Jarreau's disembodied wordless vocalese that set the scene of the otherworldly paradise.
Who was this secret sauce of L'Q's Soul-Jazz soufflé'?Three years later, that voice came shadow boxing over the jazz airwaves live and direct from somewhere in Europe tearing into a vocal version of Paul Desmond's "Take Five" – like Ali going upside the head of Joe Frazier.
His embodiment of percussion was immediately recognizable but he was also singing words that, up to that point, had only been wrung by Carmen McRae.
The audience could not contain itself, serving up love to Jarreau as he served it right back in a volley like Arthur Ashe and Chris Evert. Their ears and ours were being treated to the sumptuous vocal smorgasbord that is Al Jarreau via a specially priced double album titled Look to the Rainbow, the artist's third album following two little-heard studio LPs: We Got By (Reprise – 1975) and Glow (Reprise – 1976).
BUY AL JARREAU MUSIC ON AMAZON
For many, it marked the beginning of a love affair with a man who was equal parts artful musician, vocal technician and melody magician. "Uncle Al" – the pride of Milwaukee – made the sun rise and the moon glow with songs and a sound that felt like kinfolk done dropped in on you with a slab, a "taste" and a sack full of stories.
The warmth radiating from this album was a slow hot wind, lifted by Rhodes AND vibraphone, the latter played by someone actually named Lynn Blessing. We would later learn that Al had recorded We Got By at age 35 following master studies and application in the field of psychology.
However, the version shared before this adoring overseas audience became the bedrock statement of Jarreau in grass roots mode…before he won his first of seven Grammy Awards for it.Look to the Rainbow moves gracefully from the beautifully conversational love songs "Letter Perfect" (penned by Al) and "Rainbow In Your Eyes" (a Leon Russell cover) to the milk of human kindness primer "One Good Turn" (a song he would reprise in a special rerecording for Sesame Street's In Harmony).
Then there was the raging cry of a young Black boy desperate to be recognized on "You Don't See Me," the Sunday morning meditation "Burst In with The Dawn," a soulful stroll through the Irish musical standard "Look to the Rainbow" and, of course, his electrifying take on "Take Five." The experience closes like it began, with a nostalgic story of lovers at their most connected, fresh and frisky, "We Got By."
Who, with a heart beating in their chest, could possibly not adore this man??? Somewhere in the midst of the early `80s trilogy that made him an international superstar (This Time, Breakin' Away and Jarreau), this writer had his first of what would be many Live Jarreau Experiences on the campus of UCLA.
Al was a Bebop Cartoon come to life…all over the stage…face mugging and contorting to make one-of-a- kind sounds of elation and despair…of drums, trumpets, saxophones and guitars…beating his chest and hand-boning his thighs…shaking his shekere…filling the instant communal love space with sounds that pumped up hearts three sizes too small and made you feel three sizes more tall!
I can recall trumpeter Jerry Hey blowing a soliloquy de Aranjuez to lead into the encore of Chick Corea's "Spain" that brought a bullring down like the mothership and Al showing his gratitude in the moment with fully unfettered delight.
Those words, "in the moment," are entwined in the magic that was Jarreau. You came to his concerts fully expecting ANYTHING to happen. He was the kind of artist that never hesitated taking the stage with friends or allowing friends to join him in concert.
His heart was an open door through which many a soul was welcomed – from students to peers to fans to those that arrived as uninitiated strangers and left baptized into the family, to his heroes and heroines, and even those jazz police that turned their backs when he started earning gold plaques.
They could only throw shade at the man but for so long because the BIG picture of Al Jarreau was ALL encompassing and impossible to deny.
BUY AL JARREAU MUSIC ON AMAZON
When this writer got his hands on the first of a now near-complete collection of Al Jarreau's music, it was Look to the Rainbow. I'd first heard it over my friend Eric's house because his mother, Judith (rest her beautiful soul) copped it when it first came out. Being young, I gravitated toward upbeat jazzier things such as "Letter Perfect," "Rainbow In Your Eyes" and, particularly, "You Don't See Me," "Better Than Anything" and "Take Five."
I just KNEW I was hip for my age being into this man and the amazing things he did with his voice.Across the decades I have returned to the double-album as well as the edited single disc CD, usually focusing on all of my tried and true favorites (including the title track).
However, with LPs being such that you had to get up and flip them over. I was never an advocate for the spindle that allowed you to stack multiple albums for uninterrupted listening – too risky for causing scratches and nicks! I share this to say that I rarely played this particular album all the way through.Speed up to the present, after Al Jarreau's sad passing in February 2017, I revisited Look to the Rainbow…and magically rediscovered FIVE VINTAGE Jarreau songs I'd paid the least attention to, including "So Long Girl" and "Loving You."
I was vaguely familiar with them but it was like listening to brand new music…and I was floored. However, the three pieces that touched me the most were all in a row and of a spiritual nature: "One Good Turn" (#3), "Could You Believe" (#4) and "Burst In with The Dawn" (#5).
Stay with me now.
On the original vinyl, "One Good Turn" concluded Side 1 while "Could You Believe" and "Burst In with The Dawn" were #1 & #2 on Side 2, meaning they were tied into different songs in their original incarnation. As someone who now compiles and produces reissues and anthologies (for CDs), I had a mini epiphany.
How beautiful would it be to have those 3 songs on one side of vinyl, giving listeners a bit of uninterrupted Book of Jarreau CHURCH simply by switching the slots of "Better Than Anything" and "One Good Turn" on Sides 1 & 2?!
BUY AL JARREAU MUSIC ON AMAZON
The sequencing of records on vinyl had a lot to do with optimal time and space on a record spinning at 33 1/3 RPM (revolutions per minute). It also had to do with the taste and preferences of the producer and the artist for how they wanted the program to "flow," usually with a smooth movement of up-tempo and downtempo material.
That said, often times, listeners had their favorite "sides" of albums, the ones they would play over and over again, often to the neglect of the other side.All of us have many albums in our collection – even by our favorite artists – with songs that would be like brand new music if we listened to the ones we didn't play as much. It's the most beautiful gift ever to discover. Instead of lamenting that there won't be anymore "new" Al Jarreau music (barring music his record companies may unearth from "the vault" or "the can"), there's already a treasure chest of music right at our fingertips that we can get lost in…like new music.
SEE MORE OF A. SCOTT GALLOWAY'S REVIEWS HERE
For me, that will be my imaginary Sunday Morning Side 2 of Look to the Rainbow featuring "Could You Believe" and "Burst In With The Dawn" (ironically later covered by Carmen McRae) concluded with "One Good Turn."And if somebody at Warner Bros. or Rhino happens to read this, perhaps they will make a slight change to the running order for a limited edition reissue of Look to the Rainbow on vinyl in the not too distant future. I'd be only too happy to write the liner note essay.
(The writer dedicates these musings to the memory of the incomparable Al Jarreau who he interviewed twice for articles and biographies.) BUY AL JARREAU MUSIC ON AMAZON