iHeartMedia Los Angeles' ALT 98.7, LA's New Alternative, announced today that beloved Los Angeles radio personality Stryker is returning to the LA airwaves to team up with Booker as part of Alt 98.7's new Afternoon Drive show, "ALT Afternoons with Booker and Stryker," weekdays from 3 to 7 p.m. starting today.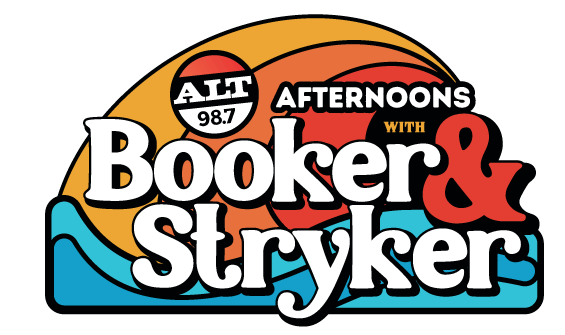 "ALT Afternoons with Booker and Stryker" promises to be unique in every way. Think: Conversations between friends that you'd hear at a bar, caught on tape and released for public ridicule…but live. Two local guys pulling the curtain back on their everyday life, mixed with Alternative musicology and discovery.
"Stryker and I have a 20-year history working together, and I'm so excited to be reunited with him! He is a bonafide superstar with a proven ratings track record," said Lisa Worden, Vice President of Rock and Alternative for iHeartMedia and Program Director for Alt 98.7. "The artists love him, the industry loves him, and most importantly – the listeners love him! The combination of two quarterbacks in Afternoon Drive on ALT 98.7 is a dream. Booker and Stryker together are going to change the game for LA radio, and I can't wait to see what heights these guys are capable of reaching."
Stryker was born and raised in LA, and for 22 years he was a mainstay on Los Angeles Alt-rock station KROQ. He has extensive TV credits including hosting series on MTV, VH-1, Spike TV and the DJ and man-on-the-streets for the "Ellen DeGeneres Show." He has also hosted Dick Clark Productions Red Carpet Shows for the American Music Awards, the Billboard Music Awards, and has been the backstage host of the Grammys, to name a few. In addition, he is currently the star of his own podcast "Tuna on Toast," where he interviews famous musical artists and entertainers for a deep dive on their careers, lives and current projects as well as host of the syndicated radio show "Out of Order with Stryker."
"I am beyond excited about joining the iHeartMedia team," said Stryker. "I love LA, and I love being on the radio. I think Booker is amazing and I totally appreciate that he is welcoming me to join him in the afternoon. I'll try my best not to ruin the operation. I'm thrilled to work with Lisa Worden again. She's smart, talented, supportive, and a great leader! iHeartMedia is also supporting various projects that I'm working on so I can literally work on all of my passion jobs under one roof. Plus, I finally get to go to iHeartRadio's ALTer EGO concert!"
Chris Booker, also an acclaimed TV/radio personality and popular podcaster, has hosted afternoons at Alt 98.7 since January 2021. Booker said of this new partnership, "Stryker is not just a stellar broadcaster, he's genuinely a great guy. We have a natural chemistry and I feel like the sky's the limit for this show. I'm looking forward to seeing what we will accomplish together."
Follow and interact with "ALT Afternoons with Booker and Stryker": @BookerandStryker on Instagram, TikTok and Facebook, @bookerstryker on Twitter and visit www.bookerandstryker.com.
iHeartMedia is the leading media outlet in the Los Angeles market with multiple platforms, including its broadcast stations; live events; data; and its digital businesses and platforms, including mobile, social and its own iHeartRadio, iHeartMedia's free all-in-one digital music, podcasting and live streaming radio service – with more than 3 billion app downloads and more than 150 million registered users.