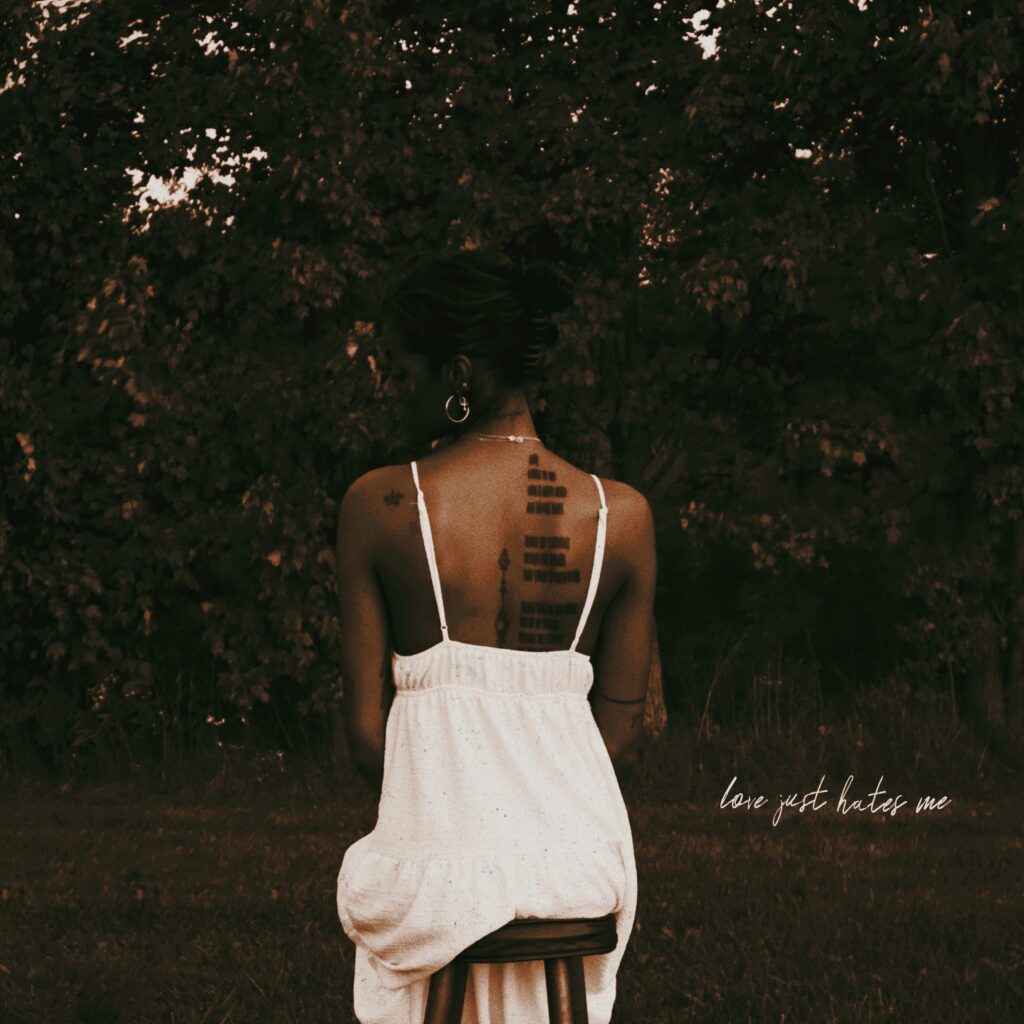 Rising R&B and Pop singer-songwriter and Ohio native Taylor sat down with us recently to discuss all things life, the pursuit of artistry, and her new single, "Love Just Hates Me."
From posting 15-second Christmas covers on Instagram to publishing a song for all the world to hear, over the past few years, Taylor has steadily been building her empire, fastening new titles like producer and writer to her excellency along the way.
Taylor, a self-proclaimed hopeless romantic, takes things beyond the surface with her newest single, Love Just Hates Me. Read our interview with Taylor below or watch it now on our YouTube channel!
This interview has been edited for length and clarity.
Ayanna Cymone: How did you get started making music?
When I was 18, one of my sister's friends saw a video of me singing on Instagram and (he) texted my sister and was like, "Hey, I want her to come down to Michigan and get her in a studio and let's have her be on the hook of one of my songs."
I didn't think anything of it… I just went down there, and that was like the first time I was ever in a recording studio, so it was really cool. A few months after that he texted my sister and was like, "Hey, I want to develop her as an artist. She did really good, I like her sound, and I think we can make something happen."
We would go down every weekend all the way to Michigan. I'm from Ohio, so it was a 4 hour drive. We would just work on music. He was my songwriter at the time, so all I did was sing. I didn't know how to do anything else, so it was fun working with him. That's kind of how everything started.
Had you sung before?
Yeah, I'd sung. I wasn't, like, pursuing music though.
I'd just sing around the house… or when I was in school, I'd been in the choir concerts and did all the solos and stuff like that. So, I've always sung, but it was never like, "Oh, I want to pursue a career as an artist," or anything like that.
What was the moment that you realized you could make singing a career?

When we started, we were going up to Michigan every single weekend working. Then eventually it was wintertime… and the industry isn't really open in the winter, and us driving to Michigan in the winter wasn't really going to work, so we kind of put things on pause for a little bit.
During that time, I think everyone's priorities sort of shifted. I still wanted to do music, but the people that were helping me do music were kind of doing their own thing – which I was super happy about, but obviously that left me in a, "Okay, what do I do now?" position.
So then I started learning how to do everything myself. That's when I started trying to write and trying to mix and do everything on my own so that I could still pursue music. At first I was really bad– I'm not going to lie [laughs].
You've got to start somewhere!
Yes, you've got to start somewhere! I listened back to some of that stuff and I was like, man… Back then I thought it was really good, but in hindsight everything's 20/20.
I think once I got to the point where I could sufficiently do everything on my own I was like, "I think I can do this, I think I have a shot at being an artist."
I knew I loved it, but I wanted to make sure that I had something to bring to the table. You know what I mean?
So once I learned that I could bring something to table, I think that's when I was like "Okay, yeah. This is something I really can do."
You write, you produce, you sing… What is your process with it all?
When I'm writing for myself, first I go through all the production that I have. Normally, if I'm just going in and I'm like, "Okay I'm just going to see what I come up with," I will find production that just kind of resonates with me, (music) that I really like.
You know how every instrumental has a feel to it? I kind of let the instrumental tell me where to go lyrically. Once I get the idea of where I want to go, I'll just do mumble tracks– which is just laying down melodies. Then I'll go back in and try to piece the lyrics together to tailor the story that I want to tell.

If I'm writing for other people, normally, we'll come up with the story first and try to say what we want to say… get it all out, type down some lyric ideas. Then we'll go back in and try to start with the hook first and actually write and do the melodies at the same time.
My process is a little different depending on if I'm doing it for myself, if I already know what story I want to tell beforehand, or if I'm working with other people!
Do you typically draw inspiration from an external place?
Very seldom. I feel like most of what I write… it always has to be something that I've experienced.
And, if I don't feel what I'm talking about, I can't really bring it to life for other people to feel it too. So, I always speak from personal experience.
99% of the time I'm speaking from experience, for sure.
Let's talk about your new single, Love Just Hates Me. Tell me about it.
That night when I wrote the song, I was kind of in that position where you're just like fed up. It's like, another situation that didn't work out… You know, you put your all into (a relationship), and then that person ends up being completely opposite of who they said they were in the beginning.

I've always gone around and said, "I love love." When I watch Romcoms, I'm like, "Oh, this is beautiful! I wish that was my life."
I've always been obsessed with love. I'm such a hopeless romantic, so the night when I wrote the song, I was kind of just reflecting on every heart break and all the ways the bad kind of love made me feel. I literally just put everything I was feeling out on the track.
I remember, I put my headphones on and just said stuff until it became a song. I would get to parts where something wouldn't make sense and I'd be like, "What can I put there?" But it really was just a raw expression of how I was feeling.
That's the great thing about music. It really pushes you to be empathic and to channel your emotions and feelings into the music.
Absolutely.
Where can people find Love Just Hates Me?
Literally everywhere! It's on every digital streaming platform that you can think of. We will soon be having a video, so I'm super excited about that!
That's exciting! Is there anything you can tell us about the upcoming music video?
So, if you could put a movie to the song… that's the vibe! It's literally just watching the song, basically. That's how it feels.
So, what's next for you?
First thing's first, I have another single! We don't have an official date, but it will be coming soon. It's really fun, it's an uptempo one, so I'm really excited about that! Then [I] defintiely have an EP coming out this year, and some time following that I'm definitely going to be going on tour!