I never met Sam Putney when he worked in LA radio but I've always heard great things about him.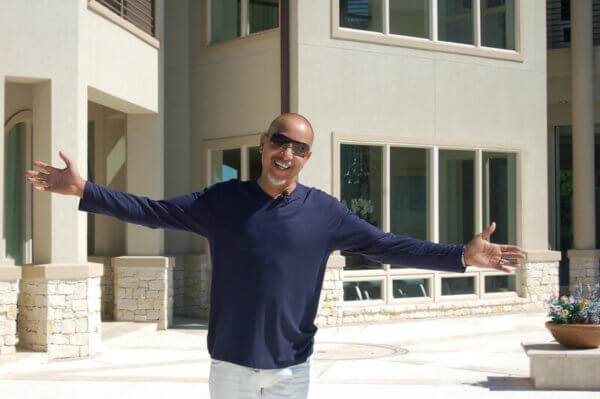 Pictured: Sam Putney standing in front of his… well… MANSION sans his iPhone
Originally posted March 13, 2009 – I'm not gonna lie, outside of doing a national show, the only urban station in the NATION I would even consider working for at this point is KKDA. I hear it's the best paying urban station in the country. Looks like a few thugs may have gotten word of the pay scale as well.
The Dallas Ft Worth news is reporting that local KKDA radio personality Sam Putney was robbed of his iPod early Thursday by a bat-wielding man who was quickly arrested, authorities said.
The incident outside Putney's Grand Prairie station KKDA and gave Skip Cheatham and Da Playground plenty to talk about afterward on KKDA-FM (104.5) "We'll talk about it some more tomorrow," Putney said in an interview after the broadcast. Michael Blackwell, 21, of Flower Mound faces a robbery charge in the attack on Putney, who wasn't injured.
Putney, 60, said police told him that Blackwell had intended to steal his cellphone because the suspect thought it would have a number for film director Spike Lee.
Blackwell had written something he wanted Lee to read, Putney said police told him. "He was going to get somebody's cellphone that had Spike Lee's phone number because he had to talk to Spike Lee," Putney said. "Is that crazy, or is that crazy?" Putney said he got out of his pickup about 4:40 a.m. in the radio station's parking lot in the 600 block of Northwest Sixth Street. Then he saw his attacker.
Great Way to Start the Morning Radio Show
"A huge guy, man, 6-foot-3 or 6-foot-4," Putney said. "He had a mask on, and he had a bat, and he was running so fast at me I just knew he was going to take my head off." Putney, whose briefcase was slung over his shoulder, said he managed to dodge the bat.
"He swung, and I ducked and moved to the side," Putney said. "He fell and hit the ground, and when he got up, my briefcase had come off my shoulder. Putney said he hit Blackwell in the chest with his keys and started shouting. Meanwhile, several things, including his iPhone, had spilled from his briefcase. (Hit him with his Keys?) That must have rendered him catatonic. He must have been out for hours.
The man grabbed the iPhone and fled in a car. After officers arrived, the suspect passed by again, police said. They pulled him over and arrested him without incident, said Detective John Brimmer, spokesman for Grand Prairie police.
Blackwell was being held in the Grand Prairie Jail in lieu of $50,000 bail. "I feel so bad for that kid," Putney said. "Are times that tough? They must be."