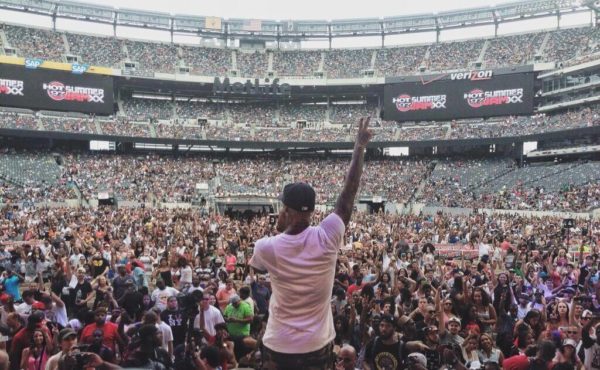 HOT 97 SUMMER JAM 2015 #SUMMERJAMSTADIUM STAGE ANNOUNCED!KENDRICK LAMAR | CHRIS BROWN | TREY SONGZ | BIG SEAN | FABOLOUS & FRIENDSMEEK MILL | TY DOLLA $IGN & FRIENDS | OMARION | CHILDISH GAMBINOFESTIVAL STAGETRAVI$ SCOTT | B.O.B | JOEY BADA$$DEJ LOAF | TEYANA TAYLOR
Tickets On-Sale Now at Ticketmaster.com!
CLUB 97 and VIP Packages AvailableFront Row Tickets, Exclusive Merchandise, and More!WQHT HOT 97 FM, the #1 station for hip hop music and R&B and host of the biggest hip hop music event on the planet, Summer Jam, is kicking off our winter coats and getting the sunscreen ready!
The concert event you wait for all year, HOT 97 Summer Jam, will take over MetLife Stadium on Sunday, June 7th with electrifying performances by Kendrick Lamar, Chris Brown, Trey Songz, Big Sean, Fabolous & Friends, Meek Mill, Ty Dolla $ign & Friends, Omarion, Childish Gambino and more!
Join Funk Flex, Ebro, Nessa and the whole HOT 97 team at the official start-of-summer party. Summer Jam is the hip hop music event you don't want to miss!The Festival Stage is locked and loaded with performances by Travi$ Scott, B.o.B, Joey Bada$$, DeJ Loaf and Teyana Taylor.
Make sure to stop by the Festival Village before the Stadium show to check-out the graffiti wall, cooling station, and more. The only way into the Festival Village is with your Summer Jam ticket!
"The season is here! HOT 97 Summer Jam 2015 is less than 75 days away," states Deon Levingston, General Manager of Emmis NY/HOT 97. "This is the event that is known throughout the world as the premier hip hop music concert to be at each year.
Our special Ebro in the Morning seats sold-out during the pre-sale run, and with such a magnetic Stadium Stage line-up, I expect tickets to go fast! We have the biggest names in hip hop music on not one, but two stages, and are looking forward to giving our fans an experience of a lifetime.
Summer Jam is where 60,000 of our listeners get to hang out with the entire HOT 97 family and celebrate Hip Hop!
We're excited to give them another captivating show this year. See you at MetLife on June 7th!"
Tickets are on-sale now at Ticketmaster.com, all Ticketmaster retail locations or by phone at 800-745-3000, with special CLUB 97 packages, which include premium show seats, access to the VIP Patio on the 50-yard line, an unobstructed view of all Stadium Stage performances, and a full-service cash bar are available for $203.
Summer Jam VIP packages are also available beginning at $99. Packages include incredible experiences such as front row seats, exclusive HOT 97 merchandise and more!
Click here to secure your VIP seats for the biggest hip hop music event in the world!Be sure to tune into HOT 97 for your chance to win tickets to Summer Jam every hour this week with Ebro in the Morning, from 6 a.m. to 10 a.m., and Nessa, from 3 p.m. to 7 p.m.
HOT 97's Summer Jam is made HOT by McDonald's Chicken Select Tenders and Nutrament. For additional information, go to HOT97.com. For the latest news, follow @HOT97 and use #SummerJam on Twitter and Instagram, and friend HOT 97 at HOT97OFFICIAL on Facebook.
Text "Alerts" to 75759 for exclusive updates and announcements.
For Press Only: Media can begin applying for press credentials on Monday, April 6, 2015. Requests must be submitted via the online application by 5 p.m. (EST) on Friday, May 22, 2015.
This is a strict deadline; no exceptions.CONTACT: Lindsay SalandraPublicist & Digital Communications ManagerEmmis [email protected]
About Emmis Communications
Emmis Communications Corporation is a diversified media company, principally focused on radio broadcasting. Emmis operates the 9th largest radio portfolio in the United States based on total listeners.
Emmis owns 19 FM and 4 AM radio stations in New York, Los Angeles, St. Louis, Austin (Emmis has a 50.1% controlling interest in Emmis' radio stations located there), Indianapolis and Terre Haute, IN.
About WQHT HOT 97 FMWQHT HOT 97 FM is the world's first all hip hop music station and has held the dominant position in New York for over ten years.
HOT 97 is best known for its celebrity on air talent, such as Funk Flex (television host, multiple gold records) and Miss Info (renowned journalist, television personality), as well as being the world's premier source for hip hop music music culture.
HOT 97 TV is an online and mobile destination for original web series, celebrity content, concerts and music videos. For more information, please visit www.HOT97.com, facebook.com/HOT97official, or t