Radio Facts: Radio Facts: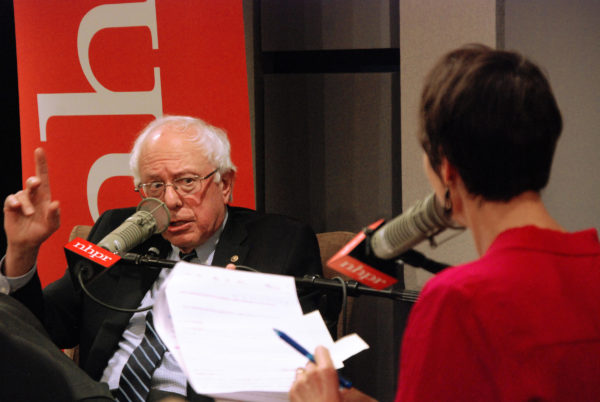 The American Archive of Public Broadcasting (AAPB) has acquired New Hampshire Public Radio's digital collection of interviews and speeches by presidential candidates from 1995-2007. The entire collection—nearly 100 hours of content—has been digitized and is now online, along with other presidential campaign content from the AAPB collection, in a new curated, free presentation, "Voices of Democracy: Public Media and Presidential Elections" at americanarchive.org/exhibits/presidential-elections.
AAPB, a collaboration between the Library of Congress and the WGBH Educational Foundation, preserves and makes accessible the most significant public television and radio programs of the past 60-plus years.
"Voices of Democracy" features historical interviews, panel discussions, speeches and debates among presidential candidates from 1961 to 2008. These historical materials document the evolution of issues and presidential candidates' positions on important election topics including the American economy, education, religion, civil rights, foreign policy, climate and the environment, labor and unions and campaign and election reform. The materials also document public broadcasting's coverage of the process of elections and voter rights, as well as commentary and analysis of campaigns. The presidential elections presentation was curated by Lily Troia, a graduate student at Simmons College.
A centerpiece of the presentation is the new content from New Hampshire Public Radio (NHPR). "We are fortunate to live at the epicenter of the political universe every four years. It is from this vantage that we are able to capture and keep some of the most memorable and historic moments in the past 35 years of our democracy," offered Betsy Gardella, president and CEO of New Hampshire Public Radio. "Knowing that this archive can now be tapped and used by anyone with internet access is an extension of our public service mission realized, we are grateful for the AAPB."
Candidates featured in the New Hampshire collection include Lamar Alexander, Gary Bauer, Joe Biden, Bill Bradley, Carol Moseley-Braun, Sam Brownback, Pat Buchanan, Bill Clinton, Hillary Clinton, Howard Dean, Christopher Dodd, Bob Dole, Elizabeth Dole, John Edwards, Steve Forbes, Al Gore, Mike Gravel, Orrin Hatch, Mike Huckabee, Duncan Hunt, John Kasich, John Kerry, Alan Keyes, Dennis Kucinich, Joe Lieberman, John McCain, Barack Obama, Dan Quayle, Bill Richardson, Mitt Romney, Bob Smith, Arlen Specter and Tom Tancredo.
AAPB in October officially launched its Online Reading Room, which now features 2.5 million inventory records and more than 11,500 audiovisual streaming files of historical content dating back to the 1940s, from public media stations across the country.
The Library of Congress, WGBH Boston and the Corporation for Public Broadcasting, in collaboration with more than 100 stations and archives, have embarked on an unprecedented initiative to preserve historical public television and radio programs. This extraordinary material includes national and local news and public affairs programs, local history productions that document the heritage of our many, varied regions and communities and programs dealing with education, environmental issues, music, art, literature, dance, poetry, religion and filmmaking on a local level. The project ensures that this valuable source of American social, cultural and political history and creativity will be saved and made accessible for current and future generations.
More information is available at americanarchive.org.