Radio Facts:
Originally posted on 2013-06-04 21:18:48
Radio Facts: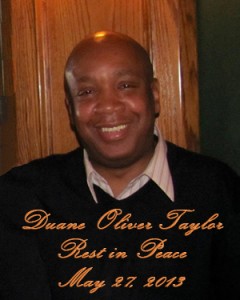 He introduced himself as "D to the O to the T." Bred in the Bronx, Duane Oliver Taylor was a publicist with affiliations with many artists; Lisa, Lisa & Cult Jam, Full Force, Kool Moe Dee, DJ Jazzy Jeff & The Fresh Prince (Will Smith), Tom Jones, Miss Melodie, LL Cool J, KRS-One, Britney Spears, Whodini, Too $hort, Jonathan Butler, Samantha Fox, Millie Jackson, Schooly D., Paula Abdul, Ziggy Marley & The Melody Makers, actor Jack Palance and others.Others knew him from his "round the way" friendly appeal. There are those who considered him a hip-hop specialist.Duane attended Food & Maritime Trades Vocational High School. There he studied and practiced culinary arts. But that idea was quickly derailed after seeking higher education at City College of New York (CCNY). "Some of my friends who graduated took jobs on ships," he once said. ."That was not for me." At the uptown Harlem campus he found his true niche.He wrote an entertainment column in The Campus, the school's newspaper. His clips from reviews on concerts by Patti LaBelle and others tagged him for simultaneous college internships at CBS Records and ABC-TV.With a choice between a career in television and
music
, he chose the latter.
Music
consumed his days, months and years –conventions, concert tours, parties, showcases, promotions, marketing and planning meetings, networking.He eventually worked as publicist at numerous record labels including: CBS, Jive, Virgin, EMI and enumerable independents.During the years he simultaneously championed a platform for a monthly,
music
showcase akin to the west coast "˜R&B Live.'"˜New York Live' proved an east coast launch and proving ground for many first-time singers and musicians.He also served as publicist to the Poconos Mountain Film Festival. In recent years he pursued talent bookings and publicity, helping with artist and repertoire, promotion and other aspects of the
music
industry."Duane and I spoke every day," Kenneth Reynolds, a California resident, event planner and publicist said. "First thing every morning along with LaVerne (Perry-Kennedy), we would have our "early morning conference call." "Some days we would talk for hours"¦.our own hot topics. Tuesday,(May 31st) he didn't come to the phone and It was shortly after that I found out that I had lost a very special friend""I can't stop crying," Perry-Kennedy said. " "He became part of my family. There wasn't a Thanksgiving or Christmas dinner that went by without his energetic presence." "I can't believe he's gone."He was devoted to his mother who he cared for throughout her lifetime. He remained a most reliant son until her passing.He is survived by his grandmother, two brothers, aunts, cousins, godchildren and devoted friends. Duane was 52 years old.
Originally posted on 2013-06-04 21:18:48