Streetz 94.5's Steve Hegwood is having a ball… because he is doing what he loves to do on his own terms with his own company.
There are not many urban programmers who can say that right now and while the thought of being a black entrepreneur in today's urban radio arena may be far-fetched to most, it is foremost to programming vet Steve Hegwood. He is experiencing the excitement and the lure of what Mom and Pop owners experienced in the 60s and 70s. These days Mom and Pops no longer exist (outside of a few smaller market heritage stations) because corporations and syndication have dominated the radio landscape, so Hegwood's station Streetz 94.5 in Atlanta, is pretty much in a class by itself. Streetz just had the morning show Streetz Morning Takeover go national as a syndicated show by Superadio.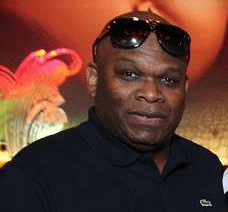 In a climate where research dominates tight and predictable playlists and on-air presentation from research companies who have NO connection to black culture major corporate stations rely heavily on their information. In addition, black programmers who once relished being on the cover of industry trades are now forced to remain under the radar so they don't ruffle corporate feathers having to ask for permission to even promote themselves. This appears to be a dominant force mostly in the urban radio arena and at the absolute worst time, the age of social media and self promotion.
Hegwood's timing is impeccable because he can single-handedly have the freedom to promote his skills, talents, his brand, extend his playlist, secure local advertisers, and even feature and break up-and-coming hip-hop artists in one of the top markets for up-and-coming artists… Atlanta. Doing what the corporate radio stations can't because they have to have research first. Hegwood is able to beat them to the punch and at the same time create a sizable piece of the market pie while they wait. This is very impressive for a station with a limited signal and it proves how successful a true radio programmer can be when he knows the market and Atlanta is no joke, at last count they had about 14 urban and urban leaning radio stations. Hegwood's Streetz brand is the only one that is independent.
Atlanta is one of the most interesting urban radio markets in the country. It has the most urban stations and is probably one of the only markets that run a majority of the syndicated urban morning shows. Steve Hegwood introduced Streetz 94.5 to the market several years ago brilliantly taking advantage of all the confusion, changes and programming concepts that the local radio industry has ignored in lieu of corporate structure and research. "He's going against the grain and in a brilliant way" one local programmer, who asked not to be identified stated to Radio Facts.
Hegwood parted ways with Radio One 11 years ago which we covered in Radio Facts amidst a controversy that he is not in a position to discuss. We championed Hegwood in his first attempt to start Streetz with an extremely limited signal and Radio One's Alfred Liggins stepped in and sued to shut the operation down. We championed Hegwood because his station even then had great potential and we wanted to see it do exactly what it's doing today, making a huge impact on a large market station with a programming concept that is viewed as completely unconventional by today's urban radio programming standard. Radio corporations have gotten greedy with their hands in many ventures and it has greatly affected the industry in negative ways such as new talent development, opportunities and breaking new artists.
Steve Hegwood is ahead of his time and is one of the more respected programmers in radio. Hegwood's success in the Atlanta market with such a limited signal (inside the perimeter) can only be attributed to great programming, great staff, and a great presentation. We took a few minutes to speak to the President/CEO of Core Communicators Broadcasting LLC., Steve Hegwood of this Radio Facts exclusive interview…
KEVIN ROSS: Most programmers would love to do what you do, run their own station, call the shots and make a significant dent in the Atlanta radio market, Congratulations! What drove you to do this station and this format?
STEVE HEGWOOD: Anyone that knows me is aware that Atlanta is my favorite city in the world. I joined Radio One in 1995 to be in Atlanta, we debuted Hot 97.5 in July of 1995. It has been my dream and my number one goal to own a radio station in Atlanta since 1993.
KR: Can you share the efforts it took to put everything in place?

SH: As you are well aware of Kev (you covered story very heavy) I attempted to launch Streetz in 2009 immediately after leaving Radio One, which I am not able to speak about. However, I made a number of costly mistakes in which I have learned greatly from. Fast forward to June 2012, and Streetz 94.5 was born! Streetz 94.5 is a Translator station that originates programming for Lincoln Financial's WSTR HD-3 Channel. I am proud to be among some of the early broadcasters that recognized the value of FM Translators.
KR: Atlanta is a HUGE urban radio market, perhaps the one market with the most urban stations. Why not do what you're doing in another market where there is much less competition?
SH: Atlanta has over 1.4 African Americans, second to only New York. Clearly, there was enough room for another Urban station. I also was aware of Atlanta's economic base in which we were confident we could generate revenue for the station.
KR: This is the first time (that I recall) V103 is having challenges with ratings after being the top dog in the market for many years, many programmers say your station is responsible for that. Did you expect to make such an impact in the market?
SH: There are a number of great choices for the 18-34 Demo in Atlanta, and now Streetz 94.5 is one of them.
KR: How's your relationship with other programmers in the market?
SH: I have Known Reggie Rouse for many years, and I have major respect for Reggie. Tony Kidd, the former VP of Urban Programming for COX/WALR KISS 104.1 is a very talented programming executive. I have admired his success for years. Derrick Harper, Program Director WAMJ Magic 107.5, we worked together at Radio One.
KR: We get non-stop complaints from programmers at corporations who feel they are not able to program their stations based on what their market demands in opposition to national research and decision-makers who they feel don't understand the music. How much of your style of programming is based on research, as opposed to the market itself?
SH: This is Atlanta, for the most part, is a world by itself! For Streetz, we use a couple of research methods to determine the playlist. Unlike some of the other stations, we saw an opportunity to play local new music first and get credit for it, so we did! Examples of Local Artist: Trinidad James, Migo's, K Camp, August Alsina, Rich Homie Quan and many more!
KR: It would appear that since you started off as the little guy in town (growing rapidly) that you can take more chances on the air. What else do you do that the other corporate-owned stations can't or won't do in the market?
SH: This is how we look at it, we're in Atlanta, GA, Market #9. We have to be as good or better than any other radio station in the market. We want to win all decisions that are carefully decided and all programming and promotions activities are strategically planned. I think the number one advantage of Streetz being in the market goes to the local advertisers, we give them a viable option.
KR: Why don't we see more urban programmers do what you are doing?
SH: It is very difficult to raise funding to purchase a station, that's the primary reason and they are not trained or educated on how to purchase a radio station.
KR: What advice would you give urban programmers who are out of work, over 45, and waiting for an opportunity today?
SH: Stay aware of the business, not just programming. Read all trades, not just urban trades to spot trends, read up on new station acquisitions, format changes and to stay aware of FCC changes. Look for other opportunities at the station, such as Sales, Promotion's, Digital department and Engineering, to be honest, a check is a check!

KR: How do you feel about syndication?
SH: I am a fan of syndication, I have worked with Russ Parr, Big Boy, Steve Harvey, and currently our station in Little Rock Arkansas, Streetz 101.1, airs Rickey Smiley.
KR: Where do you see urban radio programmers in the next 5 years?
SH: I hope they make themselves more valuable to their companies. The days of picking the songs and jocks are OVER! What makes you valuable in today's radio, I hope every PD understands that social media is your tool, not your enemy
KR: Name 5 current programmers from any format that you respect the most.
Elroy Smith
Reggie Rouse
George Hamilton
Jon Ivey
Brian Douglas
PD's to look out for?
1) Dionne Burkette
2) Talus Knight
3) Devin Steele
4) Nate Bell
KR: Anything else?
SH: I Thank God for the Blessings!