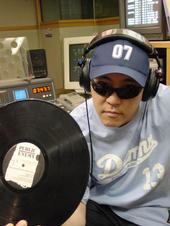 Radio Facts:
(Why are black Radio DJs never approached about opportunities like this? I mean "Urban Radio?" I give up)

During its 10 years at #1 in the Japanese Urban radio market, Joint One Radio on Japan's INTERFM 76. 1 has garnered the trust and respect of record labels, major recording artists and corporations seeking entrée for their products into the Asian market. Known as Japan's "Official Urban Radio Legend", Joint One Radio is the chosen launch vehicle for many exclusive product releases as well as the breaking ground for new music releases in Asia, by major and independent labels from across the world.
Dark Shadow Magazine says, "When it comes to music of this genre, Joint One Radio and Record Pool is the pipeline to all of Japan. When you think of where the heartbeat of American music is today, thoughts of Los Angeles or New York may cross your mind. At the very least, we may think that our radio stations should be playing the most current music in the industry.
Think twice because most likely, these same songs were first aired on InterFM 76. 1 Tokyo. "
Led by former Los Angeles radio spin doctor, DJ Joey Slick, Joint One Radio was recently selected as the sole launch vehicle of the Michael Jackson MOBILE "For the Children" cell phone in Japan, https://mobile-mj. com (https://mobile-mj. com).
Launched on 29 August 2010, Michael Jackson's birthday, via the Joint One web site https://www. jointone. com (https://www.jointone. com). Joint One, LLC, parent company of the Joint One Record Pool worldwide, launched J. Stillton Productions in 2007. Music productions and placement for artists from around the world have come from the J. Stillton studio in Japan.
In 2009, Platinum Games of Japan recruited the Joint One Record Pool & J. Stillton to help create the Sega soundtrack for its Nintendo Wii debut of the revolutionary game known as, "MadWorld. " The mission is using Joint One's position to bring quality artists and their music to light.
Joint One's founder DJ Joey Slick, formerly part of a live mix show on Los Angeles' Power 106 (KPWR 105. 9) with the world renowned Baka Boyz on Friday Night Flavaz, was recruited away from Los Angeles to create and headline the premier urban radio show in all of Japan, Joint One Radio.
The revolutionary mix-show attracted the attention of sponsors in need of a new, powerful avenue of branding such as Charlie Trading Company with D.C. Shoes, Sports Authority, And 1, Docomo, Kirin, Daihatsu, Tower Records, Studio Ikspiari, Club Citta Kawasaki, @Nifty, Technics, Pioneer, Vestax, Sony Pictures, Tristone Japan, Fashion Memo on TV Tokyo, Cuervo Tequila, and close to every major and minor record label wanting to advertise with the new radio phenomenon.

Joey Slick was inducted into the West Coast Hip-Hop Hall of Fame by its founder Alonzo "The Grand master" Williams, of World Class Wreckin' Cru fame for efforts on playing and presenting quality Hip-Hop to the Japanese market.
With this type of history, it's no surprise that Joint One stand s as the "Gateway to Japan" and helps set the stage for new phases of development in urban music culture around the world. Major and independent labels along with established and upcoming artists, seek the assistance of Joint One to reach the network built from the ground up all the way from LA to Tokyo and then some. Joint One is well informed on quality artists and ahead of most outlets.
New labels, such as Wordsmith's Nu Revolution Entertainment, LLC/Prowax/Sony, V-Stylez' Rebel Soul Movement, Mazzi & S. O. U.L. Purpose's Devoon Edutainment, Plan B's Mixxbreed Ent. & group La Verdad on Harvest Product, Rankin Ruff with Dragon Eye Music, Kris Kelli with Double K Records, Doujah Raze with Trilogy Records, Tre-Dot with Yes Yes Ent. , Sick YG & Skitz the Samurida with Shima Sounds, Josh Clemons with Atomic Storm Ent. , etc"¦enter into marketing deals with Joint One seeking guidance and promotional bang entrusting their projects to Joint One.
Future stars are screened every day with the same quality as the above mentioned performers who set the stand ard of professional artists. Joint One Radio and Record Pool, while launching from Japan, are also getting features within premier American outlets such as https://www. unsignedhype. org (https://www.unsignedhype. org) and international urban lifestyle offerings, like H. A.S.
Magazine, have featured one of Joint One's diverse roster of artists. The Japanese airwaves, via Joint One, LLC with the creation of Joint One Radio, is one of the world's leading tastemakers really impacting the urban music culture today and for the last decade.