NY Giants' Golden Tate and LA Rams' Jalen Ramsey tried to settle some non-football business on the field. Jalen Ramsey has two children with Golden Tate's sister and apparently Tate feels that his sister was disrespected by Ramsey.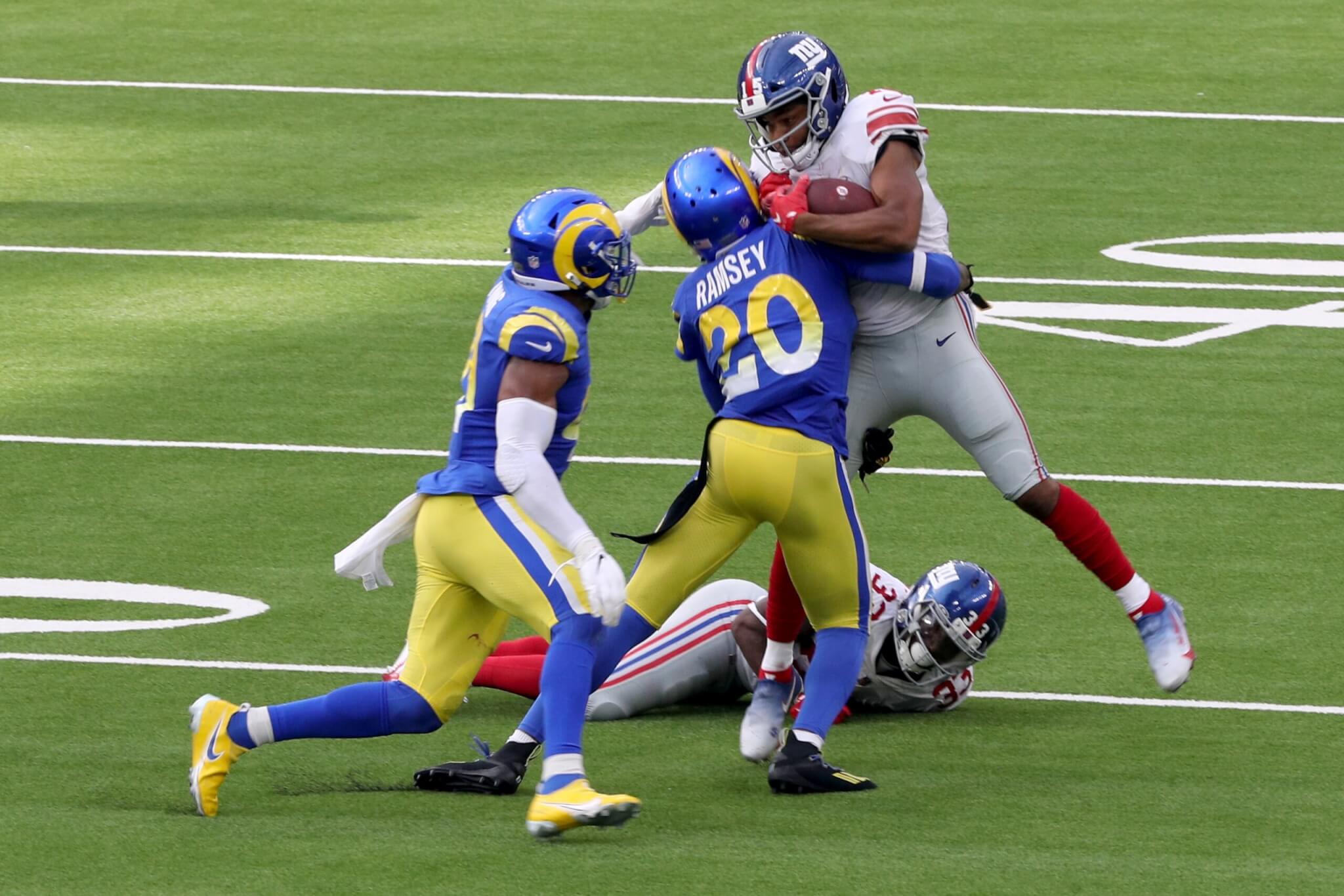 INGLEWOOD, CALIFORNIA – OCTOBER 04: Cornerback Jalen Ramsey #20 of the Los Angeles Rams makes a tackle on wide receiver Golden Tate #15 of the New York Giants in the fourth quarter at SoFi Stadium on October 04, 2020 in Inglewood, California. (Photo by Maxx Wolfson/Getty Images)
This feud has been ongoing and after Ramsey put a hit on Tate after a reception to lose a yard, the match was lit; and they could no longer hold it together. It is not clear who threw and landed the first punch. It is also not clear how Ramsey disrespected Tate's sister and why it has come to this after their relationship ended. There are rumors, but Ramsey has already cautioned people to not believe everything you read or hear. Unfortunately, in our society people are going to run with everything they read and hear.
Whatever the issue, it is so bad that Ramsey decided to wait outside of the locker room to finish the fight; it didn't happen. How often have people brought their personal lives to their jobs, the short answer is a lot. For these two men, we were able to see them bring their private lives to work and not be able to control their emotions. Athletes and celebrities don't always get to handle conflict in private, but it doesn't help if you try to settle an issue on TV…people are going to see it and have a comment and an opinion. Now that they threw a few punches, maybe they will be ready to talk it out because Ramsey will be around the family forever and this shouldn't be a continuous thing. If ending the feud is not an issue maybe they will at least keep it private and off the field and out of social media. Considering the myriad issues in the country, it is a shame that it got so bad for these two Black men that they felt the need to fight. But hey, Family Over Everything, right?