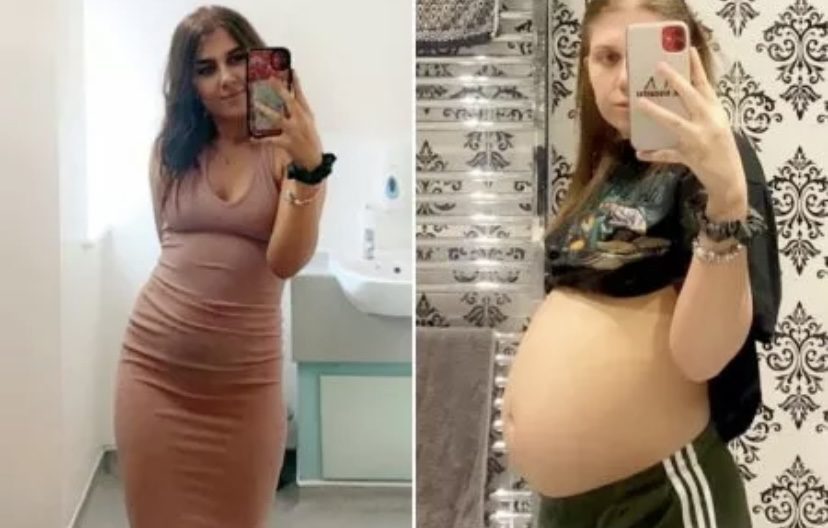 A woman from England believed that she was having a baby after she looked "nine months pregnant" due to an ovarian cyst that grew the size of a football inside of her stomach. 
Hollie Welham, 21, believed she was carrying a child after she started feeling nauseated and noticed her stomach began to grow in January. However, when all the tests came back negative, Welham was referred for an ultrasound as her symptoms continued to get worse, including severe bleeding, cramps, and back pain.
Doctors made a discovery that Welham was not pregnant, but a large cyst was growing on her right ovary. While Welham waited for surgery to get the cyst removed, she watched her stomach "grow and grow" each day.
In May, when she had laparoscopic surgery, the cyst had grown to 27cm (10.6 inches) – larger than a football, and her stomach ballooned in size due to fluid buildup.
A surgeon at Musgrove Hospital in Taunton, England, successfully removed the cyst from her right ovary, along with her right ovary and fallopian tube, and Welham shrunk back to her normal size 8 frame.
"At first, I thought I was pregnant. All of the symptoms pointed towards it because my stomach was growing bigger each day, like a bump. I can't believe how big my tummy got, I looked nine months gone.
"I couldn't fit into any jeans and even leggings felt too tight and painful on my stomach. I was so uncomfortable, but I'm so pleased they spotted the cyst and managed to remove it," Welham said.
Welham said she began experiencing symptoms in January such as fatigue, nausea, and stomach cramps.
"I thought it was from overdoing it at Christmas, but when the bloating and pain got worse, I thought I might be pregnant. I took a few pregnancy tests, but everything came back negative …. It was quite scary, and I had no idea what it could be or whether I was just going to be like this now."